Narendra Modi government to decide on Gorkha tribal tag in six months, says Raju Bista
Trinamul Congress terms BJP MP's assurance on the ST status as a ploy to bag the community's vote for the Siliguri civic polls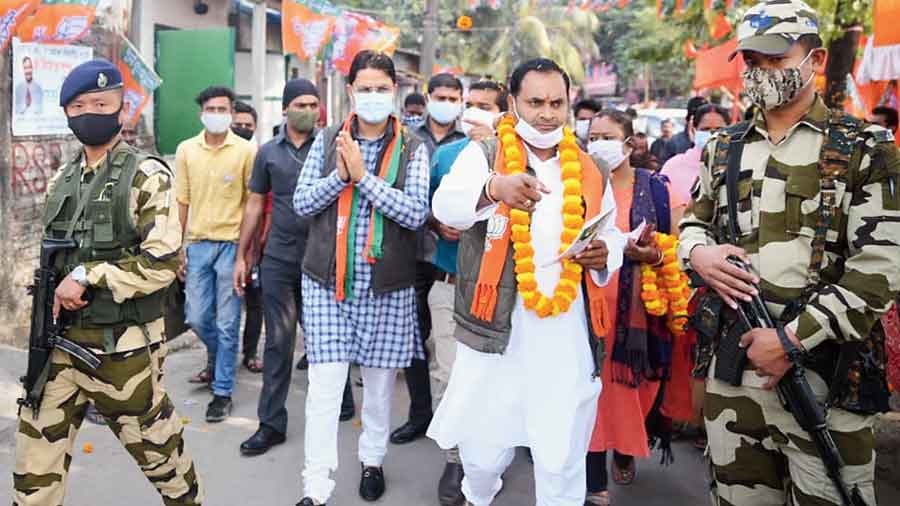 Raju Bista campaigns for the BJP in Siliguri on Tuesday.
Picture by Passang Yolmo
---
Siliguri
|
Published 12.01.22, 03:09 AM
|
---
Darjeeling BJP MP Raju Bista said on Tuesday that the Narendra Modi government would declare 11 Gorkha communities as Scheduled Tribes and a decision would be taken in six months.
"As far as the demand to confer Scheduled Tribe status on 11 hill communities is concerned, a decision will be taken within six months. The Union Cabinet will take a decision on it but before that, certain formalities have to be met. Legal aspects would be checked before a decision is reached. But let me confirm that the Gorkhas will get the ST status in due course," Bista said here.
Referring to the "permanent political solution" for the Darjeeling hills, the BJP MP said: "Let me assert that an appropriate decision, which would be good for Bengal, Darjeeling, Siliguri and the nation as a whole would be taken. It will also help in the development of Gorkhas and other communities in this region."
The Trinamul Congress said Bista's assurance on the ST status was a ploy to fetch Gorkhas' votes for the BJP in the Siliguri civic polls. 
"He is simply trying to stoke the sentiments of the Gorkhas living in Siliguri by referring to the hill issues ahead of the civic polls. His tactics will, however, not work here," said a senior Trinamul leader.