Nantu Paul: Turncoat with a rare win streak
In 2004, he defected to the Trinamul and won for the fourth time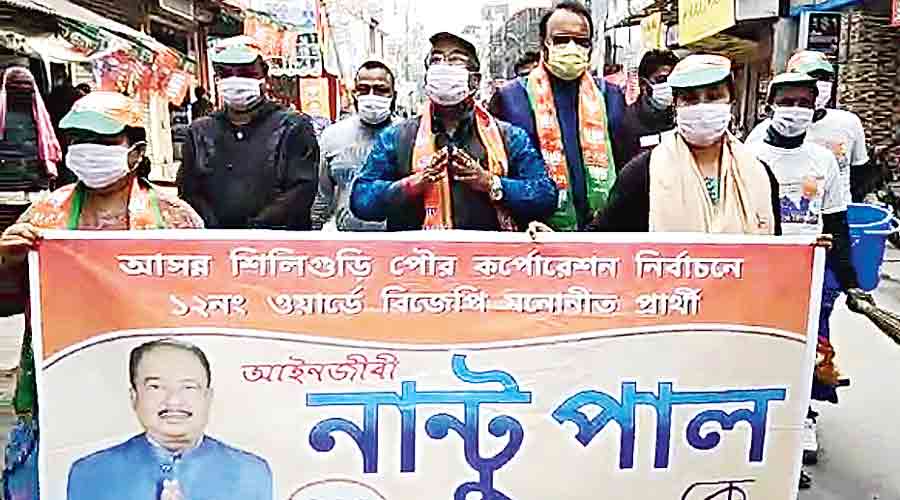 Nantu Paul (centre) and his supporters campaign in ward 12 of the Siliguri Municipal Corporation on Friday.
Passang Yolmo
---
Siliguri
|
Published 10.01.22, 04:11 AM
|
---
Bengal's political landscape is teeming with defectors who have won elections, but for Siliguri's Nantu Paul, the success rate is unprecedented.
Paul, a veteran who has been a member of the civic body here since 1988 — Siliguri had a municipality then — has won as a candidate of the CPM, Congress and Trinamul multiple times.
"Since 2004, he has changed political parties four times. But even then, his strike rate has remained 100 per cent. Irrespective of the party he joined, he has always emerged a winner. This is indeed a rare achievement for any turncoat," said a senior political leader of the city.
Paul, who had contested for the first time as a CPM candidate in Siliguri's civic polls in 1988, has remained unbeaten in seven back-to-back civic polls, the last being held in 2015.
In the civic elections of 1988, 1994 (when the civic body was upgraded into a municipal corporation) and 1999, Paul had won on a CPM ticket.
In 2004, he defected to the Trinamul and won for the fourth time. In 2009, he joined Congress and managed to secure his seat again.
In 2013, he returned to the Trinamul again and won in a by-election in his seat. 
For the seventh time, the senior leader had won from ward 12 at the 2015 elections as a Trinamul candidate.
"There is nothing surprising about my consistent wins. Over the decades, I have always tried to stay with the people and extend all possible help to them. Even leaders of other political parties vouch that in close quarters," said Paul.
Last year, ahead of the Assembly elections, Paul, along with his wife Manjushree — she is also an ex-councillor — defected to the saffron camp.
This time, he is contesting as the BJP candidate from ward 12 while his wife is contesting from ward 11 of the city.
"If he wins this time, he will complete a unique political circle. It is rare to find such a politician who has managed to keep himself afloat and win in every municipal election held over the past 33 years, even after switching to different political camps," said a political observer.
Not only has Paul served as a municipal councillor for over three decades, he has also delivered responsibilities in all prominent posts of elected representatives at the municipal corporation, barring the mayor's post.
Among these include the posts of chairman, deputy mayor, member, mayor-in-council, borough chairman and leader of the Opposition.
He has also served in some other important state-run bodies such as the Siliguri Jalpaiguri Development Authority and the North Bengal Board for Development of Sports & Games.
Currently, he is the working president of Siliguri Mahakuma Krira Parishad, the sub-divisional sports body of Siliguri.
"Siliguri is the gateway to the Northeast and is the second most important city in Bengal after Calcutta. It requires appropriate plans for its overall development and also funds from the Centre. Those who had been in power at the civic body so far have failed to carry out comprehensive development across the civic area. We, the BJP, intend to do it if voted to power," Paul said when asked what message he wanted to pass on to the voters.
The leader, who is also known for his ardent love for sports, said he had spoken with Cooch Behar MP and Union minister of state for home affairs and sports Nisith Pramanik for setting up a cricket stadium in or around Siliguri.
"It is a longstanding demand of the residents here and I am in touch with Nisith Pramanik. It is a dream to have such a stadium in Siliguri which can be the second venue in the state for international cricket matches after Calcutta," Paul added.