Namkhana: Tubewell apathy launches river voyage for water
Homemakers on boat make two trips a day to quench their thirst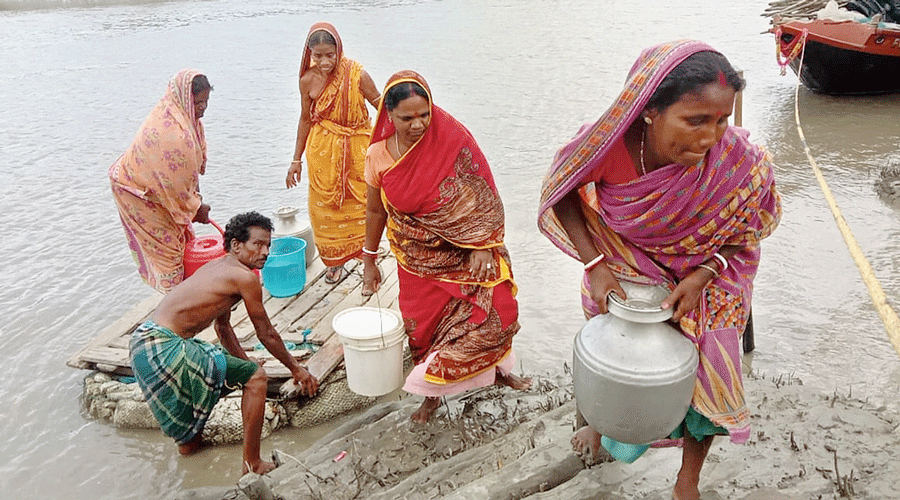 Homemakers on a boat on the Sundarika-Dewaniya river to fetch water.
Mehaboob Gazi
---
Calcutta
|
Published 02.07.22, 01:39 AM
|
---
Homemakers from 20 families living in the remote Shibrampur village of Namkhana in South 24-Parganas are compelled to cross the Sundarika-Dewaniya river to fetch drinking water as the only tubewell in their area has been defunct for about a year.
During the past several months, homemakers like Chaitali Ghosh and Kanika Santra have been taking turns at least twice every day to cross the river on a boatwith buckets and pitchers to fetch water from Haripur village on the other side.
"This is the only way available to us to quench our thirst. It has become a routine for us," said a woman.
The women and other residents alleged that the only deep tubewell in the village had faced the brunt of the Amphan but had continued to deliver water even after that. But around a year ago, it became defunct.
The villagers brought the matter to the notice of the local panchayat authorities, who assured them of solving the problem. But the panchayat has not done anything although several months have passed, residents complained.
Finding no immediate solution, the villagers decided to make their own arrangements. With the salinity level in local groundwater being high and most tubewells in the area not safe enough to drink, villagers have decided to bring water from Haripur by crossing the river.
"We found that the nearest safe deep tubewell on our side of the river is around 2km away, which is quite difficult for many of us to access without the support of our men. They remain busy with agricultural work. So we decided to bring water from Haripur by crossing the river as that village is closer to ours," a homemaker said.
The villagers prepared the boat, as they do during floods. "We take turns to use the boat at least twice every day," said Chaitali Ghosh, a homemaker. However, they are worried about the ensuing monsoon when the river turns turbulent.
The local panchayat pradhan refused to comment on what has delayed the the repair of the tubewell.
Dhirendranath Patra, the sabhapati of the Namakhana panchayat samiti, said: "It is a simple problem that we can solve easily. But no one told me about it."
Namkhana block development officer Shantanu Thakur accused the local panchayat of failing in its duties.
Speaking to The Telegraph, he said, "The issue has come to my notice and I have already sent a team to examine the situation. Many deep tubewells in the area were damaged due to Amphan. Most of these tubewells have been repaired.… But the local panchayat authorities did not apprise us about this one. I assure you that the damaged tubewell will be replaced soon, ending the problem of the villagers."