Nadia woman celebrates birthday of dog rescued from streets
Cake for dog, party for rest (and feast for street dogs)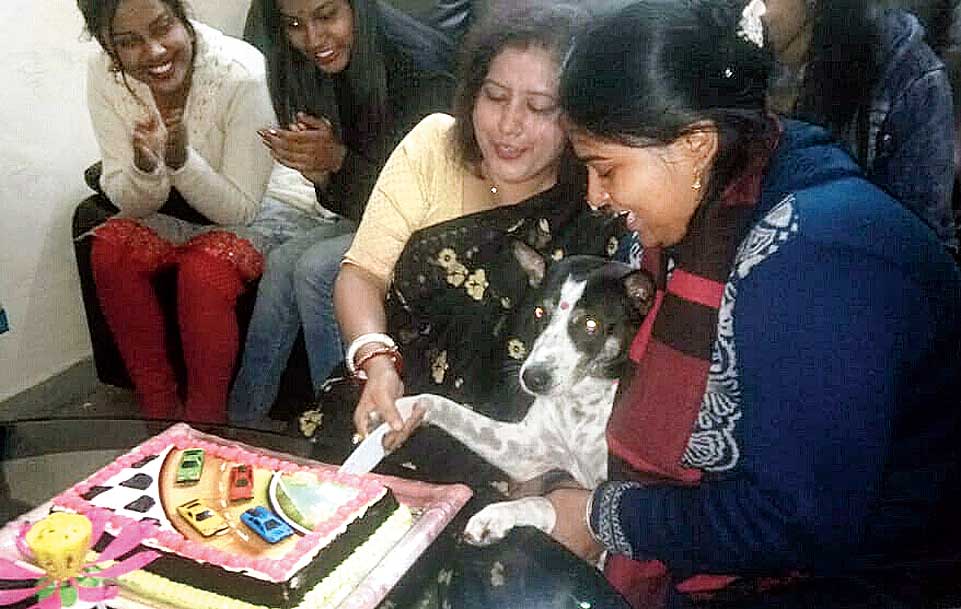 Pusu cuts the birthday cake in Ranaghat.
Picture by Arijit Chakraborty
---
Ranaghat
|
Published 17.01.19, 07:02 PM
|
---
A 45-year-old woman in Nadia's Ranaghat has celebrated the fifth birthday of a dog her husband had brought home from the streets.
Kakali Mukherjee not only had the dog she lovingly calls Pusu cut a cake on Wednesday but she also went around Ranaghat town with two big cauldrons of khichdi mixed with chicken to feed street dogs.
Pusu's birthday celebrations come days after 16 puppies were beaten to death, allegedly by two nursing students, at the NRS Medical College and Hospital in Calcutta.
On Thursday, Kakali treated her neighbours with snacks and coffee at home and then set out on a cycle van with husband Ujjwal, a garment maker, and some friends with the two big metal containers. The food was served to the dogs on paper plates.
"Five years ago on Makar Sankranti, Pusu came to our family when my husband rescued the puppy from a drain where it had fallen while trying to escape an attack by some street dogs. The puppy was barely a month old then. For the last five years, I have been celebrating the day. This year, I decided to make the occasion special by feeding all street dogs," said Kakali, a resident of Children's Park area of the town..
Kakali, who feeds around 10 street dogs near her house, said the special "treat" was to convey a message to the society, a section of which is cruel to dogs.
"It is a great gesture. Such acts are an eye-opener to those who are cruel to dogs and animals," said Riya Goswami secretary of Prayas, a dog lovers' organisation in Krishnagar.