Nadia professor on Stanford list
The US university made the list, which includes nearly 1,492 scientists, doctors and engineers from India, after assessing research published up to 2019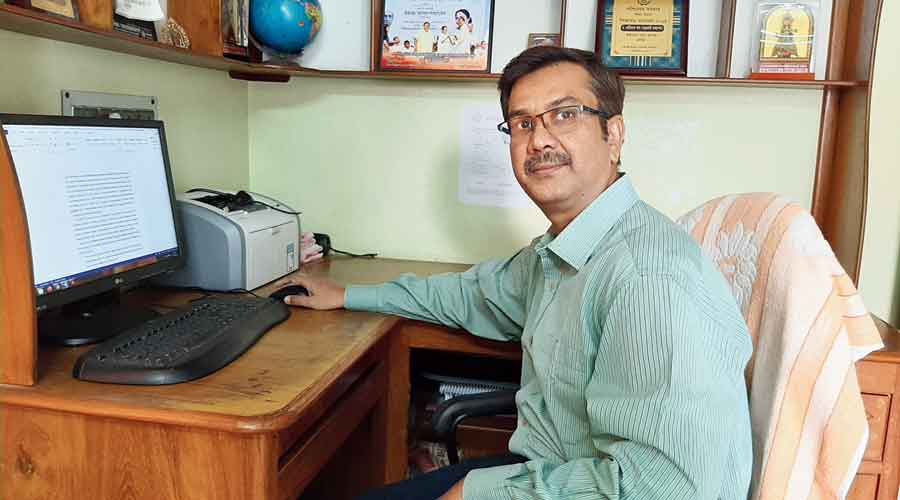 ---
|
Kalyani
|
Published 22.11.20, 01:39 AM
---
A teacher from the mathematics department of Krishnagar Government College in Nadia has made it to the list of the world's top 2 per cent most-cited scientists compiled by Stanford University.
The US university made the list after assessing research published up to 2019. It includes nearly 1,492 scientists, doctors and engineers from India.
Kalidas Das has been globally acclaimed for his research on the utility of nanofluids.
Stanford University scanned 94 research papers credited to Das, counted among the leading researchers in mechanical engineering.
Das said the recognition "is beyond my imagination". He added: "I am grateful to people around me who encouraged me to work on such an unusual subject, which however is largely linked to our lives...my work has a bearing on human health too."
Son of a farmer from Eruli village in Nadia's Dhantala, Das did his schooling at Dr Shyamaprasad High School in Sarishadanga. He later earned his undergraduate and postgraduate degrees in mathematics from Kalyani University. For his PhD from the same varsity, he researched on fluid dynamics. After working as a teacher at a school in Chakdah, he had worked at Kalyani Government Engineering College before as well.
Asked what led him to work with nanofluids, Das said he was intrigued by the subject's vast scope of applications in daily lives of individuals and industries alike.
"I thought I'd explore the utility of nanofluids using mathematical models for practical applications," Das said.
As an instance, Das spoke of the application of nanofluids in medical science. "Magnetic nanofluid can elevate the drug delivery capacity of fluids in a more controlled and directed manner. Microfluidic equipment have been developed to deliver drugs to targeted cancer cells for cure or for purposes of research," Das said.
Das, however, lamented his inability to personally implement his research findings in the practical sphere. "It would have been better if I could collaborate with scientists in the field of application to implement my theoretical models on nanofluids in larger public interest," Das said.
Academics hailed his work.
A professor attached to Kalyani Government Engineering College said: "His theoretical models enable us to develop cutting-edge heat and mass transfer tools. Heat transfer tools using nanofluids can be used to develop coolants suitable for machinery to produce highly-efficient heat exchangers or in grinding industries, and increase the life span of machinery."
Professor Pintu Banerjee, secretary of Teachers' Council of Krishnagar Government College, said Das's achievement made them all proud. Banerjee added that Das had set an example for other academics, especially from non-metros.