My siblings and families are on their own: Mamata
She seeks to debunk uncomfortable questions raised over her integrity after arrests of Partha Chatterjee and Anubrata Mondal in corruption cases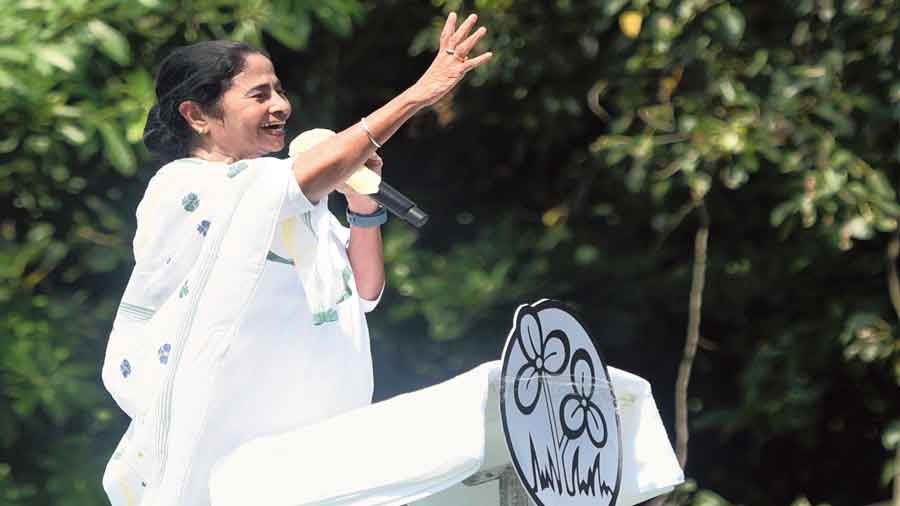 Mamata Banerjee addresses the Trinamul Chhatra Parishad rally in Calcutta on Monday.
Pradip Sanyal
---
Calcutta
|
Published 30.08.22, 02:04 AM
|
---
Mamata Banerjee has said she and her siblings are on their own and each of their families has nothing to do with the rest as the chief minister has tried her best to distance herself from the kin in the face of belligerent attacks from Opposition parties on her probity. 
In her 40-minute address at the foundation day event of the Trinamul Congress's student wing in Calcutta on Monday, Mamata sought to debunk uncomfortable questions raised over her integrity in the aftermath of the arrests of Partha Chatterjee and Anubrata Mondal in corruption cases.
 "Today, someone was telling me, they have filed a case even in my name, saying the assets of me and my family members… everyone's property has increased exponentially," said Mamata."Only my mother, while she was alive, was my responsibility… nobody else. We were six brothers, two sisters. Their families, everybody else, is on their own. We stay in touch, from festival to festival. Every (sibling's) family is separate, nuclear. Nobody has anything to do with the rest, outside of festivals," she added. 
It was clear that the Trinamul chairperson was worried about the impact of allegations of exponential increase in the assets of Mamata's relatives on her painstakingly crafted image as a "shawtotar proteek (symbol of honesty)". Mamata's purported clean image has been her most significant political capital, key to her ascent to and retention of power in Bengal.Several seniors in Trinamul admitted on the condition of anonymity that the chief minister had rarely appeared so anxious before to prove her personal probity since the campaign for the 2016 Assembly election.
The chief minister went on about her wealth — or the lack of it."My property? If that is to be judged, why do it here? It should be done before an international court. Here, whatever the BJP teaches will be said," she said. "My evidence is already given," Mamata said before explaining how she had been sacrificing pension that MPs received for years and not taking any salary as the chief minister. 
After explaining how she had been leading a humble life, Mamata went on an attack mode, bringing back memories of her May 2013 speech, where she had resorted to a famous fusillade of rhetorical questions on whether leaders in her party, including her, were thieves.
On May 3, 2013, in the wake of then newly-emerging allegations pertaining to the Saradha deposit-mobilisation default "scam", Mamata was quoted as saying before a general council meeting of her party: "Kunal chor? Madan chor? Tumpai chor? Mukul chor? Aami chor? Shobai chor? Bakira shob shadhu (Is Kunal Ghosh a thief? Is Madan Mitra a thief? Is Srinjoy Bose a thief? Is Mukul Roy a thief? Am I a thief? Are all of us thieves? And the rest are saints)!"On Monday, she asserted: "Partho-o chor, Keshto-o chor, Bobby-o chor, Aroop-o chor, Abhishek-o chor, Mamata Banerjee-o chor… shobai chor, ar apnara shadhu. Ediye jeebon cholbey na (Partha Chatterjee too is a thief, Anubrata Mondal too is a thief, Aroop Biswas too is a thief, Abhishek Banerjee too is a thief, Mamata Banerjee too is a thief… everybody is a thief, and you are saints. Life will not go on with this)!"Mamata said her niece and Trinamul national general-secretary Abhishek Banerjee could be targeted by central agencies because he had spoken well — before her — at the event.
"He has been served notices before this, his wife too. Next, quite possibly, their two-year-old (younger) child would get a notice. When they call you (Abhishek), take the kid along, so that they know what kind of strength the future holds," she said.Mamata also tore into the Bengal Opposition for trying to optimally utilise the present opportunities to taint her image. 
"I came to politics to serve the people of our nation. The Opposition, however, with the help of media, rented leaders, and corrupt politicians, are trying to smear my image. They drag my name in every matter. Something to do with Partha, drag Mamata Banerjee into it. Something about Bobby (Hakim), drag her in. Why is the rice is not hot enough, drag her in. Why is the sky cloudless today, drag her in. What do you think? Mamata Banerjee is not here to bow her head in politics," she said.
She went on to demand answers on the BJP's allegedly ongoing attempts to topple governments in states ruled by non-BJP parties, after accusing the saffron camp of having "ruined" the nation in eight years at the Centre."Where did the money for toppling the Maharashtra government come from? How many CBI and ED cases have been registered there?" she asked.
"You wanted to topple the Jharkhand government, but our police nabbed three (Jharkhand) MLAs in Bengal. They confessed that the BJP was paying them Rs 10 crore per MLA to topple the Jharkhand government. Delhi chief minister Arvind Kejriwal has stated that to topple his government, a Rs 800-crore plan was made," she added.
"To topple the Bengal government, they have made this CBI-ED plan…. The plan is to arrest (several key leaders, including Abhishek)… and keep them in jail so that Trinamul doesn't win again. I dare them to arrest me as well. Then they will see the impact."
Bilkis Bano case 
Mamata also spoke on the remission in BJP-ruled Gujarat of 11 convicts in the 2002 Bilkis Bano case.
"What happened to Bilkis Bano? You sent letters to all state governments saying convicts should be released on Independence Day. We didn't understand that this was their plan in Gujarat. They should be ashamed. They talk about love and protecting our daughters, but they are the ones causing violence against women," she said.