Mukul Roy to help Trinamul bolster national identity
New TMC vice-president kept out of orginsational matters now being supervised by Abhishek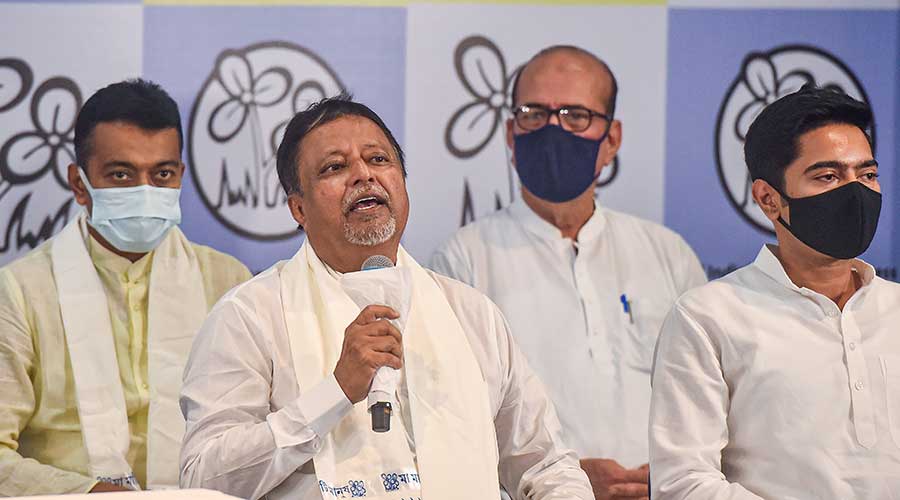 ---
|
Calcutta
|
Published 14.06.21, 04:28 PM
---
The once-formidable Mukul Roy is likely to lead the Trinamul's charge across the country as Mamata Banerjee makes another attempt to pitch herself on the national stage following her spectacular Assembly elections victory.
After his return to the Trinamul Congress, Roy has been made an all-India vice president with brief to spread the word about Trinamul and expand its support base across the country. The move while accommodating Roy without leaving him in the lurch like he was in the BJP for the last two years, also keeps him away from the party's organisational matters, which is now firmly with Mamata's nephew and the party's all-India general secretary, Abhishek Banerjee.
"It would have been difficult to keep Roy out of any organisational role. Since he is an old hand and there are many who owe their allegiance to him after Mamata di, he would have turned into another power centre. Neither Abhishek nor Mamata di want that to happen," said a Trinamul leader.
Roy, however, is unlikely to get a free hand in his new role since pollster and political consultant Prashant Kishor has already been handling much of the party's forays at the national level _ the latest being his meeting with the NCP chief and Maratha strongman Sharad Pawar. "PK is already doing the liaison for the party with other leaders, though he is mostly working behind the scenes," said the Trinamul leader.
Soon after his name was announced as the party's all-India general secretary, a post that Roy held till his departure from the Trinamul in 2017, Abhishek articulated his desire to make the Trinamul a national party. "We will not simply contest polls in other states to increase our vote share. Our aim from now on will be to come to power in these states," he had said last week.
Mamata's success against the Narendra Modi-Amit Shah combine in Bengal, has helped raise her stocks among the section of voters who are against the BJP but are uncomfortable with a Congress-led by Rahul Gandhi.
Having been an MP from 1984 to 2011, with one break in 1989, Mamata has had cordial relationships with several regional satraps, including the Yadavs of UP and Bihar, the Abdullahs in Kashmir, the Pawars in Maharashtra and Chandrababu Naidu, the TDP chief, who has been one of her most vocal supporters.
Mamata's attempts at going national have not met with any success over the last few years. It was her poll triumph in Bengal in 2011 that had prompted the Trinamul chief to pitch for a greater role in national politics.
Trinamul has contested polls in Arunachal Pradesh, Manipur, Assam, Tripura, Rajasthan, Uttar Pradesh and even Kerala, where it had announced 70 candidates in the 2016 Assembly polls.
In Manipur, for example, the sole Trinamul legislator from Thanga Assembly constituency had initially supported the BJP to form a coalition government and later joined the Congress. Likewise in Punjab, an expelled Congress leader, Jagmeet Singh Brar, close to Mamata during her days as an MP, was made Trinamul's Punjab unit president in 2016 ahead of the north Indian state's Assembly elections. The Trinamul unit in Arunachal got merged with the People's Party of Arunachal in 2013.
"It's a long task ahead. It is not possible for us to just go into any state and win elections. In Bengal too it took Mamata di three decades to establish herself as the alternative to the Left. But after her spectacular win in the Assembly polls, she is in a much stronger position to take on the BJP at the national level. No other leader in the country has that kind of a stature," said a Trinamul MP.