Much work at playschool
Admission prep for kids and parents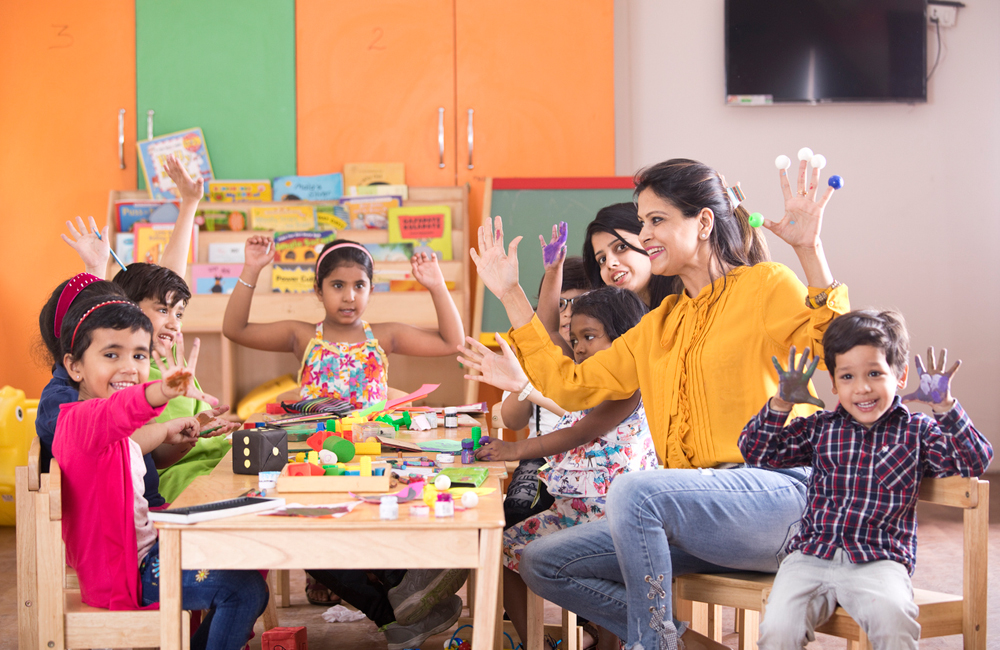 ---
|
Calcutta
|
Published 21.10.19, 08:24 PM
---
Playschools are now preparing two-year-olds for admission to high schools by conducting mock interviews and training parents to tackle tricky questions.
The preparations vary depending on the age of the child and which school the parents have applied to. Experience has taught preschool teachers what "kind of questions are asked in interviews" and what high schools expect from children and their parents.
In one preschool, parents of two-year-olds are advised to let them go on a play date without them so that the child gets used to being away from parents for sometime, something that will "prepare" them for the interview.
"The idea is to familiarise them with a new environment because in some high schools they are separated from the parents during interaction. Preschool is a place where they are away from parents but after sometime they get used to the environment and the preschool teachers," said Chandrika Ramakrishnan, the principal of Mongrace Montessori House, New Town.
Questions for parents are often situation-based where they might be asked whether they would relent if a child threw a tantrum for a toy and how would they deal with it or how often they order food in or if they drink at home.
High schools in the city started distributing forms for Nursery and Kindergarten from July, and preparations at preschools began a month ahead of that, stretching on over a few months.
The mock interviews are aimed at preparing the child to answer questions. To make the trial closer to reality, the interviews are conducted by teachers from different centres of the same school so that the children get accustomed to facing strangers.
"At times they are also taken to different centres so that it is a new environment for them. It is important because often the child does not speak in a new environment, so all these are ways to get the child used to different situations," said a teacher of a preschool.
"At times, there are two teachers so that the child gets used to different questioning patterns," another teacher said.
During the interview, the child is assessed and the evaluation sheet is returned to parents so that they can see how the child has fared in the interview.
Children are expected to recite a nursery rhyme, identify objects and do some colouring. The preschools are under a lot of pressure from parents who expect their children to be well-prepared for admission to high schools.
Two to three-year-olds can be asked to point out body parts or to recite a nursery rhyme. For four-year-olds, the interview is more serious and the interaction is at times held in the "principal's room". The child is taught how to enter the room, how to sit and how to conduct himself or herself.
Playschools also ask parents to share the interview dates, so that the preparations are more intense for those children who have an interview coming up.
"We start in July, so that by October the child is able to say something at least, since we drill it into them every day," Ramakrishnan said.
For parents, the mock interview is on a single day in some places and a more generalised session in some.
"We conduct one-on-one interviews because parents expect us to do that. Some of them are conscious and do not open up if there are group sessions," said Nabonita Bose Mukherjee, the principal of Bubble Blue Montessori.
"Parents are scared and we tell them they should make a choice intelligently and apply in four schools so that they have options. With so many schools in Calcutta now it is not difficult to get in," she said.
Many parents apply to multiple schools so that the child gets used to facing interviews. "My son hardly speaks. I have applied to a school I do not plan to send him to because it will be a kind of a rehearsal for him," a father said.
"The idea of a mock interview with the parent is to make them feel more relaxed. We also tell them how to approach the principal of a high school," said Priti Doshi, the founder and director Primary Colours Play House and Montessori.
Parents are told not to interject when the other parent is asked a question. If they want to add something, it should be done after the other parent has finished talking.