Self-belief mistaken as arrogance
Sen would rather get under the skin of the characters and their behavioural patterns in different situations than follow a script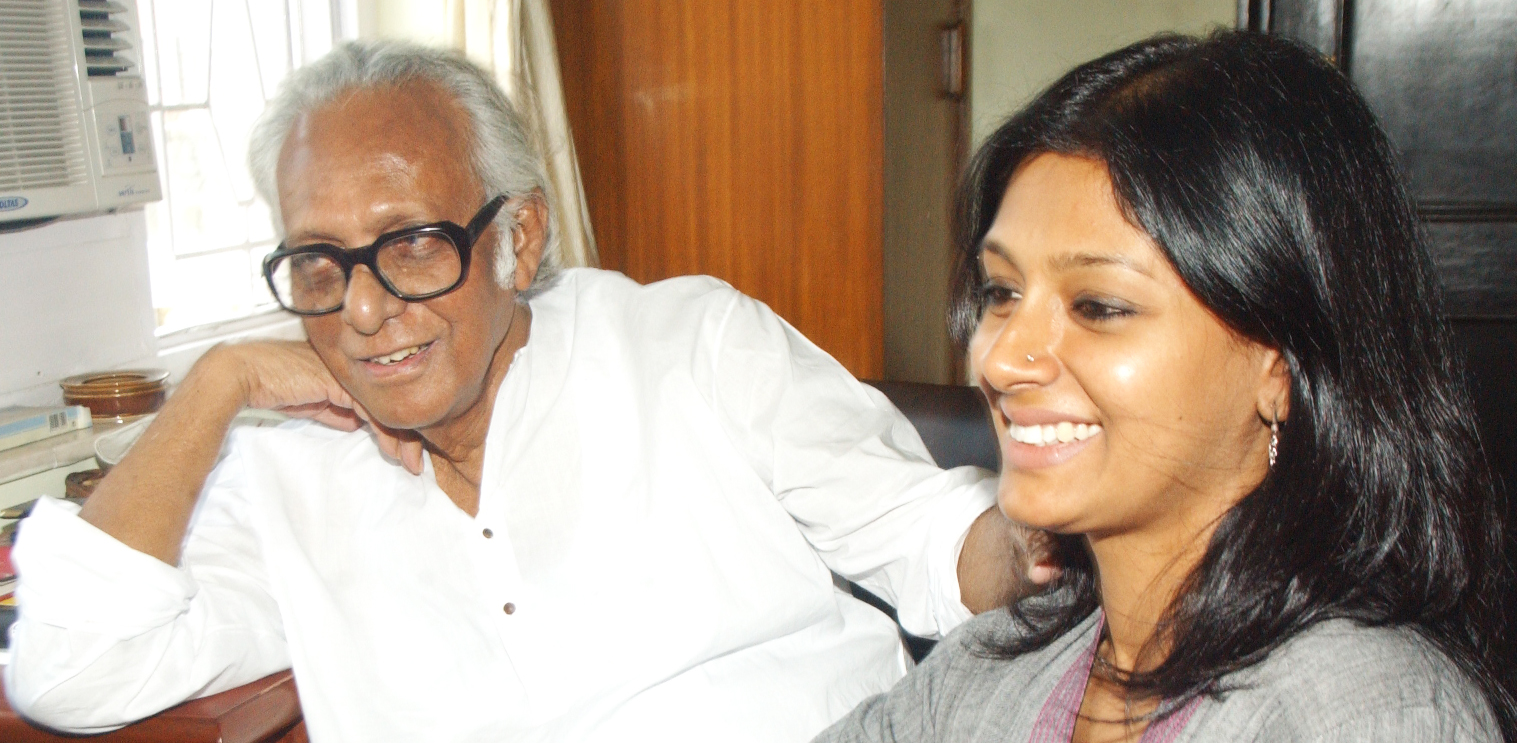 Mrinal Sen with actress Nandita Das at his residence in 2006.
The Telegraph file picture
---
Published 30.12.18, 09:44 PM
|
---
To some, he was a maverick maestro. A maestro Mrinal Sen certainly was, considering the weight and quality of his oeuvre. However, the term maverick hardly denotes the essence of his creative personality, his cinematic idiosyncrasies and penchant for unconventional treatment or experimentation notwithstanding.
What truly defines Mrinal Sen's works is the exuberance of his cinematic approach, which was quite different from the gravity or sombreness of his contemporaries like Satyajit Ray or Ritwik Ghatak.
Sen's main idea was to complicate the diegesis rather than tell a story. He would hardly portray events, and allow the characters to play their assigned roles. He delved deep into his diegesis and created very irregular dramatic patterns that sometimes exasperated his viewers. In these endeavours he would seem to be unconcerned about the tastes and preferences of his viewers. He would rather insist that his viewers should submit unconditionally to his way of thinking. Many would call this his arrogance. But this was in fact the measure of his self-belief, which helped him defy all odds during the early stages of his career.
All his films were based on some work of literature or other. However, being an avid reader of literature, he knew that the experience of reading literature was different from that of watching films. Sen had two distinct approaches while dealing with literary sources. Minor literary sources would only work as a trigger for him. It provided him with social data and ideas about social process. He would then transform the work liberally and elaborately to suit his ends.
The storyline was the least of his concerns. Sen would rather get under the skin of the characters and their behavioural patterns in different situations. Not for him was the comfort of a readymade script. More often than not he would work extempore while shooting, creating impromptu situations to challenge his actors and actresses. In doing so, he actually challenged himself as a filmmaker.
For major literary works he would generally transpose the characters in a different cultural milieu than their original, "literary" ones. He would still play with the characters, focus on their personality traits and emotion, and finally weave situations around them according to his own understanding of society and politics. Thus the Hindi short story Kafan by Munshi Premchand would be recreated as a film titled Oka Oori Katha in Telugu, Bengali short story Gotrantar by Subodh Ghosh would become Ek Adhuri Kahani in Hindi, Bengali short story Bhuvan Shome was transformed into an eponymous Hindi film and Bengali story Telenapota Abiskar by Premendra Mitra was made into a Hindi film Khandhar. His later films like Antareen or Genesis were apparently veering towards a new direction, more akin towards poetic creation.
Sen hardly followed a consistent creative path. He had phases in his creative life that were incongruent to each other. At times he experimented too much with cinematic form. But all this was part of a rich cinematic journey, in search of life's myriad vignettes.
The writer is a media scholar and teacher. He specialises in economics and sociology of media, including freedom of expression in media