Mother. Mati. Mughlai
Calcutta through the eyes of the backpacker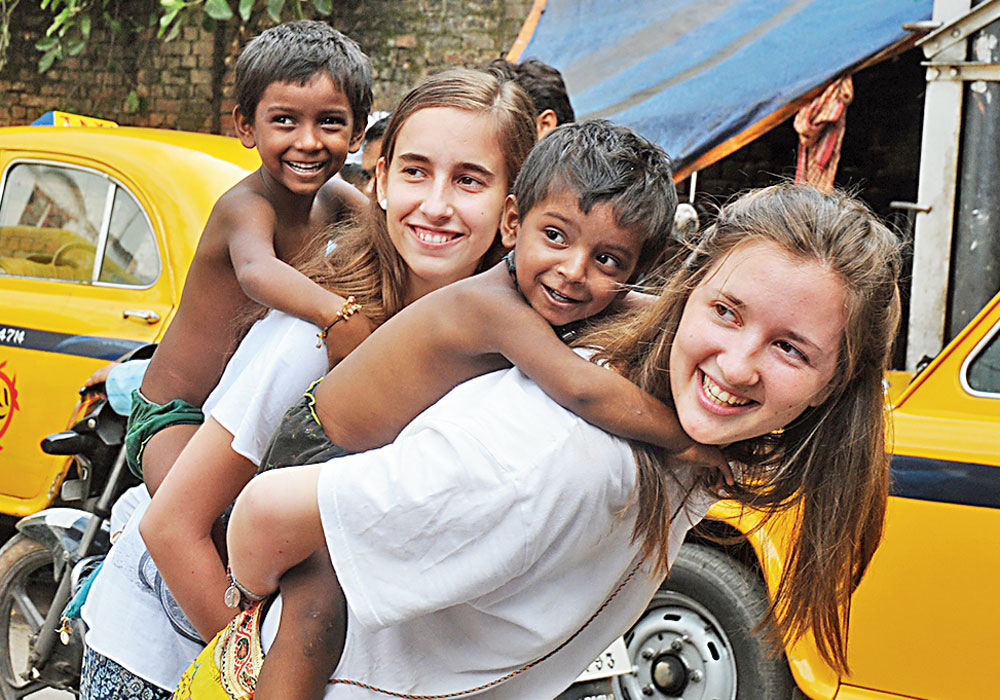 Foreigners on Sudder Street
File picture by Sudip Acharya
---
Published 20.04.19, 06:43 PM
|
---
The lone tangerine wall of Raj Spanish Cafe is scribbled over with messages from customers in different world languages. As the gaze travels through a jungle of strange words, smileys, hearts and stick figures, one thing becomes certain, central Calcutta's Sudder Street is the haunt of backpackers from far-flung places. The sign-offs read — Vanessa, Argentina; Susana Borges, Portugal; Pau Bilbao, Mexico and so on.
It is late evening and the café is playing Hotel California. "Such a luvely place…" Soumik Shamooi is jumping from one table to another. The 19-year-old, a second-year college student, has been waiting tables here the past two years. Says Soumik, "We get a lot of travellers here. But this is the wrong season. Most of them have left for their homes. They are usually here from November to January and July to October."
Backpacker season or not, Oscar Gutierrez, 26, and Laura Prado, 23, are here. Oscar is from France and Laura from Germany. They have just returned from a wedding in Bhubaneswar and their pale hands are covered with the ceremonial mehendi. Says Oscar, "I came to Calcutta for the first time through an exchange programme in 2017. This time I am here only for a few weeks." He shows off his Bengali — "Baa dike daan dike." Meaning, left side and right side. Laura looks on bemused and when it's her turn to speak, she says, "Calcutta is not an easy city to fall in love with, but it is magical."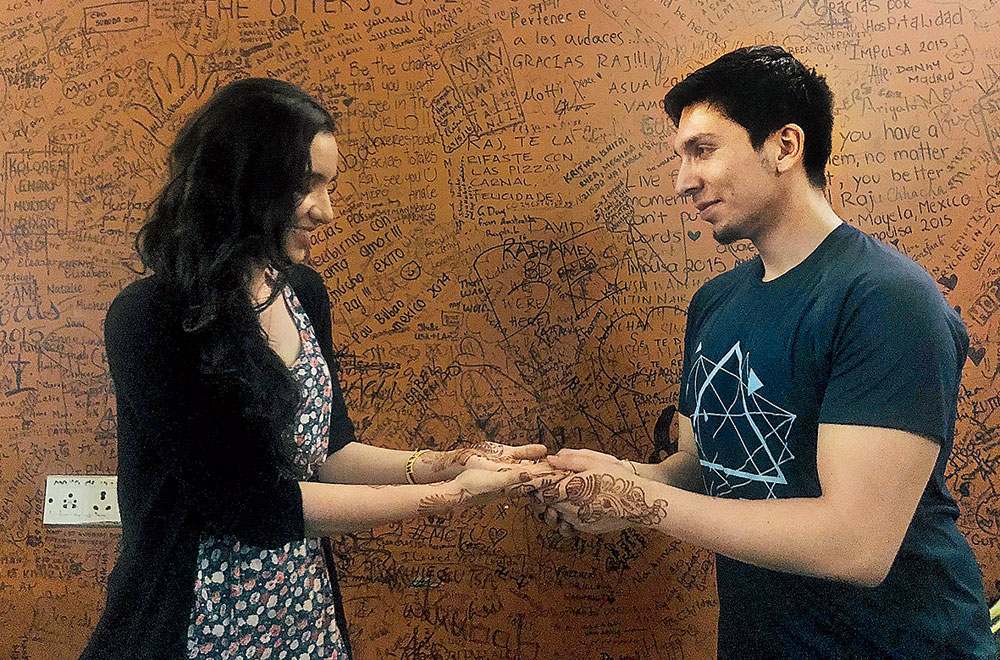 Backpackers are not an amorphous mass, though they may seem like that to an insider. "The kind of backpackers the city welcomes varies from tourists to research scholars to yoga students, meditation buffs and music nerds," says Anand Punj who started Backpackers Park, a hostel on Park Street last June. Five years ago he had opened the first Bombay Backpackers in Mumbai and thereafter in Goa, Pune and Varanasi.
Daniel Azzola, 26, is from Bergamo in Italy. "First time in India, first time in Asia, first time in Calcutta," says Daniel who is a volunteer at Mother House of the Missionaries of Charity. And what does he do there? "I lift the elderly and indisposed residents from the bedroom to wheelchair, wheelchair to bathroom. I feed them, make beds, sometimes wash dishes and clothes." Daniel is here for two more weeks before he goes off to Jangipara in Hooghly district, where he will teach English in a local school. He has already done his share of sightseeing from Dakshineswar to Belur Math, had his fill of phuchkas and a heavy Mughlai meal that upset his stomach. "I am going to eat pasta for the rest of my life now," he laughs.
According to Anand, some come here to spend days, weeks and even months, such as Daniel. Others approach Anand with a to-do list that has things like buying handicrafts, trying Indian street food, visiting Victoria Memorial. "I have never been to the Howrah flower market but each and every guest I've had goes there early in the morning," he says.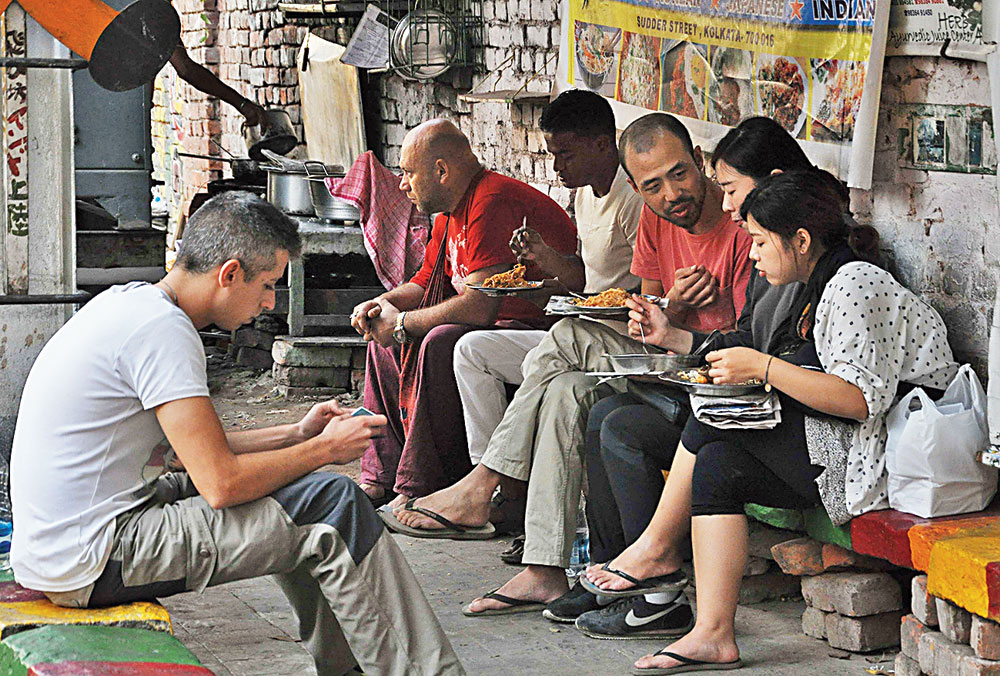 It is Sean Graham's third day in Calcutta and he is wandering about Esplanade and Maidan. Says the 45-year-old California, UK, resident, "I am here primarily as a tourist but I am a multimedia artist looking to source creative content for a show or exhibition. So I want to keep my eyes and ears open, apart from doing touristy things." Sean has already been to Babughat, Eden Gardens and the bus station at Esplanade. He checks his fitness band and reports that he has walked 12.7 kilometres the day before. "A lot of people on the streets asked me to take the yellow cab or the Metro, but I prefer to walk. I started travelling solo in 1994. I have backpacked 35 countries since," he says.
Sean says he chose to stop at Calcutta because of the city's colonial past and the fact that it has a connect with Mother Teresa. "It was also a cheap flight from Bangkok," he laughs. This trip for him is important as he wants to grieve the death of his father. Sean says, "Calcutta fits in beautifully. This place is relaxing." No, he doesn't have any selfies in the city, but he has taken photographs aplenty. He says, "I used to give photo tours in Myanmar, Cambodia and Vietnam. Calcutta is a fascinating city to photograph, all life is on the streets, waiting to be captured." And what intrigued Sean the most? "You know it is weird, but I really liked the walls layered with posters — old, new and fading — and graffiti, peeling off in places, full of character. This is art for me," he says as he shows rows of photographs on his phone.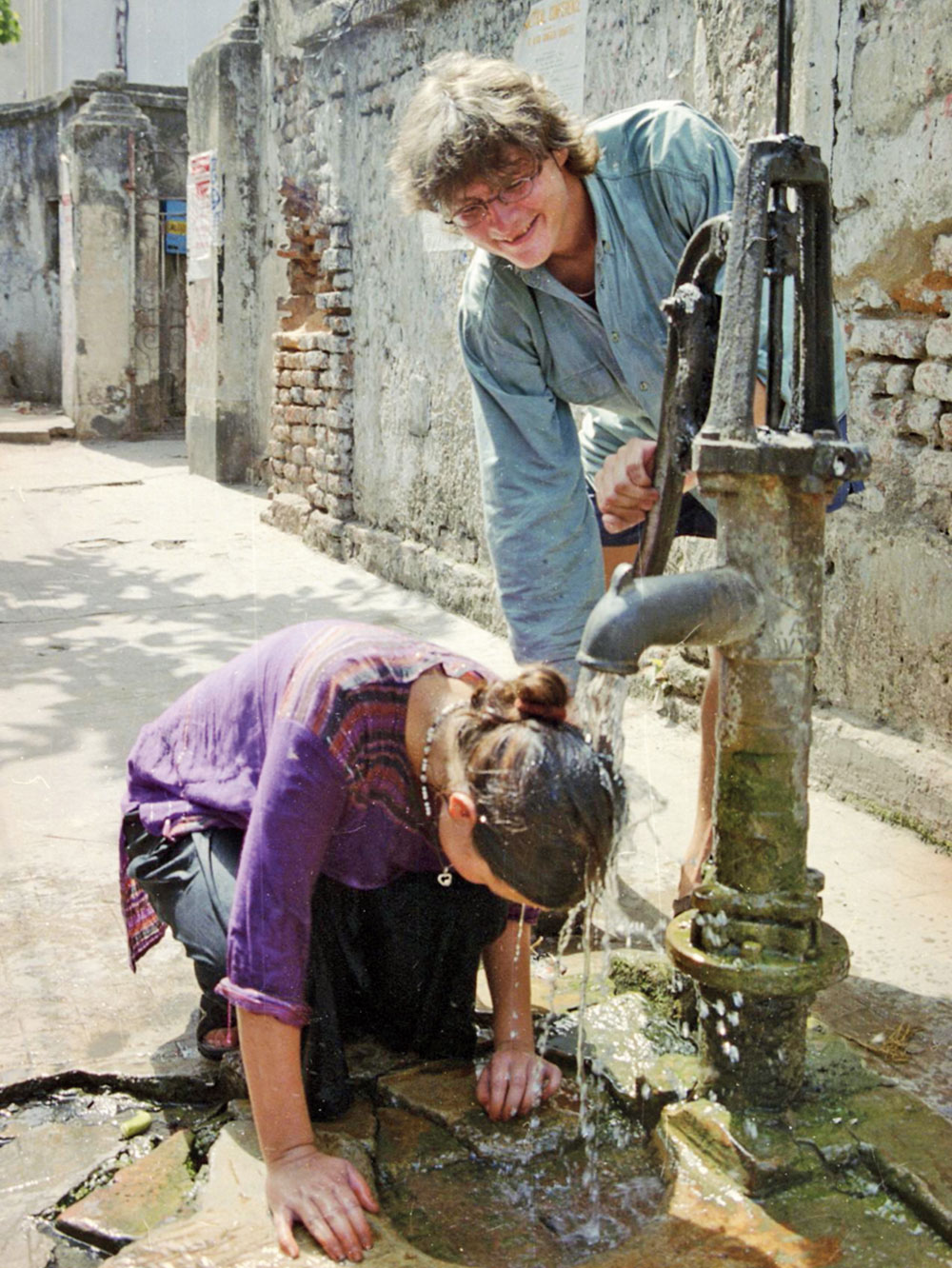 Gabriel Almeida is from Sao Paulo, Brazil. Joris Bectrane is from Basque Country in France. Mia Fallon-Clarke is from Devon, England. All of them are visiting for different reasons. Gabriel, who is doing his PhD in Molecular Biology, has a gallery full of photographs of singara, ghugni, mishti doi, naan and butter chicken, biryani, rolls.
Joris came to India in December and motorbiked his way from Delhi to Madurai, covering 8,500 kilometres in two months. On a map in his phone he has marked in red all the places where he has stopped — Delhi, Agra, Ajmer, Aurangabad, Hampi, Goa, Mangalore, Kochi, Alleppey, Kovalam. He has just driven to Calcutta from Chandipur and will spend a few days here before he heads for Bangladesh. In broken English, he tells me, "I don't know when I go. I don't have too much plan. I check in the Internet. Talk to people. And go."
Mia, who has travelled to a score of places including Khajuraho, Varanasi, Mumbai, Kodaikanal and Haridwar, says, "Calcutta is different from other Indian cities. It is much more slow-paced and cleaner. This is a city you have to feel and if there was ever a place to lose your way then this would be it."
As we walk down Park Street, she adds, "The city has a soul", and a yellow cab honks in agreement.