Mother bear and cub take a Sunday stroll at Darjeeling's Mall
Camera captures duo before dawn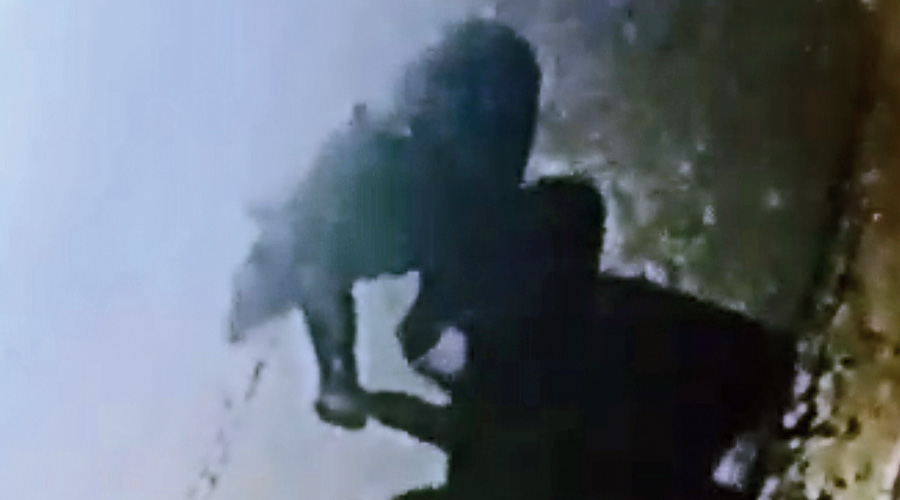 Footage shows the bears in Darjeeling
Telegraph Picture
---
Darjeeling
|
Published 02.11.21, 12:55 AM
|
---
A Himalayan black bear and her cub sauntered lazily at Darjeeling's famed Mall area in the wee hours of Sunday when roads were deserted.
Footage captured by CCTV cameras of Sanderling Resort around 2.30am suggest the mother-cub duo came from Tourist Lodge area, walked around the Darjeeling Gymkhana Club premises before taking the club's tennis court pathway to enter the Mahakal Baba temple premises on the Mall. The Tourist Lodge-Sanderling-Gymkhana properties are barely 200m away from Chowrasta, the town's famous square. Forest officials feel that both the bears are still in the area.
"We had enquired from  the night guards but none seems to have spotted the bears," said Sangay Tshering, managing director, Sanderling Resort.
S.S.S.S. Sherpa, divisional forest officer, Darjeeling Wildlife Division said that the bears were first spotted around 10 days back at Muldara area, about 2km  from the Mall.
"Since there is a cub, which could be about four to five months old, we are trying to use passive measures to push the animal into the fringe jungles instead of looking at tranquilising or capturing it in a cage. We managed to push the animals to the nearby forest earlier. However, all options are being weighed," said Sherpa.
About a fortnight back another Himalayan bear had been captured by foresters and released in the wild near Lebong, about 4km downhill from  the Mall.
The mother-cub duo have not attacked human or other domesticated animals till now. However, foresters maintain that people should be alert because of the cub.
In February 2004, a Himalayan black bear had to be shot dead after it killed 16 goats, four dogs, two calves, a bull and scores of chickens at Takdah, about 35km from Darjeeling.
Himalayan black bears normally dwell in hilly forest tracts at a height of 10,000 feet or above but descend downhill till altitudes of 5,000 feet during winters for mating and before going into hibernation.
Darjeeling town is situated at around 6,700 feet.
A census conducted about 5 years ago had come to the conclusion that there could be about seven to 15 bears in the jungles adjoining Darjeeling town.
"The animals' foray into urban habitation could also be an indication of the poor garbage disposal system in the town. The food in garbage vats might be attracting the animals," said Sherpa.