Moon Moon Sen in langur trouble
BJP said Sen had flouted wildlife rules and the move was to woo Hindu voters by showing her 'love' to a langur a day after Hanuman Jayanti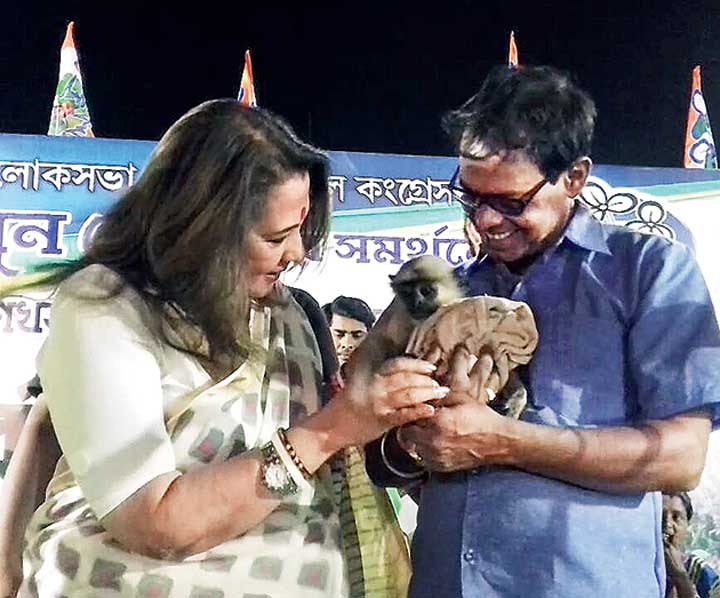 Moon Moon Sen fondles the langur.
(Santosh Kumar Mandal)
---
Durgapur
|
Published 21.04.19, 08:07 PM
|
---
Moon Moon Sen, the Asansol Lok Sabha candidate of Trinamul, caressed a baby langur brought to her campaign programme on Saturday, prompting rival parties to allege she had violated the Wildlife Protection Act through public display of the animal.
Sen was addressing a gathering at Dharmarajtala in Andal around 8pm on Saturday when she spotted an infant languor in the arms of a villager present on the dais. She took the animal from him and started fondling it.
Labour minister Maloy Ghatak and other senior Trinamul leaders were on the dais.
Sen kept the langur in the arms for sometime and said: "I love animals as they are very innocent. Look at this infant langur; it is so cute."
The BJP said Sen had flouted wildlife rues and the move was to woo Hindu voters by showing her "love" to a langur a day after Hanuman Jayanti.
"The Trinamul candidate tried to use the langur as her poll plank to woo Hindus a day after Hanuman Jayanti. Moreover, she violated the model code of conduct by displaying the animal in her election campaign," said Lakshman Ghorui, the BJP's West Burdwan district president.
He said the BJP would lodge a complaint with the Election Commission.
The CPM, however, said the people of Bengal had almost forgotten "humanity" following the strong penetration of religion into politics by both the BJP and Trinamul.
"If the Trinamul candidate had given food to a hungry child, it would have been more human and we would have welcomed it. What message was she trying to give by holding a langur in the arms during election campaign?" asked Pankaj Roy Sarkar, a CPM district secretariat member in West Burdwan.
He, too, said it was illegal to publicly display wild animals and would lodge a complaint with the Election Commission.
The divisional forest officer (Durgapur), Milan Kanti Mandal, said langur or monkey is a wild animal and their public display is not allowed.
"As per the Wildlife Protection Act 1972 display of wild animals is prohibited," said Mandal.
Asked whether he would take action against it, he said: "I will look into the matter."
Trinamul said the Opposition parties had a lot of time to find out "our flaws". "It is very common for people to adore innocent animals. The Opposition have enough time to find out our flaws. I will advise them to spend more time to work for the people, instead of criticising us," said V. Sivadasan, Trinamul president in West Burdwan.