Monday paper restored
Read more below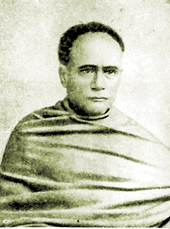 ---
Published 07.11.10, 12:00 AM
|
---
Iswar Chandra Vidyasagar
It is being heard that the Santhal women are also revolting. One can still get past the men but one can't get past these very brave women…" Vidyasagar had written in 1881 of the Sepoy Mutiny in his weekly paper Somprakash.
The paper was recently "relaunched" in the city.
On August 5, 1858, Vidyasagar, reformer, educationist and writer, retired from his post as special inspector of schools. While he held the post, he had established several schools. After retiring, he wrote to the then director of public instruction, Gordon Young, that he would still continue to be involved with the spread of education in the country.
In the same year, the British crown took over the reigns of India and within a week Somprakash came out. Vidyasagar was its founder and adviser. It was called Somprakash because it was published every Monday. The aim was to educate the Indians politically.
Somprakash was published for 28 years and nine months and was edited by Dwarkanath Vidyabhushan.
A divine Bhaiphonta at the Beleghata Ekata Sangha Kali Puja, with Lakshmi giving phonta to brother Ganesha. Picture by Sudeshna Banerjee
After Dwarkanath's death, Vidyasagar continued to be the trustee of Somprakash. Showing exemplary courage, the paper criticised the British colonial policy, the exploitation by indigo planters, zamindars and industrialists and the Newspaper Act of 1908 that laid down several restrictive terms and conditions for the press.
To commemorate 150 years of Somprakash, the South 24-Parganas zilla parishad retrieved the papers from the district library, laminated and bound the brittle papers, and released it at a function on Mahalaya, October 7, at the National Library Auditorium.
It is of course another matter that the commemorative function instead of dwelling on Vidyasagar and his paper became a platform for the powers that be, with new city mayor Sovandeb Chattopadhyay and West Bengal Vidhan Sabha Opposition leader Partha Chattopadhyay attending the event.
Mother of all tunis
Fairy lights on display in a shop. (A Telegraph picture)
An enthusiastic Diwali shopper was not happy with the range of fairy lights on display at a shop in Chandni Chowk. "Don't you have any new design?" she asked the shopkeeper.
"Of course, I do. Haven't you seen Tunir Ma?"
The shopper was about to ask if he was referring to the Bangladeshi song that has become a rage. It features a young urban couple in sylvan surroundings with the young man going on complaining in rustic Bengali about his skirt-clad lady, who gyrates continuously and is called Tuni, to her mother, Tunir Ma. He grumbles that she "dates" anybody and everybody (jaar taar loge dating maare, amaye chene na) or that "she keeps giving missed calls, but never calls".
But in this case "Tunir Ma" turned out to be strings of big, white, plastic lights. Before they were replaced by LED, fairy lights were called "tuni" in Bengali. Since these were the old-fashioned lights, and big ones, they had been named thus.
(Contributed by Anasuya Basu, Poulomi Banerjee, Doel Bose and Chandreyee Chatterjee)