Minister's rift with colleague spills out
In north Bengal, Gautam Deb and Rabindranath Ghosh do not see eye to eye on most issues as they belong to different camps in the ruling party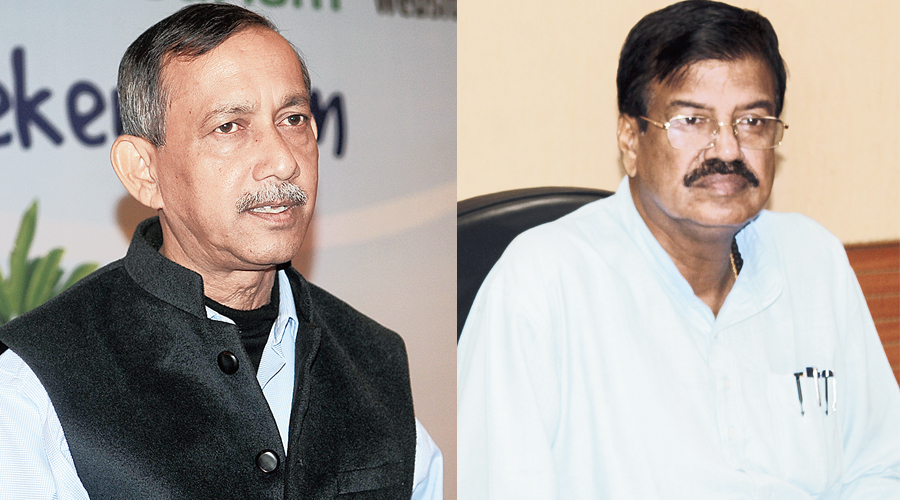 Gautam Deb and Rabindranath Ghosh
Sourced by the correspondent
---
Siliguri
|
Published 15.01.21, 01:50 AM
|
---
State tourism minister Gautam Deb on Thursday hit out at his cabinet colleague Rabindranath Ghosh, heading the north Bengal development department (NBDD), for the alleged lack of infrastructure development in the region, underlining another rift in the ruling Trinamul ahead of the Assembly  elections.
At an event to lay the foundation of a road in his Assembly constituency Dabgram-Fulbari on Siliguri outskirts, Deb suddenly turned the heat on Ghosh, his successor in the NBDD in the Mamata Banerjee government's second term.
"When I was the NB development minister, hundreds of roads and drains were built by the department. It is unfortunate that during the past five-six years, no repair work has been carried out to maintain these roads. People in my Assembly seat are peeved at the existing conditions of these roads. I have sent over 100 letters to NBDD but for some unknown reason, those at the department have not acted on any of the letters," Deb said.
The state tourism minister also added that the NBDD's alleged indifference had prompted him to seek chief minister Mamata Banerjee's intervention.
"I had to write to the chief minister, mentioning the details. The chief minister's secretariat responded and I received a phone call on Wednesday. The state approved construction of some new roads and maintenance of a number of roads in Dabgram-Fulbari. Work (on these) would be taken up on a war footing," added Deb.
It is no secret in north Bengal that Deb and Ghosh do not see eye to eye on most issues as they belong to different camps in the ruling party. Deb has also held Ghosh responsible for his shift from the NBDD that he helmed for five years. 
Contacted by this paper for his reaction, Ghosh swatted away the charges. 
"The allegations made by the state tourism minister are incorrect. Whenever we have received any proposal from him, we have acted on those. In fact, our department has even carried out some unfinished projects in Dabgram-Fulbari which were initiated when he (Deb) was the NBDD minister," said Ghosh.
Deb's remarks and Ghosh's reactions have led to repercussions in the political arena of the region, including Trinamul inner circles.
A party insider said that in 2017, about a year after Ghosh assumed the office of NB development minister, he had raised questions over the quality of work of some of the road projects taken up during Deb's tenure. In fact, Ghosh's department had served notices to as many as 18 construction firms on the issue. 
"There was always that tittle-tattle that both these ministers have differences. However, those never surfaced in such a blatant manner so far. Eventually, this (open criticism of one minister towards another)  is a loss of face for us (the party)…particularly as elections are ahead," said a Trinamul insider.
Political observers opined that Deb's assertions indicated his desperation to retain support of people who voted for him twice in state elections.
"However, many had supported BJP in the 2019 Lok Sabha polls. That is why it seems Deb has taken up a two-fold strategy of criticising a department of his own government and simultaneously playing the development card. It will be interesting to see how his party handles the situation," said an observer. 
Additional reporting by our Cooch Behar correspondent