Minister's Ram Setu claim at IIT
Tech feat of ancient India, says Nishank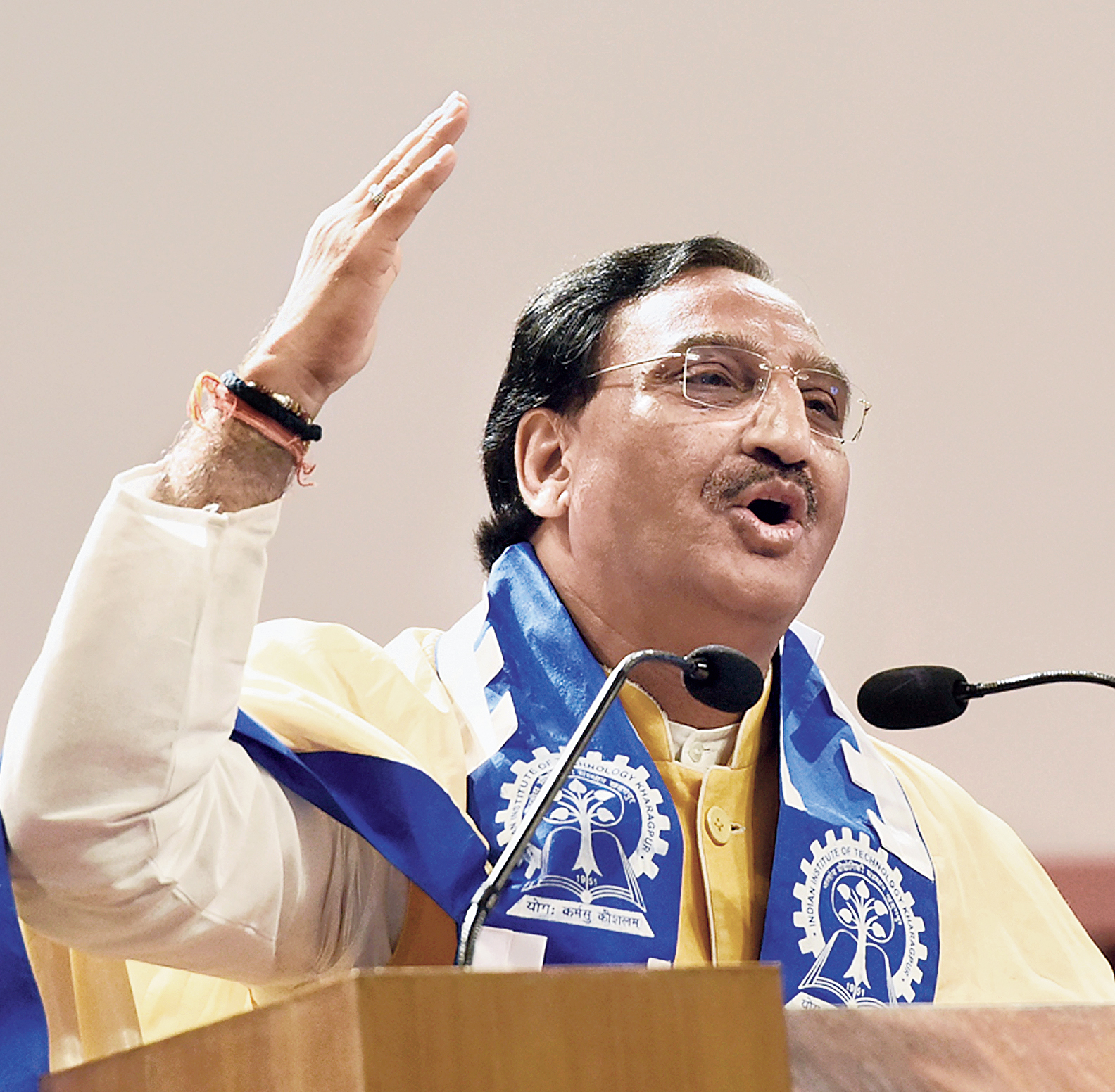 ---
---
Some of India's brightest young scientific minds heard at their institute's convocation paeans to a mythical bridge and that if a computer ever spoke it would speak in Sanskrit.
Delivering the convocation address at IIT Kharagpur on Tuesday, Union human resource development minister Ramesh Pokhriyal Nishank said the so-called "Ram Setu" was crafted by engineers in ancient times and the entire world was in awe of the engineering marvel.
He was referring to a chain of limestone shoals between Pamban island, off Tamil Nadu, and Mannar island, off the north-western coast of Sri Lanka. The bridge was first mentioned in the epic Ramayan and was used by Ram's Vanar army to reach Lanka and rescue Sita.
The chief guest at the 65th annual convocation of India's oldest IIT also said Bhagavad Gita was science.
Here are translated excerpts from the minister's speech in Hindi at Netaji Auditorium, which was packed with 2,082 graduating students, including 372 PhD recipients, and professors and scientists.
Ram Setu
How strong were we in the sphere of technology? We had such engineers. If we are to talk about Ram Setu, engineers from America, Britain or Germany did not build it. Ram Setu was built by our own engineers. The entire world was left awestruck by watching this piece of work. This is true, this is right. Are you not in agreement? Why are you silent?
Therefore, when I think of this technology, when I think of Vastu Shastra, where were we? When I talk of these developments in the ancient times, these are made fun of. But we had the expertise without any doubt. We gave the world this wisdom.
Asked what made him believe claims about Ram Setu, the minister later told a news conference: "I said there should be new searches by our young generation of engineers to arrive at new findings about our heritage marvels like Ram Setu, to find out new truths about our glorious monuments, to make the world again aware of what we had built ages back."
Gita
Not only India, the entire world is now being taught the Gita. Because it is science. The science of striking a connection between the soul and the afterlife that forces people to think there is some power that is driving it (the universe). There is something there ultimately. There must be some force that is controlling everything.
Sanskrit
The Sanskrit language that we are talking about is the language of the gods. It is the first language of the world. People have not been able to establish that there was a language before Sanskrit.
Vedas
Paheli granth Veda hain. Veda se peheli kon sa granth hain, woh to duniya bataye aapko. (Veda was the first book. Let anyone say which book existed before Veda.) The computer science department of IIT Kharagpur has produced stalwarts. When I look back to the ancient times several stalwarts said that if we could develop a computer that was able to speak, that language should be Sanskrit because Sanskrit is a scientific language. It is scientific "kyunki… jo boli jaati hain, wohi likkhi jati hain aur wohi uchcharit hoti hain (because in Sanskrit, you speak what you write and that is what you pronounce)… Ayurveda and Yoga are linked to science.
FDI & development
Where was our country in terms of foreign direct investment earlier? Today, we have left America behind in FDI and become No. 1 in the world in terms of investments. We have beaten China in vikaas (development).
On campus

Here's how some of the students and teachers in the audience reacted to what their chief guest said. They did not want to be named or identified
At a time when we are focusing on research on artificial intelligence, machine learning, he is focused on Ram Setu, Sanskrit be made the language of a computer that could speak. We don't know how to react.
A third-year student
We expected that the convocation speech would be forward looking. But it was regressive.
A third-year student
As far as I know, even the Archaeological Survey of India has not been able to prove the existence of Ram Setu despite years of research. Here the minister is prodding students to be proud about Ram Setu. Did he not have anything else to say?
A second-year student
We expected the minister would make some announcements about the future of the institute, like when the funds would be made available under the Institute of Eminence tag, for which we are being considered. Instead, what he spoke about at the oldest IIT of the country was not even remotely connected with science and technology. I don't know what the future has in store for us.
A professor