Migrant workers from Murshidabad rescued from Delhi
The workers were forced to survive on a few packets of biscuits over three days in northeast Delhi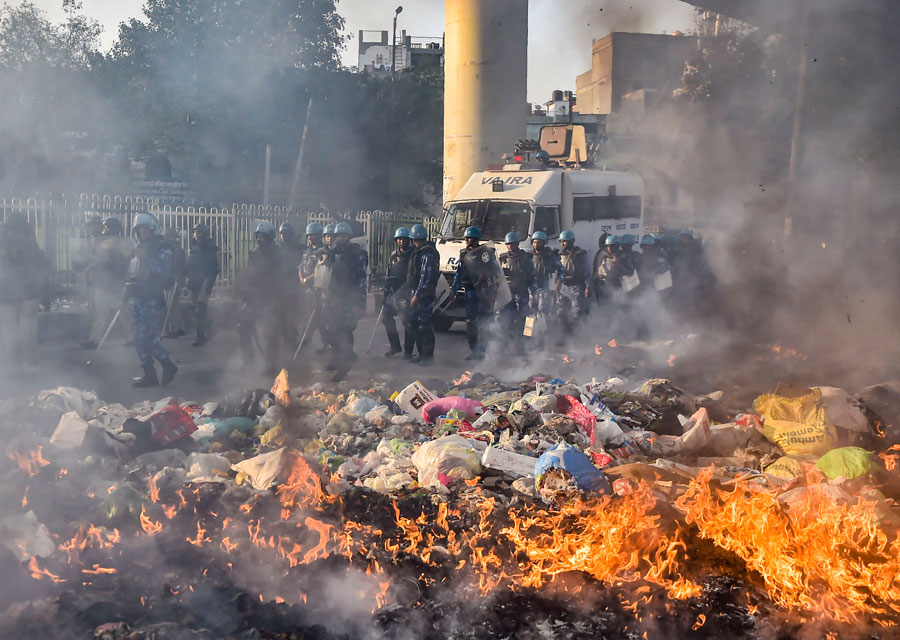 Security personnel during clashes between pro and anti-CAA supporters in northeast Delhi on Tuesday.
(PTI)
---
Bolpur(Birbhum)
|
Published 27.02.20, 08:25 PM
|
---
Delhi police have rescued 11 migrant workers from Murshidabad, who were stuck at a violence-torn locality in the national capital and they all have returned home on a Howrah-bound train.
The workers, who were forced to survive on a few packets of biscuits over three days in northeast Delhi, were rescued by a team of Delhi police after several interventions were made from various quarters, political and apolitical.
"We were rescued by police from our rented home around midnight on Wednesday. We were brought to the New Delhi railway station early in the morning. We boarded the Kalka Mail at around 7am. We finally feel safe again," Kalam Sheikh, one of the workers, said over the phone from the train on Thursday evening.
The workers hail from Trimohini village of Murshidabad's Nowda, and are aged between 25 and 36 years.
They had gone to Delhi three months ago to work at a factory.
The family members of the workers contacted local political leaders and the apolitical Bangla Sansrkiti Mancha seeking help for their rescue.
"We had a full meal at the New Delhi station, our first in four days, this morning. It was a horrible experience. We never saw such violence first-hand," said one of the workers.
The family members said they were able to heave a collective sigh after the workers had informed them about having boarded the train.
"Since I heard that my son was stuck in the riot-hit area and was not getting even food, I stopped cooking and eating. I had appealed to many people for the rescue. Finally, they were all rescued," said Halima Bewa, mother of Saddam Sheikh, one of the eleven.
Behrampore MP and the leader of Congress legislative party in the Lok Sabha, Adhir Chowdhury, tweeted on Thursday morning that he had arranged for the rescue of the 11 persons from Nowda.
"I have arranged for the rescue of the 11 workers who were stuck in a violence-hit area in New Delhi and they have boarded a train... I would request the family members not to worry," wrote Chowdhury in Bengali in the tweet.
Samirul Islam, the president of the Bangla Sanskriti Mancha, said: "We tried our best by contacting local apolitical groups and political leaders. They helped out in the rescue."