Meet Manik Ranjan Chakraborty the oldest campaigner on the streets of Salt Lake
The resident of AE Block is canvassing for the local CPI candidate Suhita Basumallik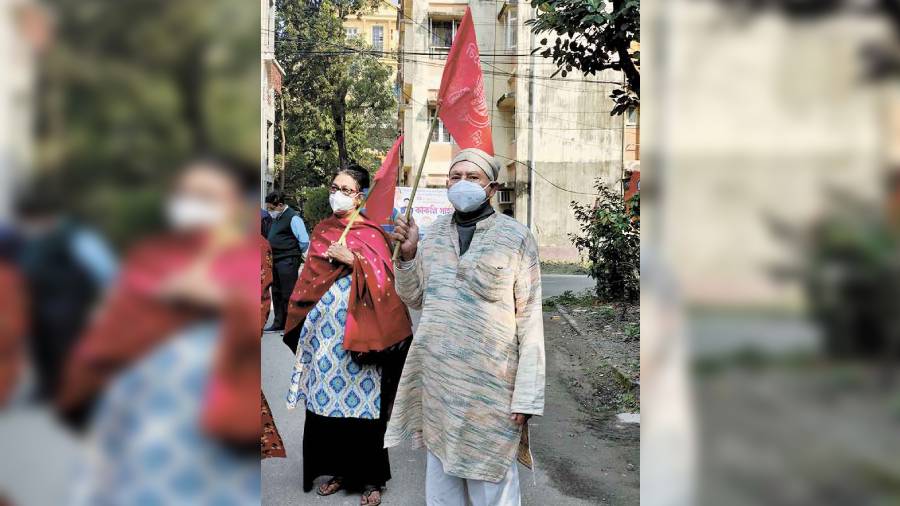 Manik Ranjan Chakraborty campaigns for the CPI in Karunamoyee.
Picture by Debasmita Bhattacharjee
---
Salt Lake
|
Published 21.01.22, 01:41 PM
|
---
At 87, Manik Ranjan Chakraborty is possibly the oldest campaigner on the streets across all parties in this civic election. "My official age is 83. Char bochhor jol meshano achhe," he grins. Whichever figure one takes into consideration, his seniority is unlikely to find much competition.
The resident of AE Block is canvassing for the local CPI candidate Suhita Basumallik, sometimes being one of the four campaigners that a candidate is allowed with him or her and sometimes manning the election office while others go out.
While the hurly burly of street politics is hardly par for the course for an octogenarian in the best of times, in a Covid-hit world it seems unthinkable. He affirms that his driving force is his belief in Marxist philosophy. "I have never missed any election since 1967. Even when my elder son was six months old, I left him and my wife in my mother and brother's care for four months to help the party with an election in Ghatal, Midnapore. Since 1975, I am involved in elections only in Calcutta and North 24-Parganas."
Ask him how he gets the courage to step out amid the contagion and he responds that he follows Covid protocol. "I am always masked, keep my sanitiser handy and we move in small groups." Nor does his 79-year-old wife deter him. "She knows I wouldn't stop even if she asks me to. So when I come home, she makes me stand outside while she sprays my clothes with a sanitiser. Only then do I go in," he smiles.
Despite being involved in so many elections, his most striking memory is the 2015 civic polls in Bidhannagar. "That is the only time in my 55 years of electioneering that I was asked to leave my post. We were sitting about 250m away from the polling station at Salt Lake Point School, guiding voters going in, when some muscular men asked us to leave. The police stood at a distance, looking the other way."
His only fear is not Covid infection but having to witness such lawlessness again on election day.
Write in to saltlake@abp.in