Masks not needed for all to prevent coronavirus, says expert
The Telegraph answers some of the questions in people's minds about the effectiveness of masks based on what WHO had to say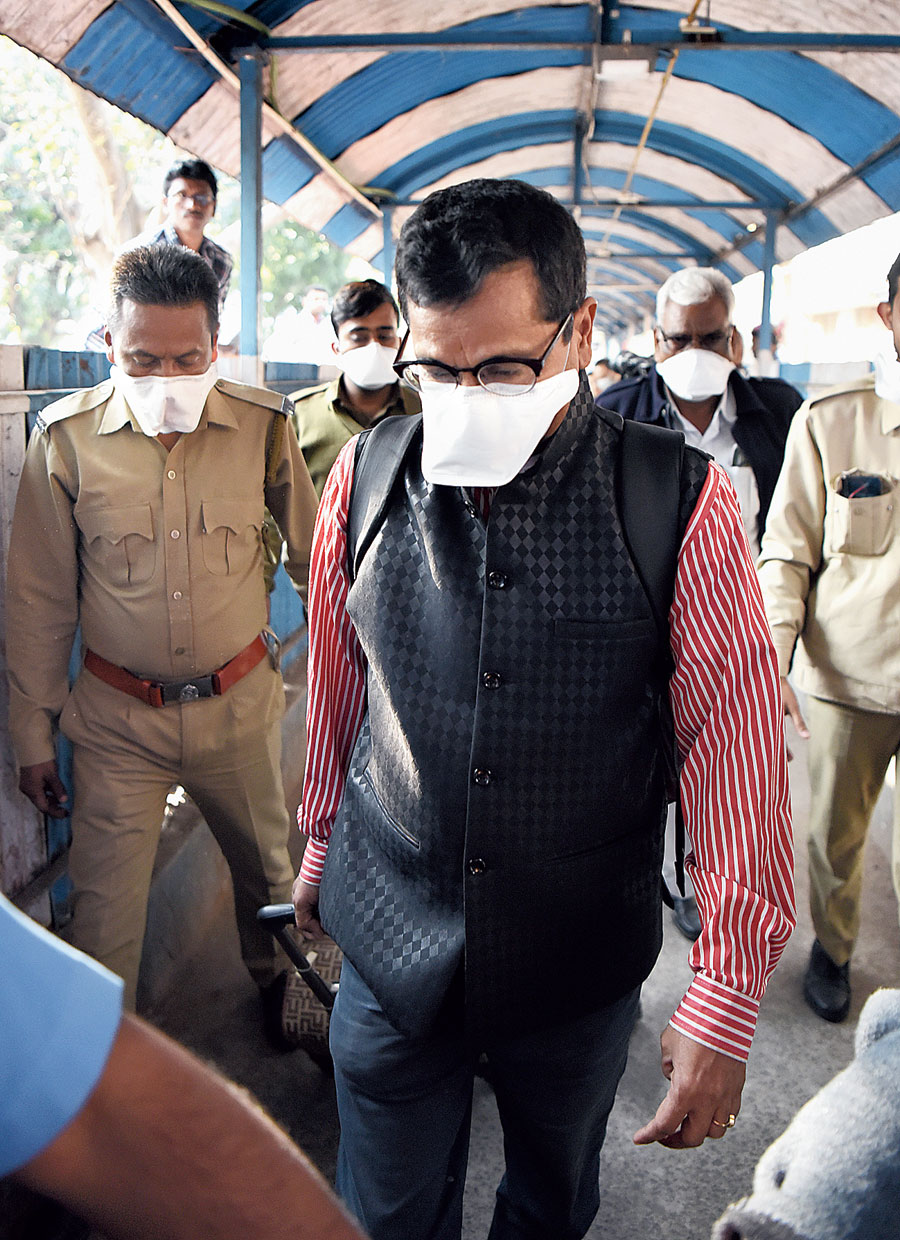 A man wearing a mask
Telegraph picture
---
Calcutta
|
Published 06.03.20, 09:01 PM
|
---
A person not showing symptoms of the coronavirus such as coughing or sneezing should not wear a mask, public health experts have said.
It is, however, advisable that health workers and those who work in an environment where they could be exposed to infected people wear masks.
The city has seen a rush for masks with many pharmacies going out of stock. But a mask alone is little protection against the virus if basic hygiene and health advisories such as washing hands thoroughly and avoiding proximity with people with symptoms are not followed.
The Telegraph answers some of the questions in people's minds about the effectiveness of masks, based on what the Centers for Disease Control and Prevention, Atlanta, and the World Health Organisation, have to say.
Should everyone wear a mask in public?
Neither the World Health Organisation, nor the Centers for Disease Control and Prevention (CDC) recommends regular use of masks.
"Face masks should be used by people who show symptoms of COVID-19 to help prevent the spread of the disease. The use of face masks is also crucial for health workers and those taking care of someone in closed settings (at home or in a health-care facility)," according to CDC.
WHO recommends that one should wear a mask only if s/he is ill with COVID-19 symptoms (especially coughing) or is looking after someone who may have COVID-19.
"A disposable face mask can only be used once. If you are not ill or aren't looking after someone who is ill, then you are wasting a mask," says the WHO website.
With masks in short supply worldwide, WHO urges people to use masks wisely.
Doctors in Calcutta also said there was no need for a healthy person to wear a mask.
CDC also clarifies that masks are effective only when used in combination with frequent hand-cleaning with an alcohol-based hand rub or soap and water.
Who should ideally wear a mask?
Masks should be worn by those exposed to potential coronavirus-affected people, said experts.
Health workers and those working at public places such as an airport, port or railway station must wear masks as precaution.
If not mask, then how to prevent coronavirus infection?
CDC recommends preventive actions such as avoiding people who are ill, not touching your eyes or nose, and covering cough or sneeze with a tissue to check the spread of respiratory viruses.
The CDC advisory includes staying home if one is ill and cleaning and disinfecting frequently touched objects and surfaces with a regular household cleaning spray or wipe.
WHO suggests keeping a distance of three feet from any person with coronavirus-like symptoms.
"Most often, respiratory viruses are spread from person to person among close contacts (within six feet)," according to CDC.
Intensive care expert Ajoy Krishna Sarkar said one should avoid close contact with a person who could be infected by the coronavirus.
"In most cases, the virus has mild effects and so, there is no need to panic. We are recommending that people with reduced immunity avoid travel by air because one cannot avoid close proximity with strangers on a flight," Sarkar said.
Health hazards
CDC experts say particular medical conditions may get worse on breathing through a mask. Before using a mask, one must get a medical evaluation to make sure they are able to wear it safely, doctors said.
What is an N95 mask?
According to the CDC, an N95 mask is one that removes particles from the air that are breathed through it. "These respirators filter out at least 95 per cent of very small (0.3 micron) particles. N95 FFRs are capable of filtering out all types of particles, including bacteria and viruses."
What is its difference with a surgical mask?
A surgical mask does not protect a person from inhaling smaller airborne particles, experts said. These masks protect against large droplets, or sprays of bodily or other hazardous fluids.
Some doctors, however, said there are particles less than 0.1 micron that cannot be prevented even by N95 masks.
What is the right way to wear a mask?
One should clean hands with an alcohol-based handrub or soap and water before wearing a mask, WHO advises.
"Cover mouth and nose with a mask and make sure there is no gap between your face and the mask. Avoid touching the mask while using it. If you do, clean your hands with alcohol-based handrub or soap and water," says WHO.