March against professor suspension
Students, teachers smell bid to 'saffronise' visva-bharati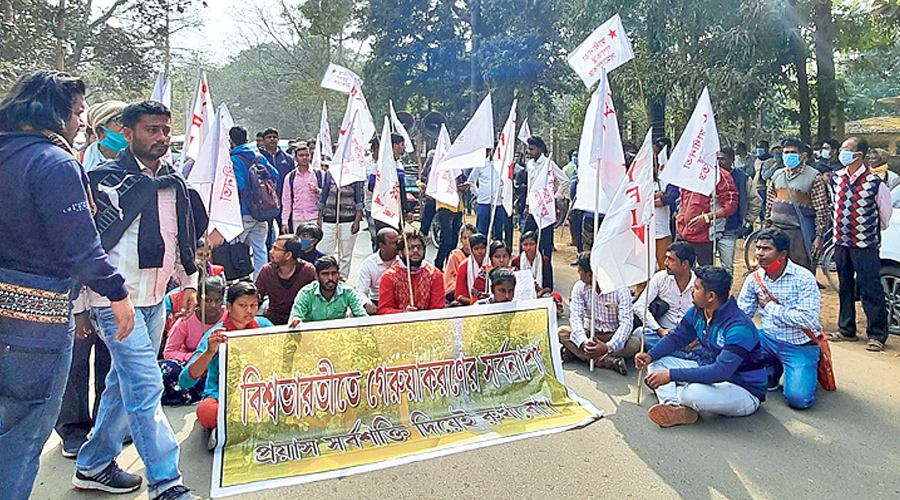 ---
Santiniketan
|
Published 12.01.21, 01:39 AM
|
---
Over 200 students, teachers and academics owing allegiance to the Left Front took out a march in Bolpur on Monday to protest against the suspension of Visva-Bharati professor Sudipta Bhattacharyya by vice-chancellor Bidyut Chakrabarty and his alleged bid to "saffronise" the varsity.
The procession was held a day after over 500 academics from across the globe had signed an online petition to protest the economics professor's suspension. Monday's rally was held under the banner of the Right to Education Forum — a Left-wing platform for teachers and students. Along with the forum's members, supporters of the SFI, DYFI and a few senior CPM leaders assembled at the Fire Brigade More in Bolpur on Monday morning for a demonstration.
"The present VC and his administration have snatched away the right to freedom of expression from varsity teachers and employees. The suspension of professor Sudipta Bhattacharyya goes to show that the VC is working to implement the agenda of the BJP on the campus. The VC is out to take revenge as the varsity teacher had exposed the his false claim about a conversation with Nobel laureate Amartya Sen," said Wasif Iqbal, the Birbhum secretary of the SFI.
A section of the protesters, including former varsity teachers, claimed that there were at least a dozen examples to show that the VC and his administration were trying to saffronise the campus and ruin the tradition and culture of the institution founded by Rabindranath Tagore.
"The saffronisation programme of the VC became evident when the BJP's youth wing publicly supported Chakrabarty's protest show demanding control of the road that linked Santiniketan to Sriniketan," said a former teacher who attended the demonstration.
After the demonstration, the protesters took out a rally that covered a distance of 1.5km and culminated near the VC's office on the campus.
A section of teachers said the Visva-Bharati's public relations officer Anirban Sircar had circulated an online petition among the employees to show solidarity with the principal whose appointment Bhattacharyya had questioned.
A group of students started a signature campaign to counter the "propaganda" of the VC, said a varsity student.
Bengal's teaching community, led by the Left-affiliated West Bengal College and University Teachers' Association (WBCUTA), has decided to take the protest against the "autocratic" and "anarchist" style of functioning of the Visva-Bharati administration to the varsity's office in Calcutta. A protest rally has been convened outside the Visva-Bharati's Calcutta office on Wednesday afternoon.