Man who swam against the tide
Read more below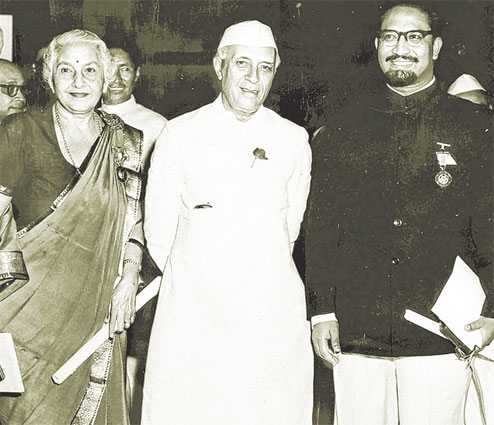 ---
Published 16.11.13, 12:00 AM
|
---
Mihir Sen with Jawaharlal Nehru and Vijaya Lakshmi Pandit
Mihir Sen is synonymous with making the impossible possible, for that is how he entered the world on November 16, 1930: premature, frail and ill. It was his first lesson, breathed into his weak and sickly lungs by his 16-year-old mother Lilabati.
She imparted life's most important rule — will of steel and dogged determination. He lived against all odds and scaled greatness for his country: as an outstanding long-distance swimmer and an accomplished barrister before becoming India's second largest silk exporter.
Mihir Sen, my father, was a Bengali Brahmin from a poor middle-class family in Purulia and his success was testament to his parents' instilled beliefs and his English wife Bella's unwavering faith, loyalty and devotion to his capabilities in creating the extraordinary out of the ordinary.
His motive for swimming the seven seas was primarily political. Being a young nationalist of uncommonly strong views and unorthodox ambition, he wanted to show the world what Indians are made of, to set for young Indians an example of courage and to tell them that one of the best things to do with life is to risk it. In this way, he hoped to prepare them for what he saw as their destiny.
Similar objectives inspired him when he became the first Indian to swim the English Channel on September 27, 1958, in the fourth fastest time. "He told me he was going to swim the Channel," my mother recalled. "Here was this young man, a clerk with nothing to his name. The only swimming he had done was the dog paddle in a creek in Cuttack."
"I know you will do it," encouraged his young wife. "He had something special about him. A magic. I knew he could do anything he wanted," she would recall later.
On conquering the Channel, my father had said: "When I felt solid rock under my feet, the first sensation was almost magical. I had a lump in my throat and tears of joy welled up in my tired sleepless eyes. Only I knew what agony, what sacrifice, what suffering I had gone through to feel this bit of solid under my feet. Mother Earth never felt so secure, so enchanting. The end of a journey — a long and lonely pilgrimage."
Shortly thereafter, he returned to India (1958) and was incensed when he was denied entry into the Breach Candy Club in Bombay due to their "whites-only" policy. This compelled him to lead an aggressive media campaign to abolish this preposterous rule and, as a result, clubs all over India were forced to open their doors to all Indians.
He was determined to undo the damage caused by British imperialism to the spirit of young Indians, especially Bengalis. "Flushed with newly acquired Independence, I dreamed of a brave new generation, my generation to inaugurate a renaissance bolder than that of Europe and Japan and transform the subcontinent into a land of prosperity, challenge and adventure," Sen said.
There was a hunger in him to show the world, especially the Europeans, that Indians were capable of greatness, and mostly to himself that it could be done. "I had to conquer, had to win, needed to accomplish the swims," he said.
Thus began his quest to earn the distinction of being the only man to swim the oceans of the five continents in one calendar year (1966). This included the Palk Straits in 25 hours and 36 minutess, the Straits of Gibraltar in 8 hours and 1 minute, the Dardenelles in 13 hours and 55 minutes, The Bosphorous in 4 hours and the entire length of the Panama Canal in 34 hours and 15 minutes. This unique achievement earned him a place in the Guinness Book of World Records and he was awarded the Padma Shri in 1959, followed by the Padma Bhushan in 1967.
"I never experienced before a more beastly swim," he had exclaimed after being chased by killer sharks almost from the point of his swim till the bitter end in the unusually cold waters of the Gibraltar.
After crossing the Palk Straits, he wrote: "I had undertaken this perilous swim not to gain fame or trophies but to prove once again to the world that Indians are no longer afraid. To the youth of India this triumph will have dramatically demonstrated that nothing is impossible for them — all they have to do is believe and persevere and the goal will be theirs!"
He was called to the bar at Lincoln's Inn in November 1954 and his achievements as a swimmer are recorded in their prestigious black books.
A man of action, Sen established the Explorers Club of India in 1959, with the aim of fostering the spirit of adventure in India's youth. My father felt there was tremendous enthusiasm among the youth, but a lack of involvement. "They are hankering after a way, a path."
He sent off young men to explore the wilderness and lived vicariously through their experiences of exploring the deserts and oceans, urging them to always be brave and fearless.
He sponsored many expeditions through the Explorers club, the most famous of them being a perilous six-day row boat adventure to the Andaman Islands by Lt. George Albert Duke and Pinaki Chatterjee in February 1969.
In 1972, he helped Bangladeshi refugees re-settle in India through the Explorers club. Without financial support from the Indian government, he cared for 300 families, exhibiting photographs of poor refugees and charging a visitor's fee to sustain them. Any shortfall of funds was compensated by his own personal contribution. He was a man who possessed a heart and could feel others' pain, regardless of his fame and wealth. He never forgot "what it's like to be poor" and often extended a helping hand to the downtrodden and forgotten.
Eventually, he was compelled to shut down the club, much to his disappointment. "The club was like a child to me," he lamented. "I brought it up with much affection, but today it is on the verge of closing down because I can't find anyone to replace me. Spirited, energetic Bengalis are rare today. Man has gone to the moon, done so many things. Life is an exciting opportunity. Bound down by a suffocating society, the civilization of neons, we're losing the true spirit of adventure."
Mihir Sen, a proud Indian and a great son of Bengal. A man who dared to dream big, embraced challenges and accomplished the impossible! I am so proud to be his daughter. Who will be the next Mihir Sen?