Mamata unveils Digha Jagannath temple plan
Govt upbeat on beach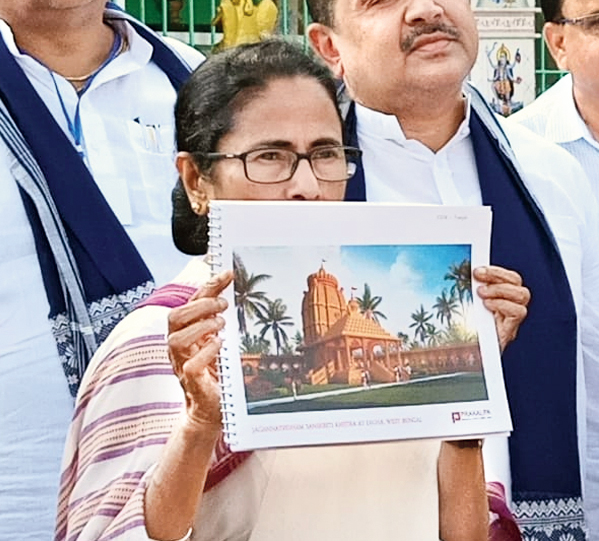 Mamata on Tuesday shows an artist's impression of the temple planned at Old Digha.
Picture by Jahangir Badsa
---
Digha
|
Published 20.08.19, 09:13 PM
|
---
Bengal chief minister Mamata Banerjee on Tuesday unveiled a plan to set up a Jagannath temple, like the one in Puri, on a two-acre plot on Old Digha beach.
"Just like in Puri, tourists will soon have an attraction like Jagannath over here. Our Jagannath idol will be as large as Puri's," said the chief minister.
Mamata made the announcement while inaugurating Dighasree — a business convention centre — at New Digha. The Rs 70 crore project is spread on a five-acre plot.
"From Kolaghat to Digha, the tourist is king over here. That is why you see thousands of people here because Digha is beautiful and it is accessible," she said.
The chief minister visited an old Jagannath temple on Old Digha beach where district officials presented a plan to transform the shrine into the bigger structure.
Mamata urged tourists to visit Digha at a time when they could face trouble to go to Kashmir, saying the beach town was transformed into an attractive destination by her government in the past few years.
The chief minister made it clear that the government was focusing on Digha to develop it as a major tourist attraction in Bengal after the state's venture to make Darjeeling as the most attractive destination did not work because of political turmoil.
"Tourists are like Lakshmi (Hindu goddess of wealth, fortune and prosperity). You cannot leave them in trouble for no matter what. I had grand dreams for Darjeeling but look what happened. If you burn down a place every ten years, then, nobody will go there," Mamata said.
Mamata said the newly inaugurated business convention centre would give a different dimension to Digha.
"I know we have Biswa Bangla in Calcutta, but we still want people to come here for business meetings. If they can go to Goa, then why not here?" the chief minister said, adding that Digha beach would see additions like electric buses and parking plazas.