Mamata takes on 'Jai Shri Ram' chanters
'Cultures should not be imposed on people'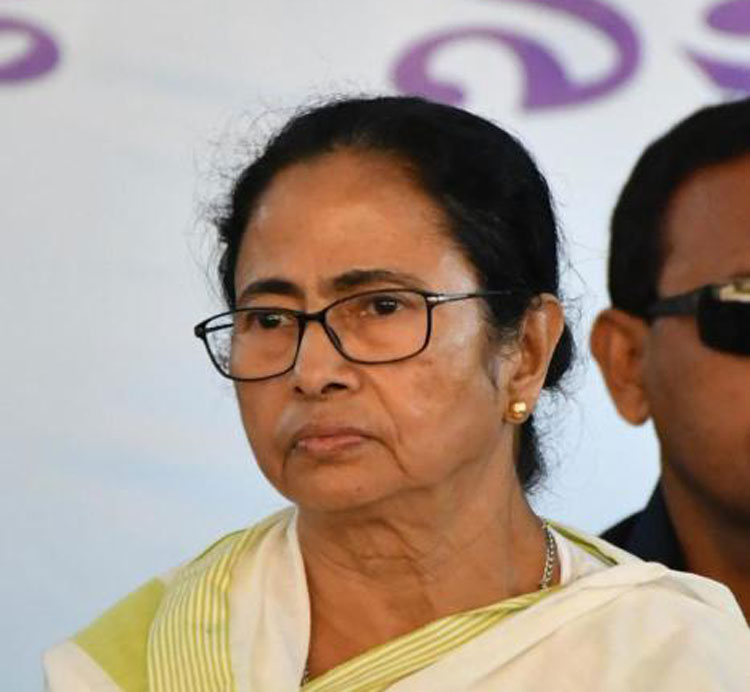 Bengal chief minister Mamata Banerjee
Telegraph file picture
---
Calcutta
|
Published 30.05.19, 08:36 PM
|
---
Belligerent cries of "Jai Shri Ram" prompted chief minister Mamata Banerjee to step off her vehicle thrice in Bengal on Thursday and admonish the chanters who stood their ground and resumed the chant as she resumed her journey.
Mamata later told her supporters to chant "Jai Hind". "On the roads, say 'Jai Hind'. I will say 'Jai Hind, Joy Bangla'…. Let people be happy with their own cultures. Cultures should not be imposed on people."
Vowing to "never let Bangla become (violent like) Gujarat", Mamata added: "I repeat, I will never let Bengalis and non-Bengalis to be turned against each other. I love those non-Bengalis who have made Bangla their home. Come forward to fight these criminals who are committing atrocities. Don't sell your self-respect to the BJP."
The confrontations took place in Bhatpara and Naihati, which fall in the Barrackpore stronghold of Arjun Singh, the newly elected BJP parliamentarian who had crossed over from the Trinamul Congress before the general election.
Mamata was on her way to Naihati after deciding to stay away from the swearing-in of Narendra Modi and his ministry in New Delhi.
Footage showed the Trinamul chief shouting at sections of the crowd lined up along the Kalyani Expressway.
Mamata got off her car — twice in Bhatpara during her onward journey and once in Naihati while returning — to confront those defiantly chanting "Jai Shri Ram".
At a similar incident on May 4 at Midnapore's Chandrakona, the slogan-shouters had fled after Mamata confronted them. Modi and BJP chief Amit Shah had referred to the episode extensively to claim there was no freedom to worship Ram in Mamata's Bengal.
However, on Thursday, those chanting the slogans did not scoot even though Mamata accosted them and instructed police to act against them.
"We will shut everything…. We will not tolerate hooliganism. Such audacity! We feed you; clothe you…. Goondami, mastani will not be allowed. You are alive because of us. We will wrap everything up tomorrow; you will be out in a second. We will see which dada, which mastan comes to stop us," the chief minister said, standing near the walls of a Bhatpara jute mill.
While she spoke, the chants were not heard.
"You are eating and living well, running a jomidari (fief)…. Such immensely simian behaviour ('bandramo') — you are stepping in front of the car to launch attacks? We will thrash you," she said.
Pointing at director (security) Vineet Goyal, Mamata said: "You, Vineet, take down the names of the men who were doing this. Take down the name of this place."
"A complete naka check will be done in every home. Go, see, take down the name of this place," she added, addressing her entourage that included the director-general of state police, Virendra.
On the way back to her car, Mamata kept saying: "Such audacity! You can shout your slogans the way you want to. But an attack on the car… such audacity!"
"I will not let Bengal be turned into a Gujarat, keep this in mind. Bengal is Bengal. Bengal is not Gujarat," she said. "When things are stopped, they will understand…. A closure of four jute industries… they will not even get to eat," she added, before getting back into her car.
Almost immediately, more aggressive, louder chants of "Jai Shri Ram" were heard, prompting her to get off the car again.
"You, you, you, come, what do you have to say, come and say here…. Come up to the front…. If you have the courage, come up to the front. Goons, you criminals, come here, criminals," she said, pointing at some people at the back of the crowd.
"See, there is a limit to decency…. While my car is moving along the road… the audacity of them, BJP bandanas tied round their heads, they are abusing me…. What do you think? We have kept them here with care, they are outsiders," she said, before getting into the car and leaving.
The chants of "Jai Shri Ram", however, resumed.
At the Naihati venue, where Mamata had gone to rehabilitate Trinamul supporters who have allegedly been left homeless by political violence, she brought up the incident.
"Our culture is of Saare Jahan Se Achchha, of Jai Hind…. Two traitors (probably a reference to two leaders who have defected) are leading the pack here. I hate the BJP, I hate the BJP, I hate the BJP," she said.
"Some people came to attack my car. You have not even taken oath yet (the Modi government's swearing-in was yet to begin in Delhi), the torture has started already…. The soil of Bengal is the soil of culture. We will not let you ruin our culture," she added.
"By June 14, I vow to remove all kachra (garbage) from Kanchrapara. I am asking all district leaders to send me details about the violence here. I will come to Barrackpore, Kanchrapara, Jagaddal and Naihati every now and then to take stock," Mamata said.
Mukul Roy and his son, both of whom have defected to the BJP, are from Kanchrapara, whose municipality went over to the BJP two days ago.
Mamata said she could have easily ensured action against those who had "surrounded" her car for the alleged attack, but did not.
"Those who did it, those who abused me, the goons --- they could have been arrested. But I operate differently. The law will take its own course. I am a dangerous foe; who are you to teach me what slogan I will chant?" she asked.
"From now on, whenever you meet each other, say 'Jai Hind'. Answer phone calls with 'Jai Hind'," she added.
On her way back, some among the roadside crowd in Naihati chanted "Jai Shri Ram" and "Modi! Modi! Modi!"
Getting off the car, Mamata said: "Come here, come here and say this in front of me, BJP'r bachcha."
Before getting into the car and leaving, she said: "Dacoits, criminals. We will throw all of them out."
The chants of "Jai Shri Ram" and "Modi! Modi! Modi!" continued.