Mamata promises to resend Kurmi ST tag proposal
The community claimed that they had been registered as Scheduled Tribe till 1931, but were dropped from the list post-Independence for some 'unknown reasons'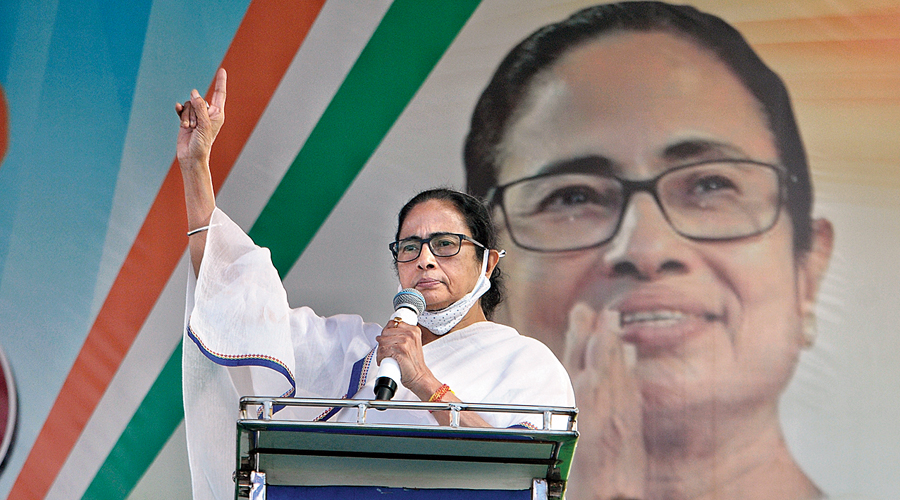 ---
Purulia
|
Published 21.01.21, 02:30 AM
|
---
Mamata Banerjee on Wednesday assured a top leader of the Kurmi community that her government would send to the Centre a proposal for the re-inclusion of the community in the Scheduled Tribe category.
The chief minister gave the assurance to Ajit Prasad Mahata, chief adviser, Adivasi Kurmi Samaj, during a meeting held at the conference hall of Belguma police line here on Wednesday afternoon after she inaugurated around 40 projects in different Jungle Mahal districts.
"I took an appointment with the chief minister to talk to her regarding our demand of re-enlistment of our community as ST. After talking for a few minutes, she assured me that she would resend the proposal to the Centre," Mahata said, adding that he was very pleased after getting the assurance from the chief minister.
"According the ST status to the community depends upon the central government. We are apolitical but extend our support to one who will stand with us," Mahata said.
The demand for the inclusion of Kurmis, who play an important role in determining the outcome in over 35 Assembly constituencies in the Jungle Mahala, in the ST category has been there for years.
The Kurmis claimed that they had been registered as Scheduled Tribe till 1931, but were dropped from the list post-Independence for some "unknown reasons". They were included in the OBC list, but they want to be re-included in the ST category, said multiple Kurmi leaders.
In 2017, Mamata had written to then Union minister for tribal affairs Jual Oram, requesting him to consider the state government's proposal to confer the ST tag on Kurmis.
However within a week, the central government replied to the state with a request to resend the application with further comments and informed that the Office of the Registrar of General of India didn't support the proposal.
Trinamul insiders said the chief minister's assurance to Mahata that she would resend the proposal was a masterstroke in view of the Purulia demography, where more than 25 per cent of the population belong to the kurmi community.
Sources said there were around 50 lakh Kurmis in Bengal.
In the 2019 Lok Sabha polls, a majority of the Kurmi votes, a Trinamul insider said, shifted to the BJP from Trinamul, which helped the saffron party bag five of the six Lok Sabha seats in the region.
Local BJP functionaries said they had already taken the Kurmis' demand up with central leaders of the party.
"The reason behind rejecting the proposal earlier was a genuine fault of the state which failed to convince the Central government. If the state sends the proposal properly, the Centre will certainly consider it. We are with the Kurmi community," said Bidyasagar Chakraborty, the Purulia district BJP president.
The chief minister said in Purulia on Wednesday that her government would organise 621 fairs in Bengal to boost small scale industries and artisans in the Jungle Mahal.