CM 'opinion' on lockdown extension
Asked to elaborate on the 49-day lockdown she had spoken of, Mamata attributed it to the opinion of experts and said she had none on the matter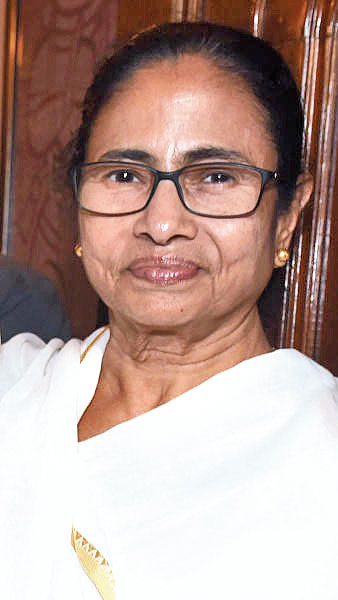 ---
|
Calcutta
|
Published 08.04.20, 08:59 PM
---
Mamata Banerjee on Wednesday said "good results are gettable" if the lockdown continued till May 19, saying Prime Minister Narendra Modi had talked about an extension before clarifying that she had no opinion on the subject.
The chief minister said she didn't know what was to happen after the lockdown ended on April 14 as scheduled.
"But Sudip Bandyopadhyay reported to me that the Prime Minister had said the lockdown might be extended… I (also) saw on Twitter, in the press. It is being said. But till we get to know officially, we cannot say anything regarding this. We are waiting and watching, doing what we must," she said.
Earlier in the day, Bandyopadhyay, Calcutta North MP of the Trinamul Congress, had attended an all-party meeting with Modi.
"Remember… since the lockdown was announced, from that day, up to 49 days… till May 19…. If that time period, we can do it well despite a little difficulty, then…. I have to prioritise the fight against Covid-19, that is my first priority," she added.
Asked to elaborate on the 49-day lockdown she had spoken of, Mamata attributed it to the opinion of experts and said she had none on the matter.
"Experts are saying…. All of us see, you and I, what WHO and other such organisations, the experts have been suggesting. That if it is done till 49 days, then good results are gettable. Many have said so. I am not sure. I simply counted from March 24 and said May 19," she said.
However, the period between March 24 and May 19 is of 56 days.
"I am not an expert, my opinion need not be heeded. Because I don't have the information to substantiate its veracity. You also do your research daily, I, too have to. I read up, speak to many and what I get to know, that is all I said," Mamata said.
"But if it does go on for so long, people will face problems. The people have been facing problems. If it is extended, the lockdown must be humane."
Earlier in the day, Bandyopadhyay, the Trinamul leader in the Lok Sabha, had said Modi had dropped hints at the all-party meet of an extension of the lockdown as several states were in agreement with experts regarding a longer duration.
"Trinamul and several other parties asked him whether the lockdown would be extended. He said lifting the lockdown at one go was ill-advised.… He said he would discuss the issue with chief ministers before the decision," said the Trinamul leader.
Modi is slated to meet all the chief ministers — via videoconference — on Saturday.
At the meeting, Bandopadhyay urged Modi not to suspend the local area development funds as it would impact work at the grassroots. He also demanded a financial aid package for Bengal for its fight against Covid-19.
"I asked the Prime Minister to sanction Rs 25,000 crore as demanded by chief minister Mamata Banerjee. I have also asked him to release Bengal's share of GST till March…. Besides, I requested him not to suspend the LAD funds. I told him we are ready to have our full salary taken away instead," he said.
About the export of hydroxychloroquine, Bandopadhyay said he had told the Prime Minister of Trinamul's view that the medicine should be sent to other countries only after ensuring adequate domestic supply.
The MP said he had conveyed to Modi Mamata's request to ensure that there were no layoffs in public and private sectors, besides a financial package for day-wage earners.