Mamata Banerjee's Anglo-Indian punch
Mamata was speaking at the opening of the Calcutta Christmas Festival on Park Street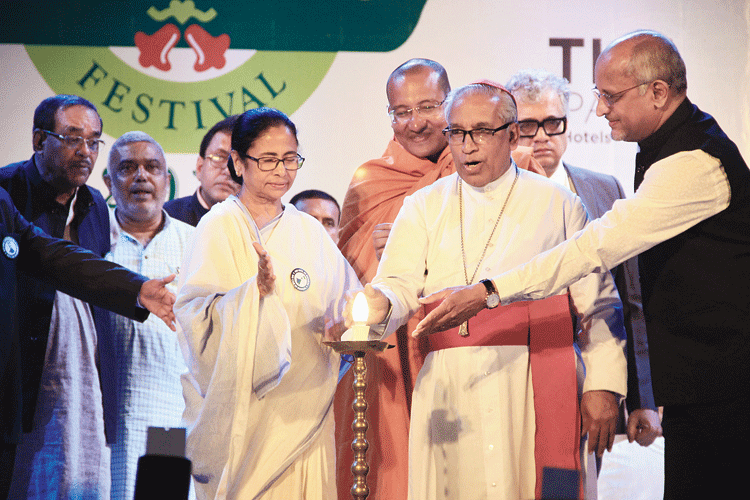 ---
|
Calcutta
|
Published 16.12.19, 08:15 PM
---
Chief minister Mamata Banerjee referred to the Centre's move to do away with seats reserved for the Anglo-Indian community in Parliament and wondered whether it was possible to exclude one community or the other by scrapping seats.
Mamata was speaking at the opening of the Calcutta Christmas Festival on Park Street, where Archbishop Thomas D' Souza and many prominent members of the Christian community and other minority groups were present.
"Someone may want to do away with the seats representing Anglo-Indians. You can remove the seats but that does not mean you can exclude Christians?" said Mamata.
Mamata did not spell out the Citizenship (Amendment) Act but said she felt sad when people were scared about their existence. "I feel sad when I see that there are some people who think that I am here today but are not sure if they will have an address tomorrow."
"Ours is a democratic country.... We need each and everyone. We want to stay together. We want united India. We want united Bengal and we want united world also, the peaceful world," she said.
Mamata said that the world was a "small sweet family." "How long will we be in this world? Only for a few days. So why will there be a divide and rule policy, why will there be violence? Why will there be hatred politics? I don't support this," she said.
Mamata said that removal of seats would not mean exclusion of Anglo-Indians in the Lok Sabha. She referred to her party MP Derek O'Brien, who is an Anglo-Indian elected to the Rajya Sabha.
"He (Derek O'Brien) is our MP. He is an elected MP. How can you stop him? If there is a will, there is a way. We have the will, so you cannot curb our democratic rights or our fundamental rights. We will show the way also," she said.
Archbishop Thomas D' Souza said it was the season to remove the darkness and celebrate peace and harmony.
"Christmas... is the time to remove darkness … remove hatred, remove feelings of anger," said Thomas D' Souza. Several members of the Anglo-Indian community said the decision to do away with seats was "disturbing" and "unfortunate". "What is even more distressing is that no justification has been given for doing away with them," said Michael Shane Calvert, the Anglo-Indian MLA in Bengal Assembly.