Mamata Banerjee tries to prevent minority vote split
Mamata's barb on the AIMIM and Owaisi's response hints that a new battle for Bengal's Muslim electorate is to begin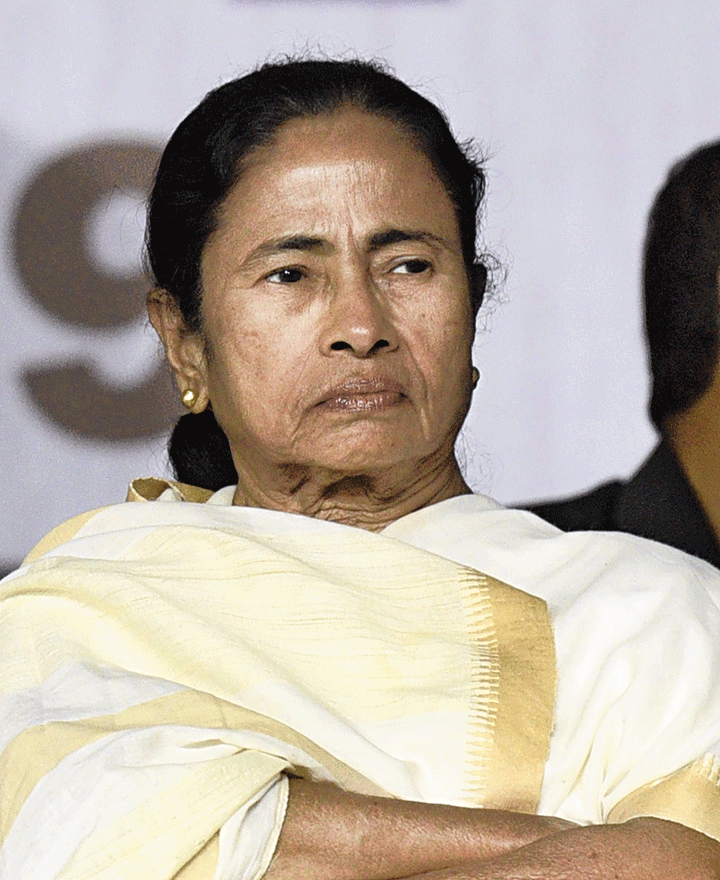 ---
|
Calcutta
|
Published 19.11.19, 08:07 PM
---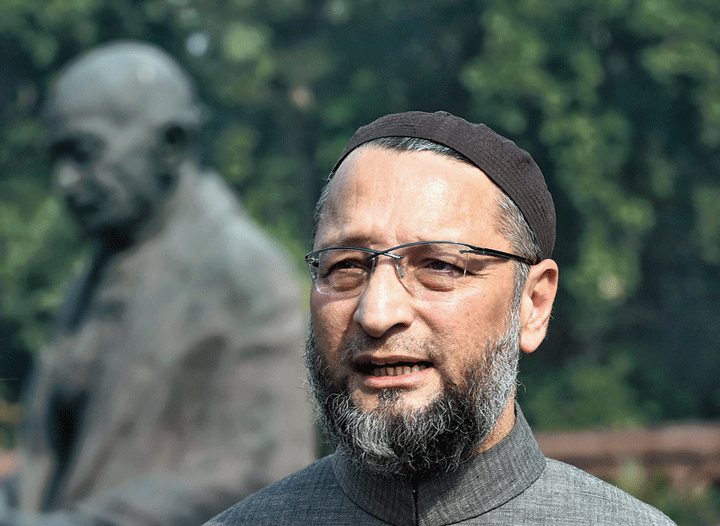 'It's not religious extremism to say that Bengal's Muslims have one of the worst human development indicators of any minority. If Didi is worried about a bunch of us 'from Hyderabad' then she should tell us how BJP won 18/42 LS seats from Bengal,' the Hyderabad MP tweeted on Tuesday, with the link to an article on Mamata's statement on Monday.
In another tweet, he said: 'What is extremism? Extremism is when you don't empower the Muslims, give them their rightful share, education and reservations, don't allow a political leadership to emerge. Mamta Banerjee is practicing this extremism.'
Later, Owaisi issued a statement, accusing Mamata of being in the grip of fear and saying she was losing political control of the state.
'I am certain that when the time comes, in the Assembly elections, the Muslims of Bengal will give her a befitting political response. I would like to know from her - you (Mamata) insulted the Muslims of Bengal - tell me, how did the BJP win in 18 seats? When somebody is consumed by pride, they turn blind to their own mistakes,' said the AIMIM chief.
Sources in Trinamul revealed that Mamata's public statement on Monday was an extension of what she had been saying in closed-door meetings since the AIMIM had won the Assembly bypoll in Kishanganj that borders Bengal in October.
They said she had talked about the AIMIM and its threat at length in a closed-door meeting of Trinamul's extended working committee on November 7.
Trinamul sources said there were reports that the AIMIM had started becoming active in Muslim-dominated areas in Bengal.
'Owaisi is a rabble-rouser whose role in India's politics and elections has helped none other than the BJP so far. There is every reason to be wary of him when he sets sights on a new territory, |especially such as ours with a sizeable minority population,' said a senior Trinamul MP.
'Owaisi helps the BJP's cause by sharpening its polarisation…. We have to convince the Muslims about his mission,' he added.
The AIMIM leader said he had been working for over one-and-a-half years towards contesting Assembly elections in Bengal. 'You (Mamata) have been ruling for so many years, what have you done? Economic, educational, social uplift… nothing. And you think Muslims are your slaves, your hostages? Now, Bengal's Muslims have an alternative, which we will provide,' he said._
All India Majlis-e-Ittehadul Muslimeen chief Asaduddin Owaisi on Tuesday launched a broadside against Mamata Banerjee over Muslims' 'worst human development indicators' in Bengal and the BJP's rise in the state under her watch.
The barb came less than 24 hours after the chief minister had referred to alleged extremists among minorities and a party in Hyderabad who all 'take money from the BJP'.
Mamata's veiled barb on the AIMIM and Owaisi's prompt response bear hints that a new battle for Bengal's Muslim electorate is about to begin.
Led by Owaisi, a 50-year-old former university-level fast bowler who is a barrister from Lincoln's Inn in London, the AIMIM has seen a sharp rise in its political fortunes by bagging Assembly seats in Maharashtra and Bihar last month. The AIMIM was founded in Old Hyderabad in 1927 with the support of then Nizam, Nawab Mir Osman Ali Khan Siddiqui.
Before Owaisi, the party had been headed by his father and grandfather. Owaisi has openly announced his plan to emerge as the face and voice of Indian Muslims. The AIMIM's posters with Owaisi's pictures have been seen in some minority-dominated pockets of Bengal, with the declaration: 'Intezaar ab khatam (The wait is now over), Mission West Bengal'.
Without naming him and the AIMIM, Mamata said in Cooch Behar on Monday: 'A political party…. like in some Hindus, there is extremism, there are some people who have emerged even among minorities who are extremists. They take money from the BJP, keep in mind. They take money from the BJP, there is such a party, their home is in Hyderabad, not here.'
'They are coming here, conducting meetings, saying 'I will give you protection'. Don't go ahead and make this mistake, my brothers and sisters from the minority communities. My Hindu brothers and sisters, do not bow your heads before extremism,' she added.
Owaisi didn't take time to react and fired a fusillade of barbs at the Trinamul Congress supremo.