Mamata stresses flawless relief to cyclone-affected people
The CM has planned Duare Tran programme with a fund of Rs 1,000 crore, which is going to be the first pro-people initiative of her third term in office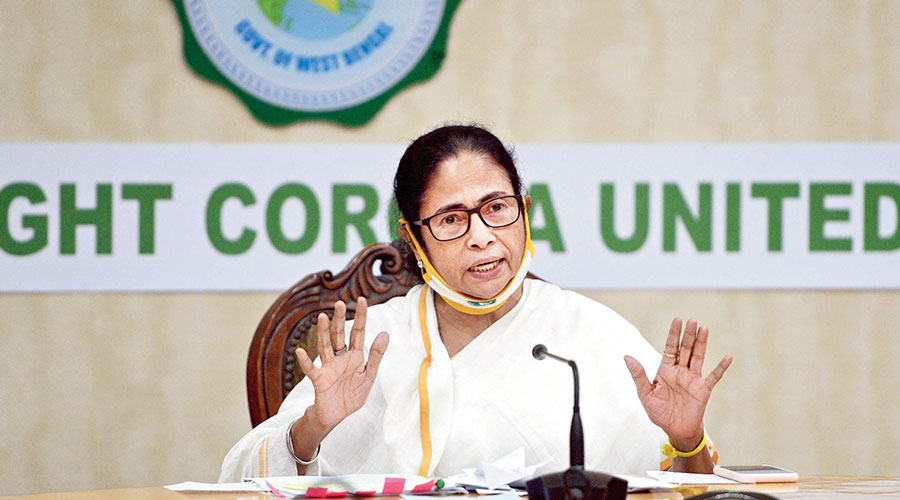 ---
Calcutta
|
Published 29.05.21, 01:59 AM
|
---
Chief minister Mamata Banerjee on Friday repeatedly told government officials during her three review meetings in Yaas-hit East Midnapore, North 24-Parganas and South 24-Parganas to ensure that affected people were not deprived of relief and compensation offered by the government.
The stress on flawless distribution made it clear that she didn't want a repeat of anomalies witnessed after Nabanna launched a similar initiative last year after Cyclone Amphan.
"You have to do the verification of the applications for monetary relief very carefully. Last year, we gave money to a lot of people but were given bad names due to one or two cases. You have to look after the poor people so that they get the relief properly. Government does not have a lot of money but we have to take care that the real affected people are not deprived," said Mamata from her review meeting in Sagar of South 24 Parganas.
Not only in Sagar, she stressed on the same point in her three review meetings in Hingalganj in North 24 Parganas and Digha in East Midnapore.
"The field survey of the applications will be done from June 19 to June 30 and the officials have to review them carefully as no one can misuse government money and poor people should not be deprived," said Mamata at Digha.
"Prepare the list of victims in a manner that nobody can raise any allegations… Any complaint should be dealt with strongly," she said in Hingalganj of North 24 Parganas.
In an attempt to stand by those affected by cyclone Yaas, Mamata has planned the Duare Tran (Relief at doorstep) programme with a fund of Rs 1,000 crore, which is going to be the first major pro-people initiative of her third term in office.
Following the Duare Sarkar model — a pre-election initiative to dole out government benefits  — the relief and compensation would be carried out in a decentralised manner in which camps will be set up at gram panchayat and block levels through which applications would be accepted and later money would be transferred directly to the beneficiaries after running necessary checks. Unlike the post Amphan model wherein panchayat functionaries oversaw the process, this time the entire exercise would be carried out by government officials.
"The chief minister has directed not to involve any panchayat functionaries in the camps and the verifications of application should be done by the government staff on the ground level without any references. It would be just what we did to organise Duare Sarkar camps before the assembly polls," said a senior official in South 24 Parganas.
Last year, allegations about irregularities in preparing the list of Amphan compensation beneficiaries had snowballed into a major controversy, big enough for chief minister Mamata Banerjee to step in.
In the face of widespread protests over alleged irregularities in distribution of financial relief to the people affected by Amphan, Mamata had admitted "lapses" and said her government would rectify those.
Sources in Trinamul said the issue of Amphan became an issue in last Assembly polls and both the BJP and the CPM built their campaigns accusing the Trinamul of looting money meant for poor people.
"You must ensure priority in 'Rescue, Restoration and Rehabilitation' of the people but without any prejudice. The genuine victims should not be deprived of benefits and financial assistance," said Mamata at Hingalganj.
Kanti Ganguly the former CPM minister in Sundarbans said that the allegation of misuse of the relief fund was not one or two but it was in hundreds.
"I personally sent a letter to our Chief Minister where at least 200 examples were given to prove how government money was misused and poor people were deprived. Let's see what happens this time.... I am sending an open letter to her with proposals how the Sundarbans would be saved and the repair of embankments is essential before the next high tide," said Ganguly on Friday evening.