Mamata Banerjee sends five-page letter to Narendra Modi on conflict over Alapan Bandyopadhyay
I am shocked and stunned by the Centre's unilateral order: chief minister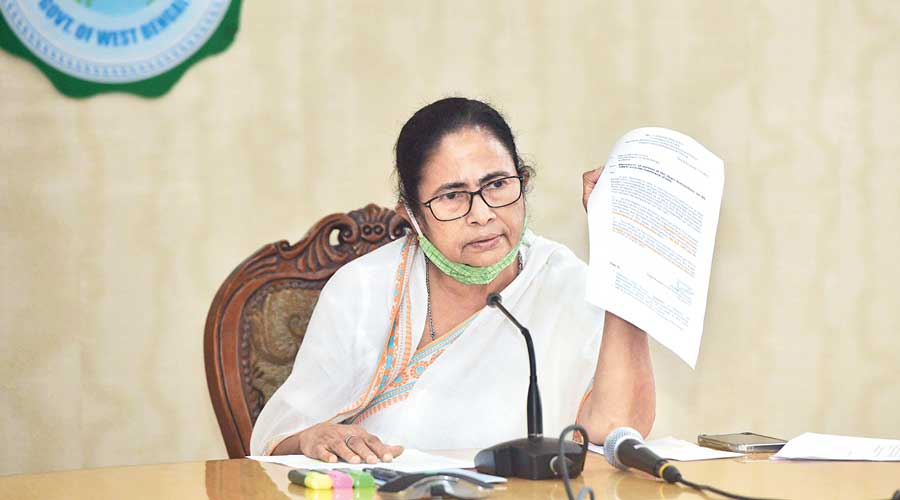 ---
Calcutta
|
Published 01.06.21, 01:23 AM
|
---
Mamata Banerjee on Monday morning sent a five-page letter to Narendra Modi on the conflict over Alapan Bandyopadhyay in an assiduous response to the Centre's position on Bengal's then chief secretary.
The chief minister's letter, drafted with careful thought and displaying sagacity, preceded the retirement of Bandyopadhyay on schedule without taking the three-month extension that had already been cleared by the Centre.
A letter from the Centre's under secretary Kuldeep Chaudhary, sent to Bandyopadhyay in the evening, made it clear that rapprochement with the Bengal government was not foremost on the Prime Ministerial agenda.
Mamata called it yet another "great blunder", taking exception to her letter not being responded to.
The highlights of Mamata's letter to the Prime Minister:
Shocked and stunned: I must confess I am shocked and stunned by the unilateral order… asking us to release Sri Alapan Bandyopadhyay… so that he may join the government of India on May 31, 2021, the normal date of his superannuation.
The decision seems to have been taken with mala fide intention and in hot haste.
Legally untenable, historically unprecedented and wholly unconstitutional: The unilateral "order" comes without any prior consultation whatsoever with the government of West Bengal, without any volition/option of the officer.
The unilateral "order" comes without… meeting any of the pre-conditions of the Indian Administrative Service (Cadre) Rules, 1954 and other applicable laws under reference.
Post-extension change: I really do not understand what happened between your allowing extension to the officer as chief secretary… after Centre-state consultation to enable him to serve the state of West Bengal in these times, and your unilateral order (four days later) issued in contradiction to the extension granted by you.
The Kalaikunda meeting of May 28: I really and sincerely hope that this latest order is not related to my meeting with you at Kalaikunda. If that be the reason, it would be sad, unfortunate and would amount to sacrificing public interest at the altar of misplaced priorities.
Local MLA of the BJP at Kalaikunda: I wanted to have a quiet word with you, a meeting between the Prime Minister and the chief minister as usual. You however revised the structure of the meeting to include a local MLA from your party and I am of the view (based on my knowledge of the affairs of the state for about 40 years) that he had no locus to be present in a PM-CM meeting.   …An individual MLA, having no locus, attending the meeting  was unacceptable.
"A local MLA" is believed to be a reference to Suvendu Adhikari who is now with the BJP.
The Kalaikunda interaction: Finally, keeping aside my legitimate reservations, I entered the meeting with the chief secretary of my state to hand over our report to you… and then I specifically and expressly sought permission from you for us to leave for Digha… where a meeting was due and participants were waiting. You expressly permitted us….
Request for withdrawal: I therefore humbly request you to withdraw, recall, reconsider your decision and rescind the latest so-called order in larger public interest.
Hope for cooperative federalism: I sincerely look forward to earnest federal cooperation in these grim times, the spirit in which I had flown to Kalaikunda….
People suffering: I am sure that you will not inflict further suffering on the people of this state by taking away the services of an experienced officer… whose continued presence in my state in these difficult times was accepted to be vital and necessary by your government even four days back.
Appeal to conscience: I thus humbly appeal to your conscience and good sense, on behalf of the people of West Bengal.