Mamata seeks to fill Left union void
'It is alarming how the Centre is targeting vital sectors and privatising them. Ordnance factories, defence, banks…'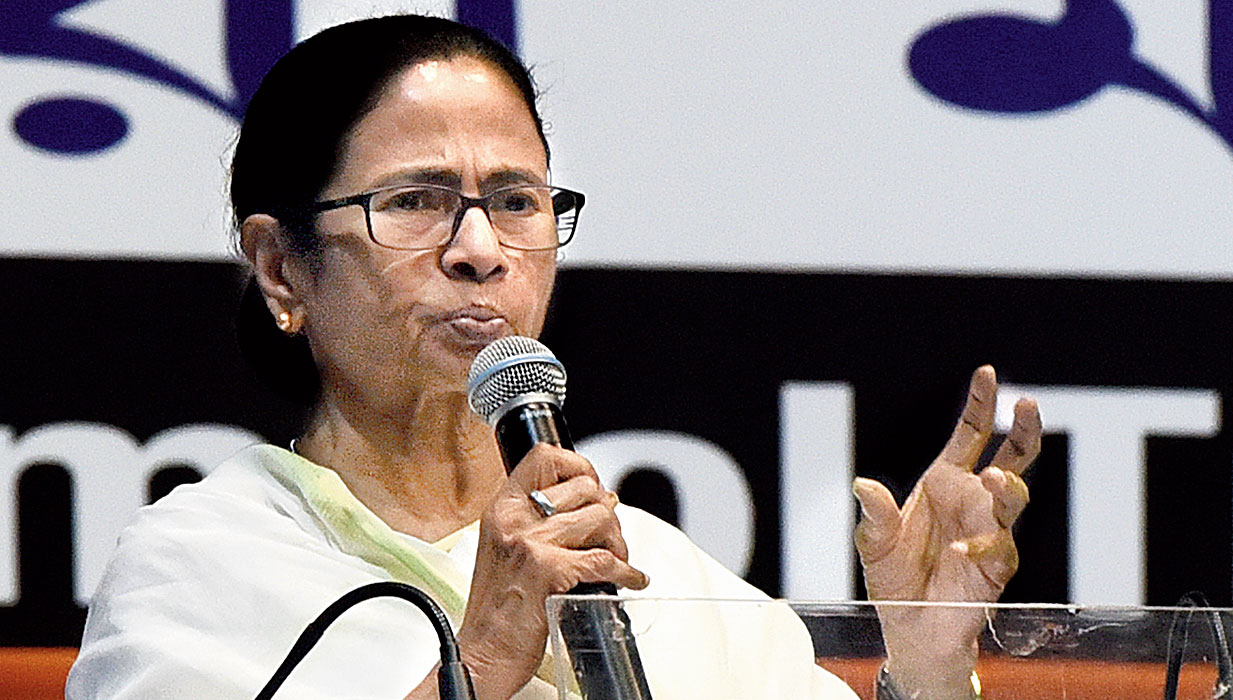 Mamata Banerjee at the labour convention in Calcutta on Monday.
(Pradip Sanyal)
---
Calcutta
|
Published 23.09.19, 07:44 PM
|
---
Mamata Banerjee on Monday promised to champion the cause of the employees in Union government-run entities and central public sector units, the pledge marking her attempt to get into trade union mode at a time the Narendra Modi dispensation is pursuing a policy of privatisation and "right-sizing" companies.
"It is alarming how the Centre is targeting vital sectors and privatising them. Ordnance factories, defence, banks… See what they are doing with the railways, Air India, BSNL, the coal sector. Isn't it alarming?" the Trinamul chief asked at a convention of Trinamul labour arm INTTUC at the Netaji Indoor Stadium here.
"They are breaking the backs of companies that have been the pride of the nation for generations, then doing away with them unceremoniously," Mamata added. The INTTUC, helmed by Trinamul MP Dola Sen, has limited following outside Bengal.
Sources in Trinamul said Mamata had sensed that various decisions of the Modi government on central units and public sector undertakings had thrown up an opportunity for her to don the hat of a trade union leader.
"Policies like privatisation in various sectors and bank mergers are bound to create job losses. If Didi can stand by central government and PSU workers' unions, it helps her politically," said a source.
Besides announcing a slew of programmes over the next two months — like protest meetings in front of the Cossipore Gun and Shell Factory, Coal India headquarters and dharnas in Delhi, Chennai, Mumbai and Patna — Mamata set up a committee to organise movements against privatisation or closure of PSUs.
She said the movements would be expanded beyond Bengal and announced that she would lead a march in Calcutta on October 18.
"This is a good strategy to reach out to central government and PSU or bank employees. Traditionally, the Left parties held sway over these unions. But with their depleting strength in Parliament and passing away of some prominent union leaders like Citu's Deepankar Mukherjee and CPI labour arm AITUC's Gurudas Dasgupta, the Left has lost its traction among the organised sector labour force. She (Mamata) is trying to fill the void," said a CPM insider.
Sources said that given Trinamul's anti-BJP position and its strength in Parliament, several unions of officers and workers had approached her in recent times seeking her intervention.
On Monday, Mamata ripped into the BJP's economic policies and called for protests against the Centre's anti-people moves. "I will give you all the support that you seek, even if I am the last in the country to do so…. I will organise your rallies, I will walk in them, as long as you come too," Mamata said.