Mamata lashes out at PM and BJP over their attacks on Bengal govt
She preempted questions on her source of funds and attributed the money she made to royalty earned as the author of over 100 titles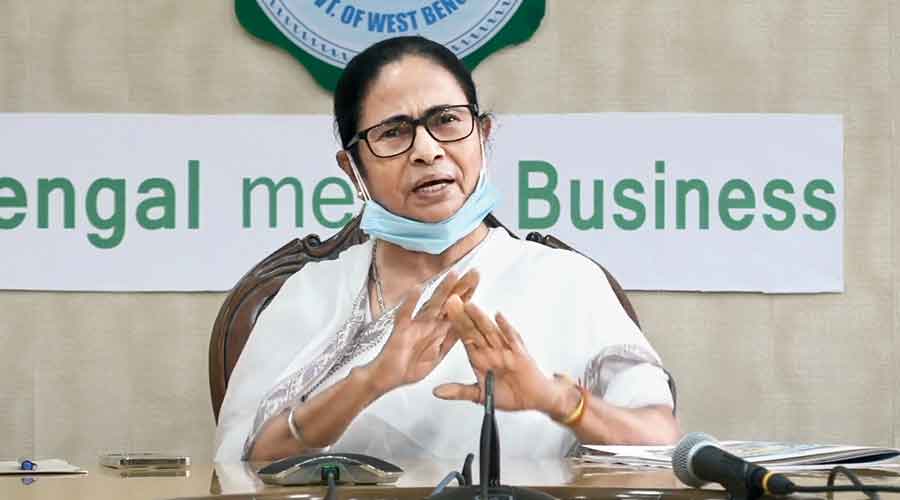 ---
Calcutta
|
Published 02.12.20, 01:57 AM
|
---
Mamata Banerjee on Tuesday sought to underscore her personal probity and lashed out at Narendra Modi and the BJP over their attacks on the Bengal government before questioning the alleged lack of transparency in the PM-Cares Fund.
"I don't even take a paisa as pension from Parliament despite being a seven-term MP... I am entitled to Rs 1 lakh per month as pension (from Parliament). I haven't taken a paisa in six years. From the state, I can take Rs 1 lakh a month in salary and benefits, I do not take even a paisa. I pay for myself using my own money, even while staying at a government circuit house," the chief minister told a news conference after a cabinet meeting.
She preempted questions on her source of funds and attributed the money she made to royalty earned as the author of over 100 titles, in several languages, many of which are bestsellers. She also makes money from her original music.
"I paint a little too. For that, so much envy. Why I paint, why are they bought? That money goes to the chief minister's relief fund, to the governor's relief fund. If I give some to my party to help it, what is your objection?" the chief minister asked.
Mamata then questioned the controversial PM-Cares Fund, which has been accused of lack of transparency.
"Lakhs of crores in your (Modi's) PM-Cares, going where? Why no audit? Why different rules?" she said, accusing the Prime Minister's Office and the Union home minister's office of interfering with media houses and dictating terms for their content.
Although she didn't name Prime Minister Narenedra Modi, it was clear that she was targeting him in her diatribe. When she was asked about the Prime Minister's apparent jibe – in a Varanasi event on Monday — at the state over a central farm scheme being disallowed here, she launched a counteroffensive.
"The state government is an elected government, just like the Centre…. Projects that are already underway in the state, why will I introduce their replicas because the BJP said so?" asked Mamata, without naming the Prime Minister. She, however, did name the BJP and the Centre repeatedly.
The Trinamul Congress chief was referring to central schemes such as Ayushman Bharat and PM Kisan Samman Nidhi, which she has not allowed to be implemented in Bengal.
"Bringing some bohiragawto (outsider) goons and handing out chits…. "Do as I say, or else I will send you to prison". This cannot be done in an independent democracy," she added, repeatedly accusing Modi and his government of trying to demolish the federal structure and keeping the states out of the loop.
The Trinamul chief was apparently referring to the resurgence of activity in Bengal by several central agencies over the past few weeks. Sources in her party said there are apprehensions of a "politically motivated" crackdown ahead of the elections, to try and corner Mamata.
"Be prepared. In the future, people will reply by the inch. Without a war, Bengal's people will not even yield an inch of ground. No matter how many agencies you unleash, no matter how many people are sent to prison," she said.
Mamata responded to allegations from the Opposition – the BJP, the CPM and even the Congress state unit seem to be on the same page on such issues — of corruption against her party and the government.
"Above all, the CPM should be ashamed of itself. The biggest sardar of the BJP today is the CPM. I am sorry to say, the CPM wasn't so shameless during the time of Jyoti (Basu) babu or Buddha (Buddhadeb Bhattacharjee) babu," she added.