Gour Banga University grapples with Wi-Fi graft charge
Allegedly wireless technology for internet had been ordered for a non-existent hostel too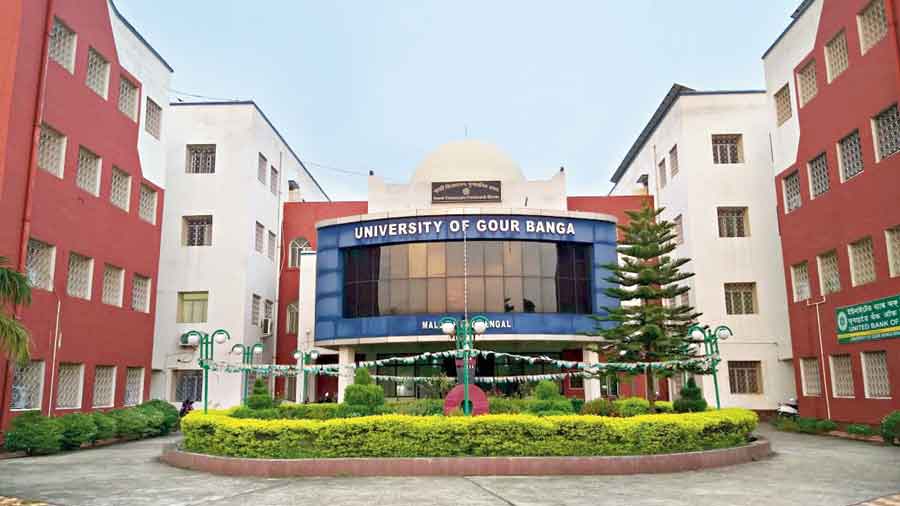 The Gour Banga University in Malda.
File picture
---
Malda
|
Published 08.08.22, 01:07 AM
|
---
Allegations of Wi-Fi being installed in non-existent floors and buildings are being probed at the Gour Banga University (GBU) in Malda.
A source said that an order to install Wi-Fi or wireless technology for internet access, within the GBU premises at a total cost of Rs 1.18 crore had been issued in November 2019.
"Wi-Fi was ordered to be installed on non-existent floors and buildings. Although two G+3 hostels were under construction at that point of time, Wi-Fi was ordered forinstallation on the fourth floors too," alleged a senior official of the university.
There are allegations that Wi-Fi had been ordered for a non-existent hostel too.
"Surprisingly, Wi-Fi was ordered for three hostels when only two hostels were being constructed then. Although it was found a fresh order was issued later, the former work order was not cancelled," the official added.
Following complaints to the state higher education council of alleged misappropriation of funds and other irregularities related to Wi-Fi a four-member inquiry committee was formed under Debkumar Mukherjee, the vice-chancellor of the Panchanan Barma University in Cooch Behar.
After a detailed probe, the committee gave a report to the state higher education council citing "large-scale corruption took place in Wi-Fi installation of the university".
Biplab Giri, a teacher of the physiology department was the registrar on additional charge when the alleged corruption took place and had issued the order for installing Wi-Fi within the campus.
Binay Krishna Halder was the audit officer of GBU and  convener of the tender and purchase committee then, sources said.
Both are still in service.
Although the committee headed by Mukherjee submitted a report, the executive committee of the university formed a five-member special committee in August 2021.
The new committee is headed by the registrar on additional charge, Apurba Chakraborty. The committee summoned Giri and Halder for a hearing on Saturday.
"The duo appeared before the committee as asked. We are yet to get many required documents to reach a conclusion. This is not the right time to comment on whether the committee is satisfied with their replies," said a member of the special committee.
Giri was not available for comments. Halder said that he was not involved in installing the Wi-Fi. "I only floated the tender on the directive of the then vice-chancellor and registrar," he alleged.