Maharashtra 5 detained in NRC panic
The group has been going to various villages seeking financial help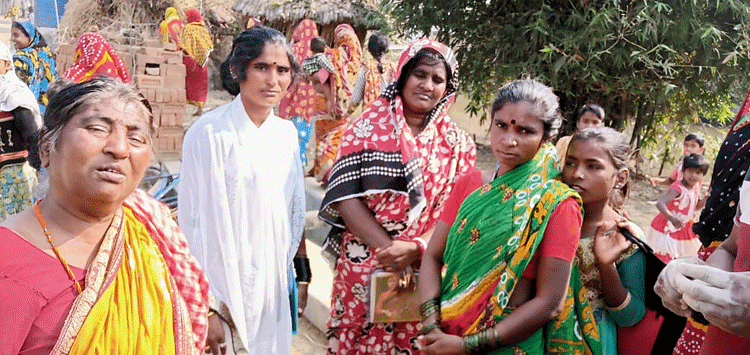 Some of the women detained at Chak village in Birbhum district on Sunday.
Picture by Amarnath Dutta
---
Bolpur(Birbhum)
|
Published 09.02.20, 07:18 PM
|
---
Four women and a girl from Maharashtra, who had reached a Birbhum village for financial aid in the wake of purported crop failure, were detained for about two hours by local people on Sunday as they suspected the group had come to collect information for the National Register of Citizenship.
Police sources said around 25 persons from the Kacharewadi village of Maharshtra's Solapur had come to Illambazar a few days back.
The group said their crops had been damaged in heavy and untimely rain in December. They have set up a tent at Illambazar and have been going to various villages seeking financial help.
"It was the result of a misunderstanding. The group of women came for help to the village, but people gheraoed them in panic. Police have rescued them," said Shyam Singh, district police chief.
Chief minister Mamata Banerjee has been issuing warnings in her public addresses against unfamiliar faces coming to Bengal, visiting homes and seeking details or documents in the name of surveys or other exercises.
Earlier in the day, the small group had gone to Chhoto Chak village of Illambazar, which houses 800-odd families of a minority community. The villagers got suspicious after the women asked them to write their names and the amount they helped out with on a piece of paper.
"After we visited half a dozen houses and collected around Rs 100, a group of villagers suddenly came, alleging that we are taking their signatures to drive them out of the country," said Yashoda Chewan, 25.
"They were talking about the NRC, about which we know nothing. We were taking the signatures to be more transparent in keeping records of the amount we collected," she added.
The residents of Chak, however, said they had found the group's behaviour suspicious as never before had people seeking financial help asked for signatures. Besides, that the women were apparently Hindi-speakers raised suspicions of them being sent by the BJP.
"They were asking for help. We had no problem with it. But we could not understand why they were asking the villagers to sign. The villagers then gathered at a place and we checked their papers. Nobody harmed them," said Badal Sheikh, a villager.
Tanuja Biwi, another villager, asked: "Who can guarantee that they have not come in disguise and are not agents of the BJP?"
"We are all afraid of being rendered stateless and homeless in our own nation. They were collecting signatures after taking money or clothes, which nobody does," she added.
The group from Maharashtra said they had come to Bengal with certificates from their local administration. One of the women showed a certificate, which was apparently issued by a special executive magistrate of Mangalwedha in the district of Solapur. The certificate states that the families need help as their crops were damaged.
"We told the villagers with folded hands that we are not here to harm anyone. When we failed to convince them, we requested them to hand us over to the police, which they did," said Santa Bai, 60.
Local Trinamul Congress leaders said people had been living in fear of the BJP's citizenship thrusts and the incident at Chhoto Chak was yet another instance of the panic.
"These villagers are very poor and most of them are afraid of the NRC and the CAA. They doubted the women as they asked for signatures and were from another state," said Fazlur Rahaman, Trinamul block president in Illambazar.
"It is not common for people to come from other states to remote villages in Bengal, seeking financial assistance," he added.