Made at home, hailed abroad
Chopra chat Sarkar speak Saif say Balan byte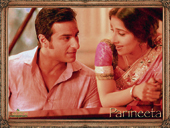 ---
Published 16.06.05, 12:00 AM
|
---
(From top) A moment from Parineeta; Saif Ali Khan at the Amsterdam premiere; Vidya Balan at the post-premiere meet
Made in Calcutta. Premiered in Amsterdam. And now stormed into the UK Top 10. Within a week of its release, Pradeep Sarkar?s directorial debut Parineeta has literally gone places. But the drama that unfolded at the 750-year-old Pathe Tuschinski theatre in central Amsterdam after the global premiere was as engrossing as the two-hour-five-minute adaptation of the Sarat Chandra Chattopadhyay classic. At the party that followed, the main players of Parineeta got talking?
In normal Bollywood parlance, I must be a crazy producer. No sane man would put so much money on a new director, a new heroine and a new music director. But I guess, apart from learning new things, producers need to unlearn. That?s why I haven?t made a single compromise during the making of the film and I am proud of that.
We didn?t have a Saif close-up in the last scene where he looks up to his father while breaking the wall. We built the set again and flew Saif down from Australia for that one shot.
I didn?t like Vidya Balan when Dada (Sarkar) first showed me her audition. I didn?t think she fitted the role of Lolita. She went through six months of grooming and only then I said yes. I was sceptical because top heroines wanted to do the same role at the same price. I also didn?t think Saif could do Shekhar. But he stuck his neck out and good he did. He is brilliant in the film.
I was asked to shoot the film like an advertisement considering my background with ads. So a big period film was kept to just two hours and five minutes. All I can say is that physically I gave two-and-a-half years of my life, but actually I gave seven lives of mine to make this film. It came straight from the heart.
We didn?t want to shoot the story in the period it was set in because we felt the younger generation wouldn?t identify with concepts like the Brahma Samaj. We could have shot it in any other period. But since I was in Calcutta during the 1960s and 70s, I was very comfortable showing the city of that time.
Music is a big part of my film and it holds the film together. I can?t imagine doing anything without music. If you just take a walk in the lane while listening to music, you will notice that everything is moving to beats. The whole world moves to music.
Parineeta has been a special experience. I got to work with people who are passionate to the point of being insane. Personally, too, the film happened at a very interesting stage in my life. My whole life is up there on screen.
I am inherently a very lazy person. So when I had to shoot for 72 hours at a stretch, I did complain to my producer that my director is making me work this hard. But good he did so. I realised that I did some of the best work on day three of that non-stop shooting stretch in Calcutta.
It was getting frustrating being typecast as only a funny actor. Parineeta let me explore a more mature role. And if it proves a certain kind of versatility in me, that should be great.
I couldn?t have asked for a better platform for a Bollywood debut. More than me it?s the people around me who helped me to perform.
Dada, of course, has been the greatest inspiration. Then there?s Saif. If I was good in the scenes with him that?s mainly because he was so good and co-operative. I was just reacting. Raima and I, of course, have an awesome personal relationship off screen.
It was not difficult doing the passionate scenes in the film. The way my director interpreted the scenes was that the marriage of two minds meant the marriage of two bodies. I just believed in Dada?s reading.
Apart from Parineeta, I am doing two other movies with Vinod Chopra films ? Munnabhai Part 2 and Yagna. So at the moment I am being taken care of.