Madarsa teacher calls for imbibing monk's message
Swamiji lessons lost on us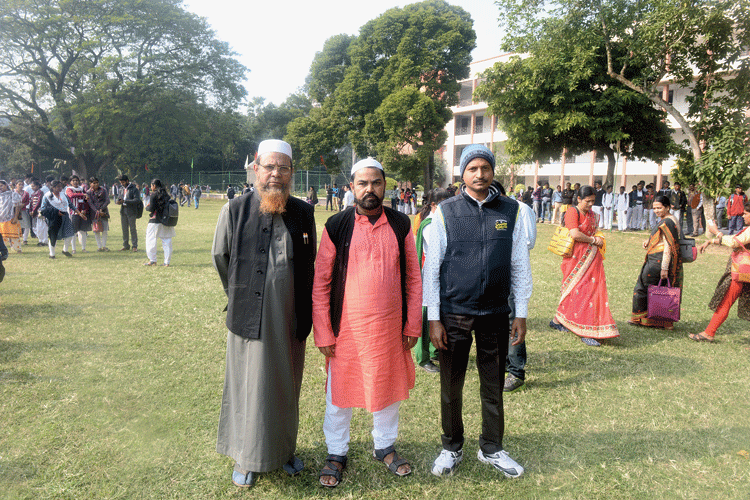 ---
|
Calcutta
|
Published 13.01.20, 08:49 PM
---
People idolise Swami Vivekananda but have failed to internalise his teachings, a madarsa teacher said at Ramakrishna Mission Ashrama in Narendrapur on Monday.
"Had the people of India followed what Swamiji had said, we would not have found ourselves in this situation," said Syed Rejaul Karim, who teaches Arabic at Danga High Madrasah in Narendrapur.
"Swami Vivekananda had said he could go to a mosque, a church, a vihara and also to a temple. That was his religion. He had respect for all religions and believed that all religions were equal," Karim said.
"Swamiji's speech at Chicago dwelt on the equality of religions. He believed that one should be broad-minded enough to accept people from another religion."
Karim and some of his madarsa colleagues, at least one of who was a Hindu, participated at a National Youth Day programme at the ashrama. They were accompanied by students.
Of the 26 teachers at Danga High Madrasah, eight are Hindus and one is a Christian. Of the 400-odd students, around a dozen are Hindus.
Karim and his colleagues said they were proud of the religious heterogeneity at their school.
Subrata Sarkar, who teaches physical education at Danga High Madrasah, said he never felt marginalised at school because of his religion. "You have to come to our school to see how we work as one. We are all teachers trying to help our students. That is our identity," he said.
Mohammad Nasiruddin, another teacher at the madarsa, said teachers would share food during tiffin break every day.
The teachers are aware of the wrong perceptions some people harbour about madarsas. "People think that you have to be a Muslim to study or teach at a madarsa. In fact, I know of some madarsas in Malda and Murshidabad where there are more Hindu students than Muslims," Sarkar said.
Another common but wrong perception is about the syllabus. Madarsa students are taught only one additional subject compared with the students in schools affiliated to the Bengal board.
"A madarsa student has to learn Arabic. All other subjects taught are same as the ones taught at Madhyamik or Higher Secondary schools in this state," Sarkar said.
Over 2,000 students from various schools participated in the programme held on the ground in front of the college on the sprawling campus.
The theme of equality of religions also came up in the speech delivered by Swami Sarvalokananda, the secretary of the ashrama.
"Sri Ramakrishna said no religion was bigger than another. He said people of all religions should respect each other. Swami Vivekananda also said the same thing in his first address at Chicago (World's Parliament of Religions, 1893)," he said.
"Swamiji had said Indian culture accepted all religions as true. Swamiji had propagated Sri Ramakrishna's teachings among people across the world and they are very relevant today."
Karim was also vocal in his opposition to the Citizenship (Amendment) Act. "The amendment only refuses to grant citizenship to people of one religion. So, it discriminates against Muslims," he said.