Machine explodes at plant, 6 die
According to West Bengal home department Malda Sujapur plastic factory accident that took place today has got nothing to do with illegal bomb making, as suggested by BJP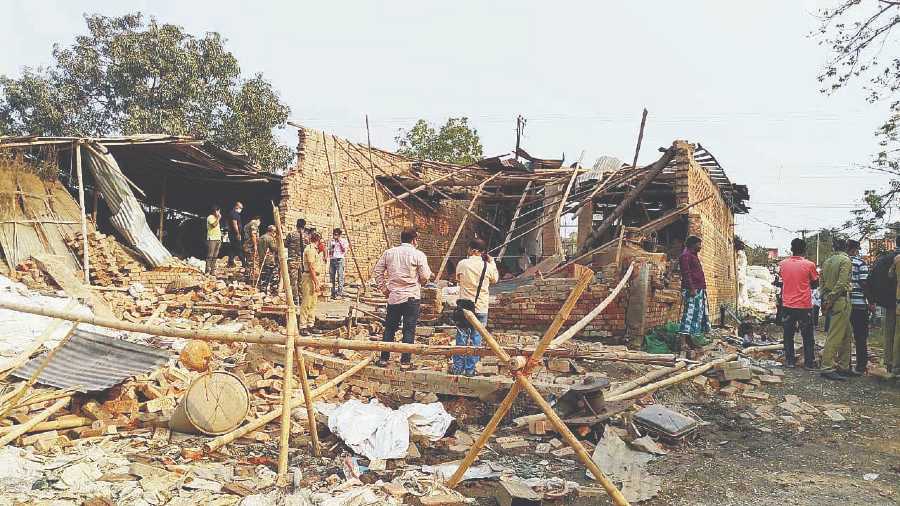 ---
|
Malda
|
Published 20.11.20, 02:35 AM
---
An explosion ripped through a plastic crushing unit at Sujapur near Malda on Thursday afternoon, killing five workers and a partner of the plant, besides injuring 10 persons.
The blast, which according to the state home department was related to "manufacturing process", happened when a crusher weighing around 45 tons exploded.
The tin-roof building was destroyed almost completely and the machine was blown into pieces, some of which fell in nearby areas.
Malda district BJP president Gobinda Mondal said the party suspected bombs were being manufactured illegally at the unit and only the National Investigation Agency could unravel the truth.
Police sources said the factory, located around 12km from the district headquarters, had a crusher in which scrap plastic items used to be smashed.
"The crusher weighing around 45 tons is in the middle of the unit and it exploded, killing people," said a police source.
Around 100 labourers, mostly local residents, work at the unit in shifts.
According to the police, work was going on in full swing when the machine exploded around 12 noon. Abu Sayed, one of the two partners of the unit, died while he was being taken to Calcutta for treatment.
The other deceased, administrative sources said, were Abdur Rahaman, 17, Sariful Hoque, 25, Azizur Rahaman, Rajib Khan and Mostafa Sheikh. The age of three deceased persons could not be confirmed till late evening.
"The injured are under treatment at the Malda Medical College and Hospital and some of them are in critical state," said a doctor.
Senior police officers reached the spot and started an investigation. The state government announced compensation for the family of the deceased. Senior minister Firhad Hakim took a chopper from Calcutta and reached Malda later in the afternoon.
"Five persons have died and few others have been injured as a plastic crusher has exploded here. The state has announced a compensation of Rs 2 lakh each for families of the deceased and Rs 50,000 for the injured. We have handed over the cheques to the families," said Hakim.
Abu Sayed succumbed to the injuries after the minister's arrival.
Hakim rejected the BJP's demand for an NIA probe and said the state police and intelligence agencies were competent enough to conduct the investigation.
"The police are probing the case. Some other state departments like power, panchayat and fire services will also separately submit reports to the state government on the explosion," he said.
Sources said a forensic team would examine the site of the blast on Friday.
"The Malda Sujapur plastic factory accident today is related to the manufacturing process and has got nothing to do with illegal bomb making, as suggested non-responsibly by some quarters. DM and SP on spot have been reporting to state officers after urgent inquiries and compensation steps have been taken," the home department said in a tweet.
"…..it is time to be factually correct. Government is helping the victims and their families," said the tweet.