Lowlands of south Bengal choked with water
Water level in flooded areas receded but it has been flowing towards the lowlands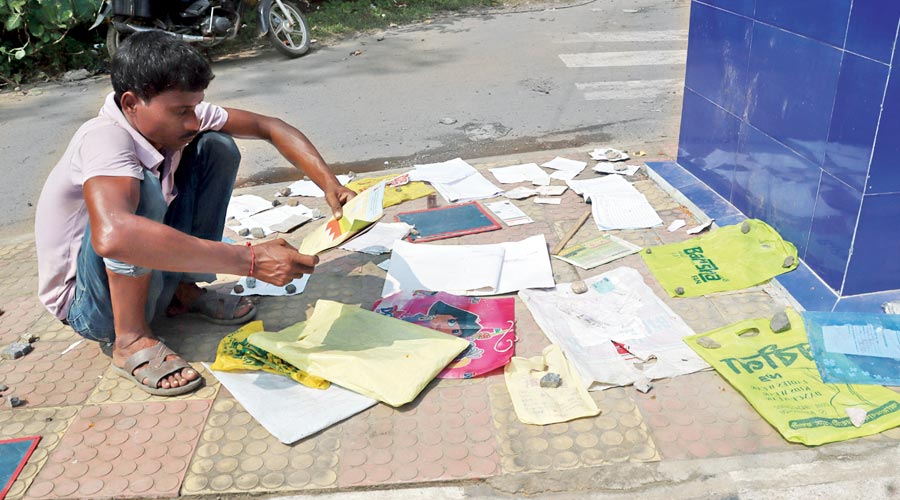 ---
Bolpur(Birbhum)
|
Published 04.10.21, 02:15 AM
|
---
The misery of people marooned by floods is likely to continue in the lowlands of south Bengal such as Hooghly's Khanakul and West Midnapore's Ghatal for another week at least as district officials said floodwaters from the highlands can't exit through swollen rivers and canals.
After the rain gods relented on Saturday and the DVC reduced the quantity of water it had been releasing from its dams, water level in flooded areas of Bankura, East and West Burdwan receded, but this water has been flowing towards the lowlands.
Chief minister Mamata Banerjee, who visited Hooghly's Arambagh after an aerial survey on Saturday, had alerted people that water from the highlands would come down to the lowlands.
"Water takes time to flow down to the low lands. Sometimes it takes 48 hours... as a result the people have to suffer (for long)," Mamata had said.
Senior officials and ministers in Howrah, West Midnapore and Hooghly said they are realising the impact from Sunday as water started flowing downwards.
"A vast area of West Midnapore is under water and there is no way of releasing water because all rivers are flowing in full capacity. The district is like a bowl and water from all south Bengal districts are now flowing towards it. We don't know how much time it would take to normalise pockets of West Midnapore like Ghatal or Pingla. We are not sure if it would take a month," said Manas Ranjan Bhunia, state water resources development and investigation minister and Trinamul MLA from Sabang.
"We have heard that a dam in Jharkhand on river Subarnarekha may release water now. If such things happen, the situation will worsen. It is our good luck that apart from government relief we are getting help from Ramakrishna Mission too," Bhunia added.
At least a lakh in West Midnapore and Hooghly are living in waterlogged conditions.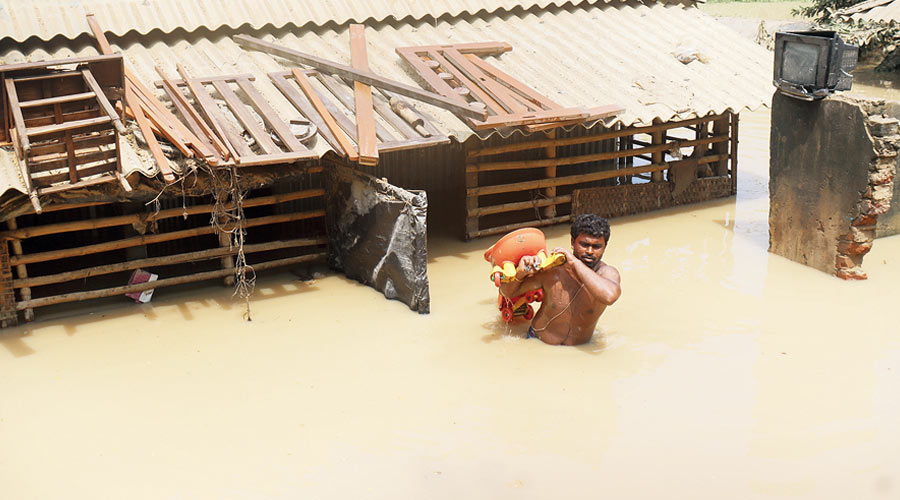 West Midnapore has 120 relief camps as on Sunday.
"In a few places, floodwater is flowing out but the rate is so slow that it could take at least seven days to be stable," said Rashmi Kamal, West Midnapore district magistrate.
Khanakul in Hooghly is facing the same nightmare as water from highlands has started flowing through most areas of the block. Army personnel have been deployed to distribute relief materials.
"We have to evacuate 32,000 people and at least seven of 11 gram panchayats are facing the wrath of floods. All rivers and canals are full and my office is also inundated since Sunday," said Shankha Bandopadhyay, the BDO of Khanakul-II block.
The state government had sent a nine-member team to Delhi seeking funds for Ghatal master plan in August for a lasting solution to floods. Officials said every time areas are inundated, they realise how much the implementation of Ghatal master plan is needed.
Mamata had also said on Saturday that she would again write to Prime Minister Narendra Modi, seeking funds to combat the back-to-back floods in Bengal.