Lord of the wrestling rings
Read more below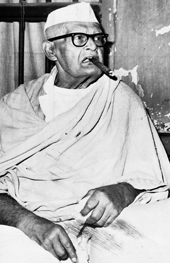 ---
Published 04.07.10, 12:00 AM
|
---
Gobor babu in his late years
Brief Lives has long been fascinated by the persona of Gobor babu, champion wrestler and musician — an unusual combination if ever there was one.
Gobor babu was born Jatindracharan Guha (1892-1972) into a family which was passionate about wrestling.
His forebears included the legendary Ambu babu, and Khetra babu, who tutored Swami Vivekananda in the finer points of wrestling.
The Guha family also employed such redoubtable wrestlers as Kholsa Chowbey and Rahmani pehlwan. Gobor babu underwent rigorous training at home but also found time to attend the musical soirees of Narendranath Basu, where he received instruction from Kaukav Khan, an exponent of Hindustani classical music.
Gobor babu's fabled exploits began in 1910, the year in which he travelled to Italy, Switzerland and England. His second trip to Europe was in 1912, the year in which Rabindranath Tagore also went to England. It is tempting to think that their paths may have crossed.
During this three-year trip, he very likely met Jack Johnson — the first black world heavyweight boxing champion — at a wrestling tournament in Paris.
Johnson was then a fugitive from justice in America, having skipped bail after being sentenced on a charge of immoral trafficking.
The story goes that Johnson asked Gobor babu to deliver a "radda", the fearful blow to the neck which is every wrestler's stock-in-trade.
Johnson stood in the middle of the ring while Gobor-babu delivered over two dozen such blows, one or two of which are usually considered enough to fell an opponent.
But Johnson stood firm. Johnson then invited Gobor babu to hit him with a boxer's punch. Gobor babu let fly many a punch but such was Johnson's footwork that Gobor babu was quite unable to touch him.
Gobor babu had better luck in the wrestling ring. During this second trip (he was only 20 years old then), he defeated one Campbell, the highest-ranked wrestler of Scotland, about whom not much is known.
His next bout was with Jimmy Esson of Aberdeen, described by the great Estonian wrestler George Hackenschmidt as "the Scotch Giant".
Jimmy Esson was then past his prime and was pretty much at the receiving end through much of his fight with Gobor babu. Esson then resorted to an illegal boxing punch but this was insufficient to deter Gobor babu who duly wrestled him to the ground.
On December 16, 1913, the same Jimmy Esson went three rounds with Jack Johnson in Paris who was then fighting wrestlers for a living.
According to a contemporary account, the bout took place at a "cheap music hall… Johnson was thrown and his shoulders pinned to the mat shortly after the go started. Bouquets consisting of tomatoes, eggs and other fruits were freely cast his way as he arose after his defeat." Then came the Great War, and it swallowed Jimmy Esson like millions others: he died in a POW camp in 1916.
Gobor babu went to Europe for the third time in 1920. The following year found him in San Francisco, where in a memorable bout, he disposed off the then light-heavyweight champion of the world, Ad Santel, on August 24, 1921.
Ad Santel (1887-1966) was a formidable wrestler who regularly fought Japanese judokas in clash-of-the-style matches, but in his bout with Gobor babu, he lost his light-heavyweight title.
This was in fact the first ever instance of an Asian winning a World Professional Wrestling Championship in the US. Following this, Gobor-babu hoped to pit himself against the famous Ed "Strangler" Lewis, considered by many to be the greatest ever professional wrestler.
He was a ten-time world heavyweight champion, and lost only 33 times out of the 6,200 matches he had wrestled in.
In 1921, all of America was rife with the prospect of a fight between Santel and Jack Dempsey, the world heavyweight boxing champion, for which Lewis had posted a $10,000 bond, along with a $25,000 side bet.
In the same year, Lewis lost his title to Stanislaus Zbyszko (pronounced Bisko), who had lost his title nearly 11 years ago to another wrestling giant Frank Gotch .
We do not know the exact date of the bout between Lewis and Gobor babu, but a full account of the fight has been left by the thriller writer Hemendra Kumar Roy.
Lewis first tried his famous head-lock on Gobor babu but to little effect. After a few rounds, Lewis managed to floor Gobor babu once, but the latter soon returned the compliment. Both fighters had registered two falls each, when Lewis resorted to foul play by hitting Gobor babu with a boxer's punch.
When the referee overlooked this offence, Gobor babu turned to the judges to remonstrate, but at this moment, Lewis floored Gobor-babu with a resounding thump, causing him to hit his head on the boards and lose consciousness.       
Gobor babu's last famous fight was in 1929, at Park Circus in Calcutta, against the younger Gama, in a bout that has since passed into the folklore of Indian wrestling. After a stirring fight which showcased all the moves of Indian wrestling, the older Gobor-babu lost on a technicality. Gobor Guha retired from wrestling in 1944.
The writer teaches English at Jadavpur University.