Lights on at Lyons Range - Bombay bourse boost for city exchange
Read more below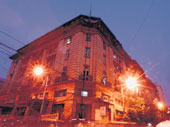 ---
Published 08.11.07, 12:00 AM
|
---
The century-old Calcutta Stock Exchange will get a new lease of life this Friday. Picture by Pradip Sanyal
Lyons Range will roar again.
India's second-oldest stock exchange, which hit skid row back in 2001 after a scam flattened business on the bourse, is ready to hitch a ride on the roller-coaster under a piggy-back arrangement with the Bombay Stock Exchange (BSE).
The 700 brokers on the Calcutta Stock Exchange (CSE) rolls will be able to trade on the BSE platform from Friday, which marks the muhurat trading for Samvat 2064.
On Wednesday evening, brokers of the CSE huddled in the central hall of 7 Lyons Range for an extraordinary general meeting and put their stamp of approval on a resolution that turns the century-old bourse into a virtual trading satellite of the BSE.
"It will be the soft launch of an arrangement, under which CSE and BSE will share trading platforms. It will breathe new life into CSE," said Binay K. Agarwal, a member broker at the exchange. "Once implemented, members of each bourse will be able to trade in the stocks listed on the other exchange. We hope to complete the process of integration by the end of this financial year."
"There are 2,500 companies exclusively listed on the CSE. Stocks of only those companies that comply with all the listing and other regulatory requirements will be allowed to trade in a special segment on the BSE. We estimate that the number of such companies is around 200. BSE brokers will be able to trade in these CSE-listed companies by next month. This will be the first phase of the arrangement," said T.V. Rangaswami, the chief general manager of Bombay Stock Exchange Ltd.
Just over 10 years ago, the CSE was the largest stock exchange in the country, with an annual trading volume of Rs 1,78,799 crore in 1996-97. That translates into a daily trading volume of at least Rs 750 crore. Since the scam, the CSE has seen its volumes shrink to just Rs 1.4 crore a day with less than 20 active brokers. The new deal with BSE could change all that.
The CSE owes its origins to a band of brokers who first gathered under a neem tree back in 1830 to trade in loans floated by the old East India Company. Calcutta Stock Exchange Association Limited, which ran the exchange, was incorporated in 1908. It moved into its current premises on Lyons Range in 1928.
The deal with the BSE marks the start of a new association that will, hopefully, bring back some of the glory of the old days. CSE has spent several crores to upgrade technology and hook up with the BSE's trading platform. Sixty cubicles, which occupy three quarters of the space of the Lyons Range building, have got a lick of paint in sky blue. The 80-year-old heritage building will be decorated with fairy lights for Diwali.
But not everyone is gung-ho about the new arrangement. Ajit Dey, who was president of CSE between 1989 and 1992, says: "Today's development means almost nothing for the CSE. Let us not glorify it as a revival of CSE. The exchange will not benefit. Trading volumes will not swell, as there are very few good companies that are listed exclusively on CSE. Most companies have already delisted from the exchange. The arrangement will only benefit 700 brokers of the exchange."