Letter a political stunt: Binay Tamang camp
Morcha faction asks Sangma to practise what he preaches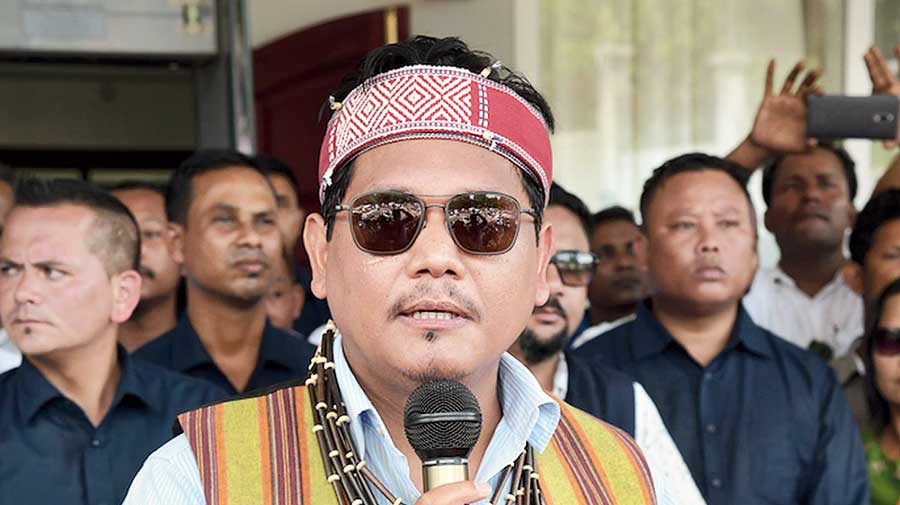 ---
|
Siliguri
|
Published 17.09.20, 02:41 AM
---
The Binay Tamang camp of the Gorkha Janmukti Morcha on Wednesday described as "a political stunt" Meghalaya chief minister Conrad K. Sangma's letter to Union home minister Amit Shah seeking Gorkhaland.
Sangma is also the president of the National People's Party, a constituent of the NDA. He reminded the Centre in the letter that "the Gorkhas too are rightful Indian citizens who deserve to have their own identity and Bas Bhoomi (homeland)".
The Morcha, which has an alliance with the Trinamul Congress that strongly opposes Gorkhaland, advised Sangma to practise what he preached vis-à-vis Gorkhas living in Meghalaya.
Keshav Raj Pokhrel, the spokesman for the Tamang faction, said: "We consider Conrad's statement as a political stunt. This is because the Bengal Assembly elections are round the corner and the Gorkhas are aware that your party (NPP) is planning to contest."
The NPP had opened its unit in north Bengal a few months ago amid allegations that the party tiptoed into the state as part of the BJP's strategy to split Gorkha votes.
Sangma's letter had been written on September 4 but made public on Tuesday.
The Darjeeling-based Morcha also alleged that GNLF leader Subash Ghisingh had launched the Gorkhaland agitation after Gorkhas had been driven out of Meghalaya in the 1980s when Conrad's father P.A. Sangma was the chief minister.
P.A. Sangma was chief minister from 1988 to 1990 whereas the Gorkhaland agitation had started in 1986. The Darjeeling Gorkha Hill Council was formed in 1988, following which the agitation came to an end temporarily.
Pokhrel asked the Meghalaya chief minister to allow Gorkhas to live with dignity first in his state.
"The condition of Gorkhas in the present situation is not good in Meghalaya. The Gorkhas are looked down as second class citizens and are denied various benefits. The chief minister should practise what he preaches," said Pokhrel.
"Conspiracy to chase Gorkhas away from Meghalaya is still being played out," the Morcha leader further alleged.
Sasank Ghatraj, the NPP in-charge of north Bengal-Sikkim, said his party was mature and did not believe in "vindictive politics".
"But we are committed to taking forward the voices and aspirations of the marginalised. We have opened the floodgates for other parties and governments to support the genuine cause of the people," said Ghatraj, who added that the NPP always supported the formation of smaller states.
The NPP is the first political party in the Northeast to be recognised as a national party by the Election Commission of India.
Sangma is the second chief minister to lend support to the Gorkhaland demand. When Pawan Chamling was the Sikkim chief minister, he got a resolution adopted in the Assembly on March 29, 2011, terming Gorkhaland as a "genuine and legitimate" demand of the people of the hills.