Legacy preserved & restored
Revisiting past for emphasis on present need to conserve history for future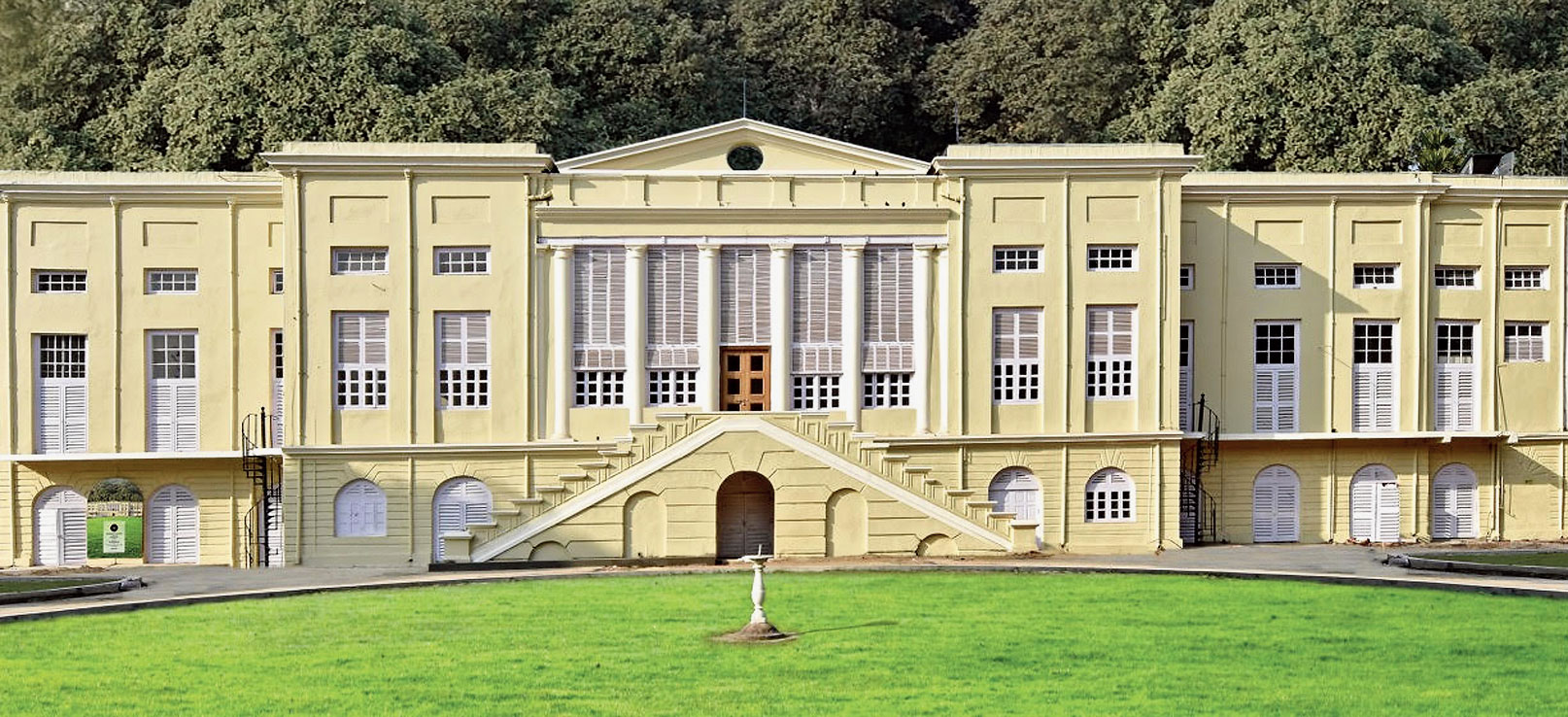 The transformed southern façade of the governor general's weekend retreat at Latbagan, Barrackpore.
The Telegraph picture
---
Calcutta
|
Published 19.04.19, 04:27 PM
|
---
A police officer, a descendant of a Nawab and a museum curator discussed everything from biryani to buildings and kite flying to paintings as they shared the dais on Thursday on the occasion of World Heritage Day.
Heritage commission secretary Umapada Chatterjee pointed out that in the eyes of the Unesco, heritage no longer indicated only built heritage but also encompassed outstanding demonstrations of human interactions and creative expression, thus including natural sites and cultural practices as well.
"Our heritage commission act now protects only built heritage. We have submitted a proposal to bring in intangible heritage too," commission member Partha Ranjan Das said.
They were speaking at a programme organised by the state heritage commission at Charukala Parshad.
This shift in approach was reflected in some of the topics discussed through the day.
When Nawab Wajid Ali Shah landed at Bichali Ghat on May 13, 1856, Metiabruz was a flat barren land. He peopled the area with his retinue of retainers and loyalists, and built on it 18 palaces and a zoo, none of which survives. But what survived added significantly to our cultural landscape.
"Potato was then an exotic vegetable, having been introduced to India by the Portuguese. It is because of the free hand he gave to his chefs to experiment that they added alu to biryani and the Calcutta biryani was born," the Nawab's descendant Shahanshah Mirza said. He went on to speak of Shah's contribution to the spread of Urdu language, music, poetry, kite flying and pigeon flying as hobbies as well as sartorial additions in the form of sharara and gharara for women and sherwani for men.
When Soumen Mitra, a senior officer of the West Bengal police, took the mic it was evident why commission chairperson Shuvaprasanna had lauded him as one of the individuals working for the city's heritage, island-like in a sea of general apathy. "Wherever Soumen has gone he has transformed the place," he said.
"It all started when I was looking for a marble fountain that the Marquis of Hastings was said to have brought from Agra Fort in 1815 to beautify Calcutta," Mitra said as he showed pictures of the governor general's weekend retreat in Barrackpore, which now houses the state police academy. The lotus fountain occupies pride of place in front of the renovated structure. "We are now rebuilding the missing Tuscan pillars in the portico."
He went on to show a series of colonial buildings housing various wings of the police he took the initiative to renovate.
Victoria Memorial secretary and curator Jayanta Sengupta spoke of the challenges of balancing colonialism and nationalism. "The British had built the monument to showcase the Empire so it demands fresh curation. But in recalibrating the display, we must not fall prey to a parochial, insular and exclusivist nationalism."