Left supporters voted for BJP: Yechury
The Left has put up the worst ever electoral performance in Bengal in the recent Lok Sabha polls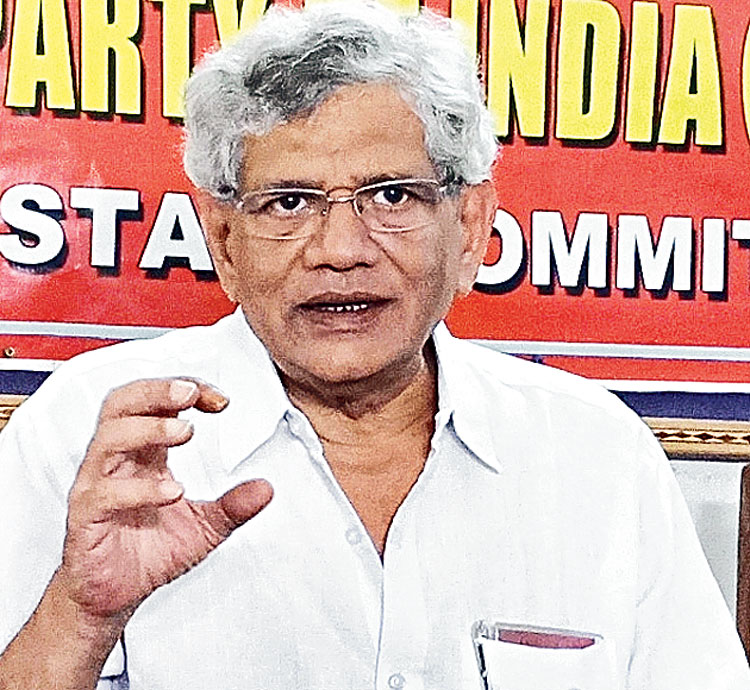 Sitaram Yechury
A file picture
---
Calcutta
|
Published 04.06.19, 08:02 PM
|
---
CPM general-secretary Sitaram Yechury on Tuesday admitted that Left Front supporters votes in Bengal had gone to the BJP.
The admission came a day after Mamata Banerjee had called the BJP's impressive performance in Bengal in the Lok Sabha polls "the CPM's mercy" and blamed the Left for the electoral outcome.
"No party (CPM) member would have voted (for the BJP). But the Left vote support base, the victims of intense terror and repression of eight years of the Trinamul rule have done so," Yechury told a news conference at Alimuddin Street here on Tuesday.
The Left has put up the worst ever electoral performance in Bengal in the recent Lok Sabha polls. It managed a vote share of 7.48 per cent, down from 29.93 per cent five years ago.
Not only did the slide deny the Left victory even in a single Lok Sabha seat in the state but also coincided with a 23.23 per cent rise in the BJP's vote share from 2014.
Of the Left's 40 candidates in Bengal, only Bikash Bhattacharyya didn't have to forfeit his deposit in Jadavpur.
On Tuesday, the CPM state committee meeting was called in Calcutta to discuss the poll outcome.
According to sources, the CPM's failure to forge an alliance with the Congress in Bengal was discussed at length at the state committee meeting.
"There was a failure in sealing the electoral deal with the Congress in Bengal, despite repeated attempts from the very top. Such a truck could have arrested the rise of the BJP's vote share, like in the 2016 Assembly polls," said Yechury.
In 2016, when the Left and the Congress did contest together, the BJP's vote share had fallen to 10.31 per cent, resulting in just three MLAs in the 294-seat Assembly.
The Left and the Congress had together managed 40.03 per cent and 77 MLAs between them.
Responding to Yechury's remarks, the Congress's Behrampore MP Adhir Chowdhury — one of the loudest pro-alliance voices in his party — said both the parties needed to introspect and think long-term.
The Marxists have been reviewing their worst performance in electoral politics in the country since the CPM's inception in 1964 ahead of its three-day central committee meeting from June 7 in New Delhi.
The party has just three MPs in the Lower House of 543.