Kids and computers, in the middle of a field
Read more below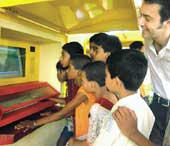 ---
Published 30.04.04, 12:00 AM
|
---
Monteil with the children at the kiosk. Picture by Aranya Sen
Where does one expect children to learn computers? Certainly not in the midst of mud huts, ponds alive with quacking ducks and narrow uneven ridges. But that is what has been happening in Gothberia, a hamlet in Diamond Harbour, an hour's drive from the city.
On a field quite some way off the nearest motorable road, a kiosk has been set up with three computers. Every morning, local kids assemble there, trying out their hand at MS Paint and WordPad. For the past week and a half, they have been joined in their wonder trek up the cyber highway by a French artist, Pascal Monteil.
"This venture is part of our Minimally Invasive Education project which aims to finds out what happens when a computer is left in the open," says Parimala Inamdar, head of the design laboratory at the Center for Research in Cognitive Systems, NIIT. Called Hole in the Wall (that is how the computers are placed), the project ensures that the screens face the outside world, giving passersby free access. After successful experiments in towns, such kiosks have now been set up in rural areas at three corners of the country — Kanyakumari, Jaisalmer and Bengal.
The conversation takes place in a cottage with a thatched roof. "It is amazing how quickly these kids can pick up basic computer functions, almost completely on their own," says Inamdar, looking through the window at the crowded kiosk. As Monteil nods in agreement, Pushpendu Das is busy sketching his teacher-didi, working on a laptop. Pushpendu, like the others in the group, had never seen a computer before but is comfortable wielding the paintbrush with the mouse now.
"We gave the children digital cameras with which they went around clicking whatever caught their fancy. Then they made cut-outs, embossed, blurred and shaded to their will — teaching each other, putting suggestions and experimenting." Monteil spurs on the "discovery-learning". "I describe a picture in the exercise book — in French — and they reach the relevant page without a problem," the 35-year-old beams at the children.
"The motive behind inviting a French artist is to find out what the interaction between diverse cultural, linguistic and technological backgrounds would yield," she explains.
The yield so far has been enriching for both sides. "The kids create strange aesthetics with images and shapes. This expands my conception," says the teacher of photography in mixed media at University Paris VIII, invited at the initiative of the French Embassy and the Alliance Francaise. Prosenjit Pramanik's parents were unwilling to send him over, but on hearing that computers would be of use in the barber shops of tomorrow, they agreed. Now the boy, with an incredibly imaginative eye, wants to become an artist.
Though the workshop ends on Saturday, the NIIT team will track every mouse move through the Net from Delhi. "The machines will stay here. So they can carry on with whatever they have learnt," the duo assures.