Karate kid gets a black belt mom
Nawneet Lodha used to escort her son to and from karate training twice a week, like many mothers do. One day, she decided to do what most mothers don't: join her son in training.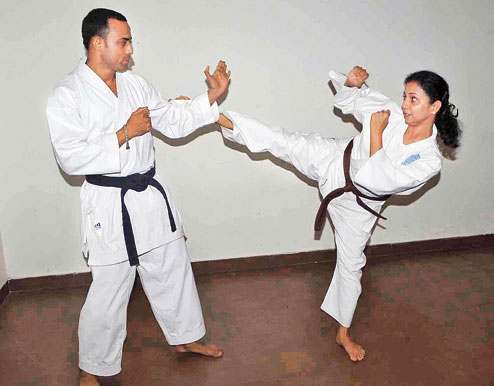 ---
Published 15.02.16, 12:00 AM
|
---
•SPOT THE DIFFERENCE: TWO GENERATIONS, ONE KICK
Nawneet Lodha used to escort her son to and from karate training twice a week, like many mothers do. One day, she decided to do what most mothers don't: join her son in training.
Nawneet, 35, and son Prakher, 8, were both awarded black belts in karate on Republic Day. The diminutive freelance web designer from Hazra, who just over a year ago would be reluctant to go out alone anywhere after dusk, can now throw a flurry of punches and knock a man over with a roundhouse kick at the blink of an eye.
"I and my son have had to skip birthday parties and family engagements in the evening whenever my husband would get stuck at office. But I am not scared of snatchers and molesters anymore, and we don't miss any parties either!" quipped the wonder mom, all of 5'1'' in her socks.
Nawneet, whose roots are in Ranchi, took three years to move from the parents' waiting area to the training enclosure at Vivekananda Park where her son had been learning karate.
Two years after that life-changing decision, a shy homemaker who couldn't raise a leg waist high was at a black belt exam, unleashing 500 punches and 250 high kicks, doing 250 push-ups and engaging in mock combat with an opponent - all in two hours.
"For a woman who starts training at Nawneet's age (she was 33 at the time), it takes at least three to four years to become a black belt," said Premjit Sen of the Karate Association of Bengal, who specialises in the Shito-Ryu school of this ancient Japanese martial art.
Nawneet's trainer Shubhankar Das, a black belt third dan, said if someone were to grab her from behind, she would instinctively hit the attacker in the stomach with her elbow to free herself, lift him over her own body even if he weighed much more than her own 55kg and throw him in front of her. A fast-and-furious kick to the nose or a joint in the limbs would follow, all before the other person can react.
According to him, Nawneet had always been very serious about her training sessions and picked up techniques instantaneously. She would practise at home and turn up for training with her son 40 minutes ahead to limber up and clear any doubts with the sensei.
Nawneet trains in two sessions every day, the first one from 7am, half an hour after Prakher leaves for South Point High School, where he is a student of Class II.
This session starts with "looseners" like shoulder, neck, hip and ankle rotations before the regimen shifts to swinging, in-out, out-in and back-to-back kicks, punch and kick combinations and, finally, combat with an imaginary opponent.
Prakher had started attending karate classes at National Club at Vivekananda Club at three years of age and his mother would sit on the ground floor with 60 other parents for 90 minutes, two days a week. Nawneet recalls wanting to learn karate herself, only to develop cold feet about asking her son's trainer if that was possible.
The reason? No other parent she knew had done so.
"It took me three years, but I did finally ask my trainer if I could also join and he instantly agreed. After a few days, he told me I was quite good and should get myself a gi (the white uniform that is used by karatekas during practice and competition)," Nawneet recounted.
When she was a student at Ursuline Convent in Ranchi, karate lessons had been introduced when Nawneet's batch was weeks away from bidding farewell to school. She attended two or three of those classes and "loved" the experience. "That love was revived when I resumed karate lessons 15 years later," said the 35-year-old.
Prakher was a purple belt by this time and had four brown belt levels to clear before he could aspire to a black belt. Mom was in a hurry, though. She cleared examinations for yellow, green, orange, blue and purple belts and then four brown belt levels to catch up with her son.
It amuses Nawneet no end that her rise up the karate rungs has also raised her image in her son's eyes. "Before I started taking karate lessons, Prakher would complain of aches and pains whenever he didn't feel like going for classes. 'How would you know how painful it is?' he would often tell me. But now he can't make such excuses," quipped Nawneet.
Prakher is rated highly in his age group and has won medals in various competitions, including gold in the International Open Karate Championship 2015, partnered by t2, but he doesn't mind his mother getting all the attention.
"None of my friends' mothers know karate and my mother is so good at it. This makes me very proud!" the eight-year-old said.
What is your message for Nawneet? Tell ttmetro@abpmail.com