?Kajol mesmerises you?
Read more below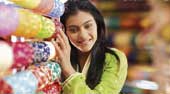 ---
Published 16.05.06, 12:00 AM
|
---
(Top) Kajol and Aamir in moments from Fanaa
It?s said that every big Bollywood film goes to some cinematographer after you turn it down. Why did you choose to do Fanaa?
There are many reasons. Fanaa was the third film director Kunal Kohli offered me. I had to refuse both his earlier films ? Mujhse Dosti Karoge and Hum Tum ? with a Mani Ratnam film coming up on both occasions. This time I had no other reason to say no. Also, Kunal has been a friend to me for a long, long time, since the days he used to make music videos. I even shot a couple of them for him. So, we always wanted to do a film together.
Another hook, of course, was Aamir Khan and Kajol coming together for the first time. When I heard the story, I fell for it immediately. People like Aamir and Kajol won?t work unless the film has a great story.
Was it challenging to recreate Kashmir in Poland?
Not really, because people haven?t really seen the real Kashmir. Roja was shot (by Santosh Sivan) in Kulu Manali and Ooty and nobody could spot the difference. See, shooting in Kashmir would not have been possible because there were action scenes to be shot. Also, given the schedule we had prepared for the film, the snow would have gone in Kashmir. Keeping in mind the convenience of the actors, we chose Poland because the landscape there looks like the expanse of Kashmir.
But you have shot on location at a lot of monuments in Delhi?
Yes, the story demanded that and we had to be careful about the crowds, although they were very co-operative. We used to shoot early mornings, between 5.30 and 10 am and then again in the evenings. It was less crowded then.
What was it like, shooting Kajol?
I have shot Kajol before, in Sapnay. But now, she is very thin and much more mentally balanced. At that time, she used to be a young girl, a touch restless on the sets. This time, she was very mature, now that she is a mother of a girl.
What does your lens say about Kajol?s face?
Kajol has a very interesting face. I didn?t have to struggle to make her look good. She does not have a typical classic looking face. The nose structure is different, she is a bit chubby, the features are not chiselled? The eyes are very powerful, you can?t take your eyes off Kajol. She completely mesmerises you. Someone who saw Fanaa told me that the last time Kajol looked as good was in Sapnay!
Even the Aamir Khan you shot in Dil Chahta Hai was very different from the new Aamir Khan in Fanaa?
Definitely. Also, Aamir has two looks in the film. In the first half he is plumper and in the second he is very thin. So, I have tried to give that very flamboyant look in the first half, while in the second it is more sedate and serious.
Everyone complains of Aamir the actor interfering on the sets. Did he have a say on how he was framed?
No, Aamir never used to interfere during the shooting. Whatever he has to say, he does before signing the film. Of course, if sometimes things go really wrong on the sets, he would suggest an option, which any good actor would do.
What is your take on the chemistry Aamir and Kajol share in the movie?
It is very good. You have to see it to feel it. Everyone keeps talking about the Kajol-Shah Rukh chemistry. But here is a new combination which is as good. Also the fact that these two actors have matured over time and that shows. Off screen, the two would tease each other throughout the shooting schedules.
If Kajol came two minutes late on the sets, Aamir would make a point and if Aamir came late, Kajol would let him know that. It was overall a lot of fun shooting Fanaa. We finished the shoot in 89 days, much ahead of our schedule. I am 100 per cent sure that the film will be able to live up to the huge expectations.
Ravi K. Chandran
Now that you have shot Amitabh Bachchan, Shah Rukh Khan and Aamir Khan back to back, how would you rate the three of them?
A superstar, a star and an actor. They are three very different characters, like we have in the south ? Rajnikanth, Kamal Haasan and Vikram. They are big in their own right. You really can?t compare them.
Which is the next big film you are shooting?
I will be starting work on Sanjay Leela Bhansali?s Saawariyan. And let me just add, it will be totally opposite to Black.