Jungle Mahal: Elephant watch on roads for ease of examinees
Sources said there were at least 50 such centres of Madhyamik examinations in the jumbo zones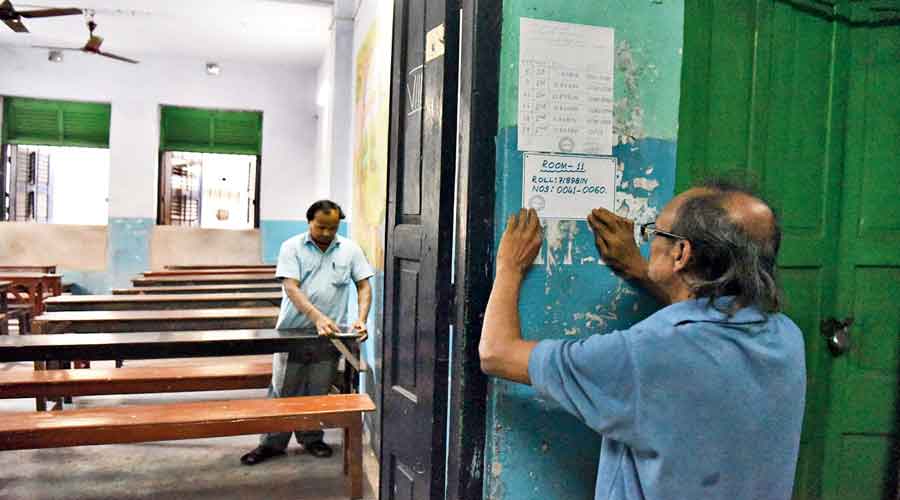 Roll numbers of Madhyamik examinees being pasted at a school in Calcutta on Sunday.
Gautam Bose
---
Bolpur(Birbhum)
|
Published 07.03.22, 02:36 AM
|
---
Teams of foresters will be deployed from Monday morning on roads connecting Madhyamik examination centres in elephant zones of Jungle Mahal districts to ensure that elephants don't roam on such stretches for the ease of the examinees.
Sources said there were at least 50 such centres of Madhyamik examinations in the elephant zones of Jungle Mahal. Every year, foresters face the challenge of keeping roads for the examinees safe from elephants.
Several roads in the four Jungle Mahal districts — Bankura, Purulia, Jhargram and West Midnapore —see frequent movement by elephants.
The forest department has already earmarked roads that elephants frequent.
"According to our information,there are 49 elephants in our jurisdiction. We have already asked all the forest beat officers to set up their own teams to patrol the roads. We will observe the location of the elephants. The team will adopt measures to deter animals from coming on roads that examinees take to reach the (Madhyamik) centres," said Kalyan Rai, the divisional forest officer of Bankura north.
A similar drive has been taken by foresters in Purulia, Jhargram and West Midnapore.
"We have around 10 elephants in our jurisdiction roaming in areas like Tapaban, Kalaikunda and Tapoban. We have formed separate teams for each area to ensure that elephant movement does not disturb Madhyamik examinees," said Shivanand Ram, the DFO of Kharagpur.
 "The challenge is that elephants sometimes stand on roads for a long time. In those cases, a student may get late in reaching his or her exam centre. So, we have to keep a close watch on the roads in elephant zones," said a senior forest department official.
This year around 11.1 lakh students, including 6.21 lakh girls, would sit for the Madhyamik examination (Class X board exams) starting Monday. The exam would be conducted physically following all pandemic protocols.
Bear scare
Panic gripped a group of villagers of Habra-Pahari, which falls under the area of the Deocha-Pachami coal mine project, on Saturday night when they spotted a bear roaming in the area.
They informed the police and forest officials about it. Foresters conducted a search at night but could not locate the bear.
"We did not get any proof of the presence of a bear at all. The area is adjacent to the Jharkhand border. The animal may have come from there and then gone," said Debasish Pradhan, the divisional forest officer of Birbhum.