Jumbo havoc in Purulia
Elephants destroy crops, injure villager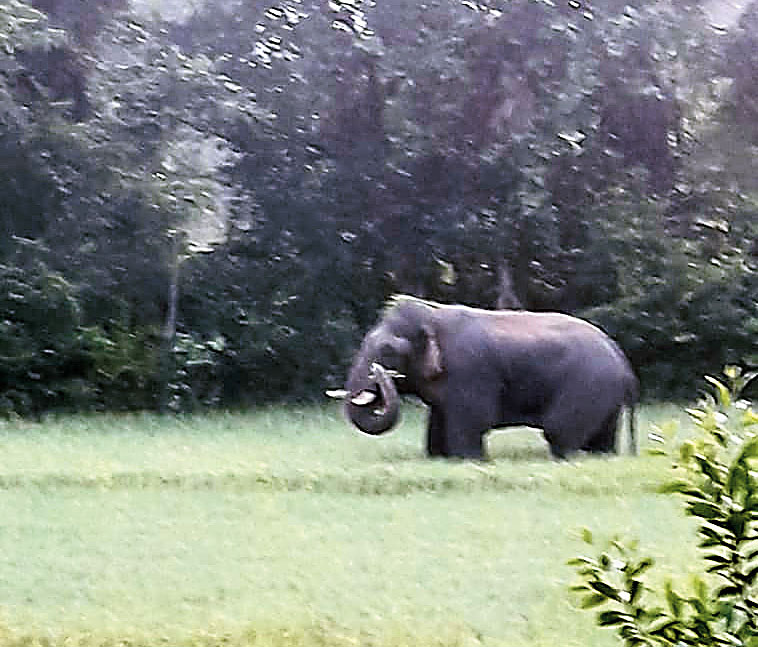 An elephant in Baghmundi.
Picture by Biswanath Roy
---
Purulia
|
Published 31.10.18, 08:14 PM
|
---
A herd of 20-25 wild elephants that has strayed into the Ayodhya foothills in Purulia have been destroying crops in six villages for the past one week.
The elephants from Odisa and the Dalma range in Jharkhand have injured a villager, destroyed paddy across 10 hectares and damaged a dozen mud houses.
But as the elephants create havoc in the villages, tourists are excited and plan to see the jumbos.
Forest officials in Purulia said the elephants had split in small groups and were entering human habitats after sunset to feed on paddy that was almost mature for harvesting, and also vegetables from the fields.
Forest officials said it was tough to locate the elephants and chase them back to the Dalma range as the villages they were entering were inside thick forests. That the jumbos come at night and are splitting into small groups are not helping either.
"We are chasing the elephants back to the forest with the help of hula parties (groups of villagers trained to drive away wild elephants), but they are again entering the villages. The area is surrounded by large swathes of forests and hills, which are providing cover to the elephants," said Dulal Chandra Bauri, the beat officer of the Matha forest range in Baghmundi.
The villagers said they were avoiding going out of home after sunset for fear of the elephants. Traders at Baghmundi are closing their shops before dusk and the villages wear a deserted look after sundown.
The villagers said they were spending sleepless nights fearing that the elephants might attack them anytime.
Parikhit Mahato, 60, who was injured in the elephant attack, has been admitted to a local hospital. One of the elephants lifted him with its trunk when he was returning from the forest after collecting dry logs and hurled him to the ground.
Forest officials said Purulia, Bankura, Jhargram, Birbhum, West Midnapore and East and West Burdwan — with large swathes of forests and rivers flowing through them — are part of the corridor elephants from Odisha and the Dalma range use. For the past few years elephants have been regularly straying into human habitats.