Around 42 per cent people from about 100 remote villages in Jhargram and West Midnapore gave up using LPG cylinders during the pandemic because of the rise in their prices, a survey by two academics has revealed.
The survey results can challenge BJP claims that the Pradhan Mantri Ujjwala Yojana — under which these Jungle Mahal residents had obtained their cooking gas connections — has transformed women's lives in rural India.
"Our survey of 560 households from 100 villages in 13 blocks in Jhargram and West Midnapore revealed that around 42 per cent of the surveyed people abandoned their gas cylinders and went back to firewood as they could not afford LPG cylinders during the pandemic," said Pravat Kumar Shit, principal investigator of the survey.
The Yojana, launched in 2016 to boost the use of clean cooking fuel and reduce diseases, is believed to have helped the BJP in key elections. At poll campaigns across the country, BJP leaders including the Prime Minister have boasted about the scheme covering almost 98 per cent of the country.
However, the survey by Shit, assistant professor of geography at Raja N.L. Khan Women's College in Midnapore, and Debashish Sengupta, professor of geology and geophysics at IIT Kharagpur, has brought into focus the affordability of LPG cylinders among the rural poor.
"Ujjwala gas dependency rapidly decreased mainly following three reasons — gas price hike, gas availability problem during the lockdown and decrease of household income," the study says.
"As the people left using LPGs, they were forced to go towards forest to meet their demand."
From Rs 620.50 in September 2020, the price of a domestic LPG cylinder had risen to Rs 926 by November 5, 2021.
Shit said the survey was an offshoot of "our main survey on 'geospatial assessment of biomass and carbon stocks of a tropical forest in Jhargram district', under a project of the state government's science, technology and biotechnology department".
"During the field visits, we found people had been abandoning their LPG cylinders and ovens. Many had banished them to storerooms more than a year earlier as the price of LPG cylinders increased."
Shit said the field study was conducted between November last year and September this year.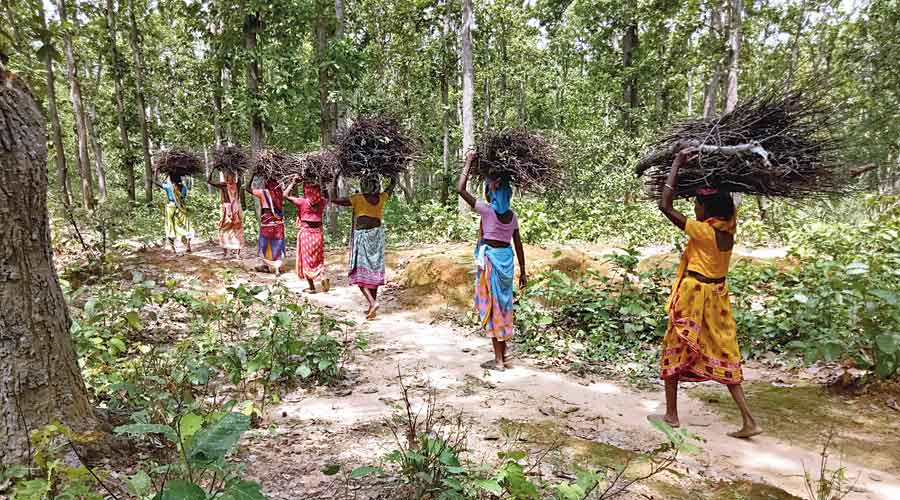 Women return home after collecting firewood in Jhargram. Telegraph picture
The survey cites individual examples. Gita Singh, 50, from Bagmari village in Salbani block, West Midnapore, had taken the Ujjwala Yojana connection in November 2019 but stopped using LPG in January 2020.
"If I buy firewood worth Rs 800, I can cook for three months while a cylinder worth Rs 900 (now) empties in a month," Gita told the surveyors.
"So, the gas is not viable for my family as we are really poor and depend on daily incomes. We can buy our monthly rations for Rs 1,000."
The study team members said Gita's was just one among several hundred families that had turned their gas cylinder into a stand to hang things from.
"In (some) remote areas there is no doorstep supply of LPG cylinders, which means (spending) Rs 100 more as transport cost," said Mana Bhuniya of Burisol, Jhargram.