Jalpaiguri: Railways to fund new station godown
Allied infrastructure like computer rooms, canteen, accommodation and resting rooms for workers will be built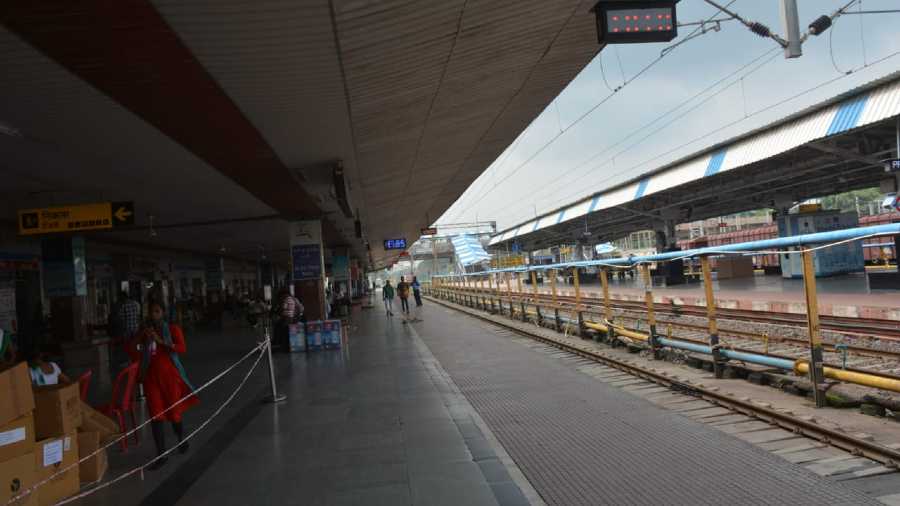 Representational Picture of a railway station
File Picture
---
Jalpaiguri
|
Published 10.07.22, 01:16 AM
|
---
The Union railway ministry has approved a sum of over Rs 13 crore to build a greenfield godown at Mohitnagar, a station on the fringes of Jalpaiguri town. 
Krishna Prasad, the senior commercial manager of Northeast Frontier Railway (NFR) issued the notification on Saturday, citing the godown would come up at Mohitnagar station,
"The godown will come up on railway land. A sum of Rs 13.65 crore will be spent for the project. It will largely help in transportation of goods, including local products, to different parts of the country," said Jayanta Roy, the MP of Jalpaiguri.
 According to railway sources, a number of allied infrastructure like computer rooms, canteen, accommodation and resting rooms for workers will be built along with the godown.
"Trolley lines would come up. The infrastructure would be built in a manner that goods can be directly loaded on wagons," said an official. 
In recent times, this is the second such facility planned by the railways in Jalpaiguri.
The other godown has been built in Raninagar-Jalpaiguri, another station of the district.
"Time and again, we have flagged the need to set up such godowns for smoother transport of goods, particularly local products like tea, jute, tobacco and vegetables. It is good that the railways have made the decision. Considering the location of Jalpaiguri, it would also help us in sending goods to the neighbouring countries of Bhutan and Bangladesh," said Avra Basu, secretary, Jalpaiguri District Chamber of Commerce.  
The godown, sources said, will be operated on PPP (public-private partnership) mode.
"Until the godown comes up, producers can park their vehicles at Mohitnagar station and load their products on to wagons," said an official.
In another development, the Union education ministry has approved Rs 18.23 crore for improvement of infrastructure of the Kendriya Vidyalaya located on the Border Security Force (BSF) campus in Raninagar, around 12km from Jalpaiguri. The school was approved in 2018 and classes were held out of temporary infrastructure. As of now, there are 550 students in the school.