Jaigaon traders hit by Bhutan Covid curbs
Over 2,000 traders from across India who ran their businesses have left for their home states, and at least 1,000 more are preparing to leave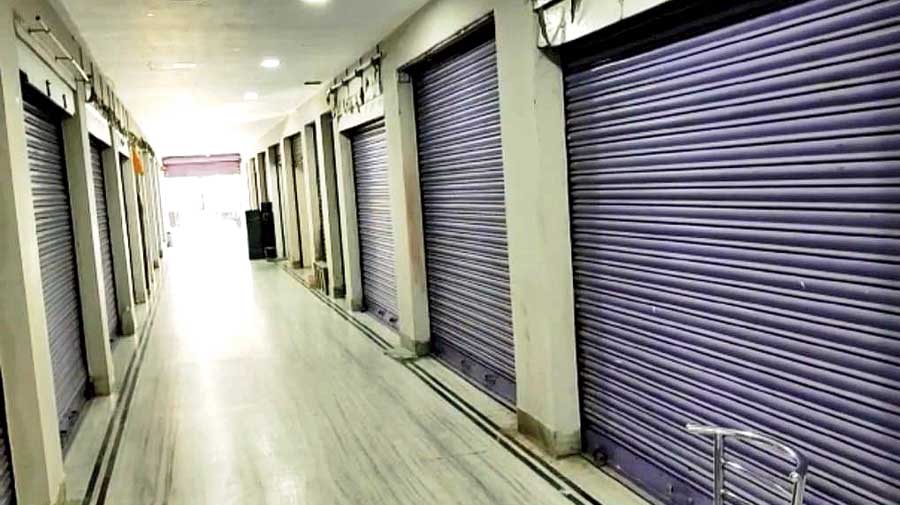 A market complex with closed shops in Jaigaon.
Anirban Choudhury
---
Alipurduar
|
Published 05.05.21, 02:20 AM
|
---
Over 2,000 traders from across India who ran their businesses at Jaigaon in Alipurduar — the town that shares borders with Bhutan and has Phuentsholing, its commercial capital on the other side — have left for their home states, and at least 1,000 more are preparing to leave.
The reason: for over a year now, their businesses have dried up, courtesy curbs in trans-border movement of people between India and Bhutan amid the Covid 19 pandemic.
These traders came from states such as Bihar, Uttar Pradesh, Maharastra and Rajasthan, and displayed and sold their wares on pavement tables and from rented shops and godowns near the Bhutan gate.
Rama Shankar Gupta, secretary of the Jaigaon Merchant Association, said business at this bordering town always stayed dependent on Bhutanese nationals who had formed the major chunk of buyers.
"Along with them were thousands of Indians who work in different sectors of Bhutan. Ever since this pandemic hit the region, movement through the Bhutan gate has stopped and has hit business in Jaigaon. That is why many traders, who had opened businesses of various scales and sizes here, have started winding up and leaving for their own states," said Gupta.
Altogether, there are around 6,000 medium scale traders in Jaigaon. Among them, barely 20 per cent open their shops these days. The rest keep their shops closed for lack of customers.
"Many traders are finding it tough to get funds to pay rent and other charges of shops and godowns. Many can't pay loan instalments for their commercial properties to banks. This past one year, they somehow managed to live off their savings. The second wave of the pandemic left them with hardly any option but to leave," said Rakesh Pandey, secretary of the Kalchini Block Chamber of Commerce. He said many want to sell off their properties but can't find buyers. 
Sanjay Chaubey, who hails from Bihar, and along with some 400 others, ran a makeshift stall near the Bhutan gate, selling cosmetics and artificial jewellery. For the past one year, he somehow lived off his savings. Now, he says his savings are drying up and he is worried about how to feed his family of four, including wife and two children.
"You won't find a single trader near the gate now. There is no indication when things will be back to normal. My savings are drying up and I have decided to return to my native village with my family. The children are disappointed as their studies will be hampered, but I have no other option," said Chaubey.
The pandemic and curbs across the border have also affected people such as auto drivers and rickshaw pullers.
"Jaigaon would buzz with economic activity. But for the past one year, as no one comes from Bhutan, the city wears a deserted look," said a resident.