It figures to look good - Festive fever to get fit quick
Read more below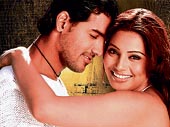 ---
---
John Abraham and Bipasha Basu: Body beautiful
Wanted: Salman-like biceps for Diwali, John-like abs for Christmas and Bips-like bustline for the New Year party night.
This seems to be the festive season wish list of GenerationNext, as it scrambles for instant fitness and fashion.
Physical trainers and dieticians are flooded with requests from youngsters desperately seeking quick-fix methods for a well-toned body while the silly season lasts.
"These youngsters often step in with the image of their favourite screen idols in mind. Boys want to focus on their glamour muscles, the ones to be flaunted, while girls want to get rid of extra fat to fit into designer clothes," says fitness consultant Pritam Mukherjee.
Bollywood is the prime catalyst triggering this trend. Shapely bodies like Bipasha Basu and powerhouses like John Abraham and Salman Khan influence a star-struck GenX.
"They are always ready to go on a crash diet. It is very difficult to make them understand that it is not the right way to attain a perfect body," says Arpita Deb, dietician at Belle Vue Clinic.
The boom in the number of nightclubs and private parties is also driving youngsters to look good. "This trend has peaked from the Puja and will continue till the New Year's party is over. They want to be the cynosure of all eyes at parties," says Supratim Akash Paul, who runs a skin clinic.
Given their work-hard-party-harder schedule, short cuts to shape beckon. "With so much to do but so little time, people resort to quick-fix methods," says Divya Himatsingka of Gold's Gym.
Experts warn against instant fitness methods that can prove hazardous in the long run, leading to blood pressure problems, anaemia and weak immunity. "There is no short cut to a great body," warns Srikanta Das of VLCC.